UN Leaders: Women Farmers Key to Achieving Food and Nutrition Security
March 11, 2015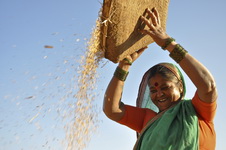 Leaders of the Food and Agriculture Organization (FAO), the International Fund for Agricultural Development (IFAD), and the World Food Programme (WFP) gathered in Rome, Italy on March 6, 2015 to celebrate the International Women's Day and highlight the role of women farmers in achieving food and nutrition security. The leaders of the said UN organizations shared their initiatives that have empowered rural women, and thus helped in attaining food security and nutrition. They also stressed that promoting gender equality and women's empowerment will fortify the efforts to decrease rural poverty.
According to IFAD President, Kanayo Nwanze, men in developing countries transfer to urban areas to get better-paying jobs. And so, the women are left in the rural areas to look after the farms, leading to the "feminization of agriculture" worldwide.
"Women are the backbone of rural societies as they grow and process food and make sure their families are well-fed and well-nourished," Nwanze said. "Too often, rural women are doing the backbreaking work. To improve women's social and economic status, we need more recognition for the vital role they play in the rural economy. Rural women need more opportunities to participate, improve their skills, gain access to assets, and be involved in agricultural production and marketing. Let us all work together to empower women to achieve food and nutrition security. For their sake, and the sake of their families and communities."
Biotech Updates is a weekly newsletter of ISAAA, a not-for-profit organization. It is distributed for free to over 22,000 subscribers worldwide to inform them about the key developments in biosciences, especially in biotechnology. Your support will help us in our mission to feed the world with knowledge. You can help by donating as little as $10.
See more articles:

News from Around the World

Research Highlights

Beyond Crop Biotech

Announcements


Read the latest:


Subscribe to BU: