Scientists Say that Bt Cotton Does Not Cause Farm Distress
January 14, 2015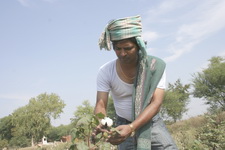 Farmer suicides in Maharashtra and other parts of India have nothing to do with biotech cotton, according to scientists at the Indian Science Congress held on January 3-7, 2015 at the University of Mumbai.
"There is a lot of negative public perception about Bt crops… Even a paper in Nature says linking these two (biotech cotton and farmer suicides) is our imagination," said Dr. Anupam Verma, Indian National Science Academy Senior Scientist at the Indian Agriculture Research Institute, during his talk on GM crops. Biotech critics point out that the increasing number of suicides in Maharashtra is due to the inability of Bt cotton farmers to pay their debts. However, the International Food Policy Research Institute (IFPRI) report said that there were several causes of suicide, and Bt cotton is not a major factor.
Dr. Verma also refuted arguments about monopolization and Bt cotton. He said that there are more than 1,000 Bt cotton hybrids available in the country. He also mentioned Project Sunshine in Gujarat, and explained how Bt cotton influences the growth in agriculture in Gujarat.
Dr. Deepak Pental, former Vice-Chancellor of the Delhi University also voiced out his support to biotechnology. "We can produce oil indigenously if we use Bt. But unfortunately, it is caught up in a debate taken up by the left and now supported by the neo-right." Dr. Pental is a renowned genetic scientist with major breakthroughs in hybrid seed science.
Read more at http://www.indiaenvironmentportal.org.in/content/404240/bt-cotton-not-to-blame-for-farm-distress-scientists/.
Biotech Updates is a weekly newsletter of ISAAA, a not-for-profit organization. It is distributed for free to over 22,000 subscribers worldwide to inform them about the key developments in biosciences, especially in biotechnology. Your support will help us in our mission to feed the world with knowledge. You can help by donating as little as $10.
See more articles:

News from Around the World

Research Highlights

Beyond Crop Biotech

Announcements


Read the latest:


Subscribe to BU: