COP-MOP Meeting in Korea
September 18, 2014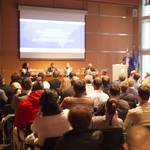 The 7th meeting of the Conference of the Parties serving as the meeting of the Parties to the Cartagena Protocol on Biosafety COP12/COP-MOP 7/COP-MOP 1 will be held in Pyeongchang, Gangwon Province in the Republic of Korea from 29 September to 17 October 2014.
Representatives from 194 governments, heads of relevant organizations and NGOs will come together to discuss, plan and take decisions during three distinct meetings for the overall implementation of the Convention and its Protocols: the 7th Conference of the Parties serving as the meeting of the parties to the Cartagena Protocol on Biosafety (COP-MOP-7) from 29 September to 3 October, the 12th meeting of the Conference of the Parties to the Convention on Biological Diversity (COP-12) from 6 to 17 October, and the first Conference of the Parties serving as the Meeting of the Parties to the Nagoya Protocol on Nagoya Protocol on Access to Genetic Resources and the Fair and Equitable Sharing of Benefits Arising from their Utilization (COP-MOP-1) from 13 to 17 October.
In addition, the side meeting events about agricultural biotechnology will take place along with CropLife Korea on September 30, at Hall F, Room 1 - Business Meeting Room, the Alpensia Resort. Dr. Hyo Guen Park, an advisor to CropLife Korea, will present the role of biotechnology in addressing food security. Dr. Soo Chul Park, Director, The National Center for GM Crops, Rural Development Administration, will provide an overview of the domestic status of biotech crop research and development in Korea, including a summary of the government-sponsored National Program for the GM Crops under the Grant Project of the 2nd Generation of Korea BioGreen and the future plant biotech pipeline in Korea.
For more information, contact Sumin Kim of the Korea Biotechnology Information Center at szkoo27@korea.kr.
The Crop Biotech Update is a weekly newsletter of ISAAA, a not-for-profit organization. The CBU is distributed for free to over 23,000 subscribers worldwide to inform them about the key developments in biosciences, especially in agricultural biotechnology. Your support will help us in our mission to feed the world with knowledge. You can help by donating as little as $10.