News
Global
A new program of the United Nations focuses on helping eight developing countries improve and fortify adaptation strategies in facing climate change. Through the program titled Integrating Agriculture in National Adaptation Plans, FAO and UNDP will partner with the agriculture ministries of Nepal, Kenya, the Philippines, Thailand, Uganda, Uruguay, Vietnam, and Zambia to protect livelihoods, enhance agricultural production, and advance food security.
According to FAO, 75 percent of the underprivileged reside in rural areas and depend on agriculture for their source of income. Thus, their climate change adaptation requirements include improving crop varieties to cope with drought, salinity and changing weather conditions and access to new methods of cultivation and modernized water and irrigation systems.
"Our food security in the decades to come depends on our collective ability to innovate and adapt to climate change. The agriculture sector is critical to every nation and is a lifeline for livelihoods. Therefore, FAO and UNDP have joined forces to support partner countries to integrate agriculture into National Adaptation Planning (NAP) processes," said Adriana Dinu, Executive Coordinator of UNDP Global Environment Finance Unit.
Read the media release from FAO.
Africa
Kenya National Biosafety Authority (NBA) has formally received comments from the public as it embarks on analyzing feedback for consideration of the application for environmental release (open cultivation), of genetically modified insect protected maize in Kenya, which was made by the Kenya Agricultural and Livestock Research Organization (KALRO) and the African Agricultural Technology Foundation (AATF) under the Water Efficient Maize for Africa (WEMA) project.
NBA Chief Executive Officer CEO Dr. Willy Tonui during a public hearing forum said the exercise was important and in line with Kenya's Biosafety Law which requires public participation by way of comments in the review of such an application. He assured the public that NBA would follow the law and give its verdict in good time as the law requires.
The forum, which had been organized by the Authority to inform the public about the process of releasing a genetically modified crop for national performance trials, was attended by a diverse group of stakeholders including consumers, scientists, farmers, and media. The forum served to clarify issues about GM crops that hitherto were not clear or had been guided by misinformation by some members of the public.
The public comments had been received by the authority for a month after issuance of a notice to the public, inviting them to participate in the decision making process on the application.
The approval process for environmental release takes 90-150 days from the date of the acknowledgement of the application. A decision is thus expected in October 2015, followed by national performance trials by the Kenya Plant Health Inspectorate Service (KEPHIS).
For more information, contact the National Biosafety Authority at ceo@biosafetykenya.go.ke.
[ Send to a Friend | Rate this Article ]
---
Four Kenyan Parliamentarians namely Kareke Mbiuki (Vice-chair, Agriculture Committee), Florence Mutua (Member, Agriculture Committee), Robert Pukose (Vice–chair, Health Committee) and James Wandayi (Agriculture Committee) have voiced their support for the government's plan to lift ban on GMOs.
In a press conference organized at the parliament building on August 26, 2015, Hon. Mbiuki deplored the lack of knowledge on GMOs that has led to gross misinformation about biotechnology. He narrated his encounter with GMOs and farmers growing GM crops during a fact finding tour in the European Union, together with his colleagues. "My trip to Europe exposed me to know more about safety and use of GMOs. Europe has approved at least 58 GM crops for food and feed including GMO maize, soya, oilseed, sugar beet and cotton. According to farmers we interacted with, there has not been any harm due to GM crops over the years," said Hon. Mbiuki.
''We are happy that the Deputy President as a scientist has hinted of lifting the ban, which we fully support,''said Hon. Mutua and underlined the urgency of delivering GM crops for the country, such as Bt cotton and Bt maize. "Lifting the GMO ban means more jobs for the youth. Further, the textile industry could be revived if we adopt Bt cotton and other farming technologies." Hon. Wandayi noted that Kenya cannot afford to live in denial or isolation, "The country cannot be left behind when other countries like South Africa, Burkina Faso, and Sudan are embracing biotechnology. Furthermore, it's wastage of resources to allow students to study biotechnology yet the country cannot allow its application."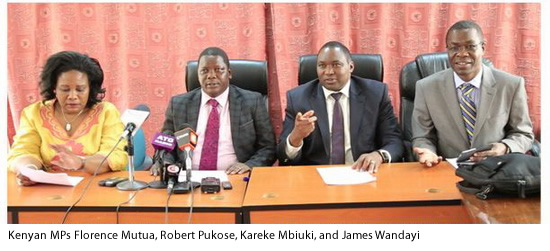 For more information, contact Mr. John Mugoma, parliamentary clerk in the education committee at mugomajohn@gmail.com.
Americas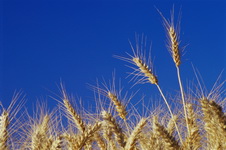 A study by the National Academy of Science, authored by geneticists from universities including Kansas State University, identified the fourth and final vernalization
gene
in
wheat
. These vernalization genes sense low climatic temperatures and determine when the wheat begins to flower. The other three vernalization genes had been identified in previous studies by Jorge Dubcovsky of the University of California Davis. The discovery of all four genes implies new methods of designing wheat varieties that can adapt to different environments.
The study analyzed wheat lines found in Pakistan and India, where the discovered gene VRN-D4 is most abundant. It is likely that ancient farmers in the region preferred wheat varieties with this characteristic because of its adaptability in
changing climate
conditions.
Asia and the Pacific
Australia's Office of the Gene Technology Regulator (OGTR) issues a license for GM cotton DIR 136, authorizing its limited and controlled release (field trial). The field trial will be conducted from October 2016 to May 2019 in New South Wales to evaluate the agronomic performance and fiber quality of the GM cotton variety under Australian field conditions. The maximum planting area of the field trial is 1 hectare per year. The GM cotton was developed by CSIRO.
Read the announcement from OGTR for more details.
[ Send to a Friend | Rate this Article ]
---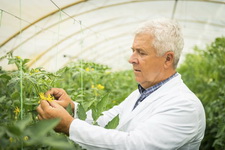 India's premier agriculture research body Indian Council of Agricultural Research (ICAR) has emphasized the importance of genetically engineered crops in bridging the demand and supply gap for foodgrains in the future. 'Vision 2050' which provides a strategic framework for innovation-led inclusive and sustainable agricultural growth in the country has listed research into genetically modified organisms (GMOs) among nine key areas which have to be harnessed to enhance productivity, nutrition, and farmers' income.
ICAR in its vision document said, "Genetic enhancement is considered to be a major option to bridge the demand and supply gap under normal situations as well as under projected scenarios of increased frequency and intensity of stresses." The document, released by the Prime Minister Narendra Modi in Patna on July 25, also noted that the GMOs do not provide a "miracle solution" to all problems, it detailed how scientific research in this area, backed by proper field trials, would help in dealing with safety and ethical aspects of genetically engineered crops.
"I am sure that ICAR Vision 2050 would stir new thinking in researchers to harness science, in the policymakers to develop policies for sustainable development of agriculture to provide food, income and livelihood, and in the consumers an urge to tailor their lifestyle, keeping in view the planetary boundaries of the Earth's resource system", said Dr. S. Ayyappan, director general of ICAR, in his preface to the vision document.
Download a copy of Vision 2050 from ICAR website.
[ Send to a Friend | Rate this Article ]
---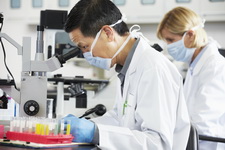 South Korea President Park Geun-hye has called for efforts to make agriculture a key industry in the country by integrating information technology (IT) and biotechnology. The President said that in an era of open markets and aging society, Korea should seek opportunities in the rapidly-changing agricultural environment.
During the opening ceremonies of a farming exhibit "2015 A Farm Show" in Seoul on August 28, 2015, President Park said that the global food industry has outgrown the IT and auto industries combined, and that developed countries are investing more in agriculture. President Park promised government support, and talked about bringing together IT, biotechnology, and food processing technologies to increase productivity and marketability, and to attract more young Koreans to the agricultural sector.
For more information, read the news article at the Yonhap News Agency and watch a video clip on President Park's speech on Arirang News.
Europe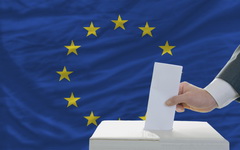 The agriculture committee of the European Parliament rejected the Commission's draft law that would give member states the power to restrict or prohibit the use of EU-approved GM food or feed on their territory. It fears that arbitrary national bans could distort competition on the EU's single market and jeopardize the Union's food production sectors which are heavily dependent on imports of GM feed.
The agriculture committee's opinion, adopted by 28 votes in favor to eight against, with six abstentions, will now be closely looked at by the environment committee, which has the lead on this file.
Albert Dess, draftsman of the opinion, said, "Today's vote in the agriculture committee sends a clear message: the Commission's proposal to allow member states to decide whether or not to restrict or ban the use of GM food and feed on their territory must be rejected. We have not been building the EU's single market to let arbitrary political decisions distort it completely." Dess added that the Commission's approach is completely unrealistic, as many sectors in the EU greatly rely on GM feed imports, and would not be able to survive if it is banned.
For more details, read the news release at the European Parliament News Portal.
Research
Storage lipid is a vital component of seed storage substances and valuable for rice quality. However, lipid transport-related genes and their function in seed development are still not well understood.
A team led by Xin Wang of the Huazhong Agricultural University in China identified OsLTPL36, a lipid transport protein, and its specific expression in developing rice seed coat and endosperm. Down-regulated expression of OsLTPL36 led to decreased seed setting rate and 1000-grain weight in transgenic plants.
The researchers found that engineered lines with suppressed expression of OsLTPL36 exhibited chalky endosperm and had reduced fat acid content compared to wild types. Delayed embryo development, impeded seed germination and puny seedlings were also observed in the OsLTPL36 RNAi lines.
The results suggest that OsLTPL36, a lipid transporter, is critical for seed quality in seed development and germination in rice.
For more information on the study, see the article at Plant Science.
[ Send to a Friend | Rate this Article ]
---
The plant pathogenic bacteria Xanthomonas inject transcription activator-like (TAL) effectors into plant cells to promote disease susceptibility or trigger disease resistance. The rice TAL effector-dependent resistance gene Xa10 confers race-specific resistance to Xanthomonas oryzae pv. oryzae (Xoo), which causes the bacterial blight in rice.
To generate broad-spectrum and durable resistance to Xoo, Xuan Zeng of the University of Singapore, together with a research team developed a modified Xa10 gene, Xa10E5. The Xa10E5 gene had a modified promoter and was designed to be specifically induced by Xoo strains that harbour the corresponding TAL effectors. The modified gene confers TAL effector-dependent resistance to the pathogens at all developmental stages of rice.
Further evaluation demonstrated that Xa10E5 provided broad-spectrum disease resistance to 27 of the 28 Xoo strains. The development of Xa10E5 and transgenic rice lines provides new genetic materials for molecular breeding of rice for broad-spectrum resistance to bacterial blight.
For more information, read the full article on Plant Biotechnology Journal.
[ Send to a Friend | Rate this Article ]
---
Nuclear factor-Y (NF-Y) is a plant transcription factor composed of NF-YA, NF-YB and NF-YC subunits. The function of many NF-Y A and B subunits has been studied in plants, but knowledge of the C subunit remains unknown.
Researchers from Mexico, led by Paola A. Palmeros-Suárez, characterized AhNF-YC, a water stress-induced NF-YC gene from amaranth (Amaranthus hypochondriacus). The team then overexpressed it in transgenic Arabidospis thaliana plants for further characterization.
The gene was inferred to have a role in development, judging from the modified growth rates in plant parts of the modified Arabidopsis plants. The overexpression of AhNF-YC also caused increased seedling sensitivity to abscisic acid (ABA), and influenced the expression of several genes involved in secondary metabolism, development and ABA-related responses. The altered expression of the ABA-related responses conferred increased water stress resistance.
AhNF-YC may play an important regulatory role in both development and stress, and is a candidate gene for development of abiotic stress resistance in crops.
For more information on the study, read the article on Plant Science.
Beyond Crop Biotech
Researchers at the University of Missouri (MU) have found an effective way to edit the genes of dengue virus transmitting Aedes aegytpi mosquitoes. The researchers used the CRISPR/Cas9 gene editing system to disrupt the blue fluorescent eye color gene in a previously generated genetically modified mosquito line, which originally expressed both fluorescent blue and red color genes in their eyes. Future generations of these mosquitoes no longer showed the blue color, but still exhibit the red color expression in their eyes.
Alexander Franz, assistant professor of veterinary pathobiology at MU and senior author of the study, said that future research using this technique could search for ways to genetically edit mosquitoes so they cannot harbor diseases like dengue.
For more details about this study, read the news release at the University of Missouri website.
[ Send to a Friend | Rate this Article ]
---
Recombinant subunit vaccines provide protection against viral infections. However, their efficacy is often less potent than vaccines from whole viruses. Studies have shown that bacterial flagellin has strong activity and induces protective immune responses.
Researchers, led by Li Song of the Yangzhou University in China, generated an H7N9 influenza recombinant subunit vaccine with the fusion of the hemagglutinin of the influenza virus (HA1-2) and the potent Salmonella typhimurium flagellin (fliC). The resulting fusion protein, HA1-2-fliC, was then efficiently expressed in an Escherichia coli. In a mouse model vaccination, HA1-2-fliC was found to be capable of triggering the production of neutralizing antibodies, and maintained at high levels for at least 3 months in the vaccinated animals.
The study concludes that immunization with HA1-2-fliC induces potent HA1-2-specific responses, offering significant promise for the development of a successful recombinant subunit vaccine for H7N9.
For more on the study, read the article on BMC Biotechnology.
Announcements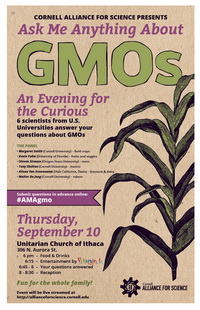 The Cornell Alliance for Science is hosting a panel of scientists ready to answer your GMO questions on September 10, 2015 at the Unitarian Church of Ithaca, 306 N. Aurora St, Ithaca, NY from 6-8:30 pm (EST). Discussion will take an AMA format, and will be held both in-person and live-streamed at http://allianceforscience.cornell.edu/. Use the hashtag #AMAgmo to ask your questions via Twitter.
The Panel consists of:
• Margaret Smith (Cornell University) – field crops
• Kevin Folta (University of Florida) – fruits and veggies
• Steven Strauss (Oregon State University) – trees
• Tony Shelton (Cornell University) – insects
• Alison Van Eenennaam (University of California, Davis) – livestock and dairy
• Walter De Jong (Cornell University) – tubers
Document Reminders
ISAAA releases the second batch in the revised series Biotech Country Facts and Trends. This set features the five developing biotech countries of Burkina Faso, Myanmar, Mexico, Colombia, and Sudan. Biotech Country Facts and Trends are concise summaries highlighting the commercialization of biotech crops in specific countries.
Data on biotech crop commercialization (hectarage and adoption), approvals and planting, benefits and future prospects for each country are presented in a brief and easily understandable manner. The contents are based on ISAAA Brief 49: Global Status of Commercialized Biotech/GM Crops in 2014, authored by Clive James, Founder and Emeritus Chair of ISAAA.
The Biotech Country Facts and Trends are available for download at http://www.isaaa.org/resources/publications/biotech_country_facts_and_trends/default.asp.
From The BICs
"In 2013, the 18th year of widespread adoption of crops using biotechnology innovations, the technology has continued to provide more productive agriculture, higher incomes to farmers and a better environment for citizens. Majority of these benefits continues to go to farmers and rural communities in developing countries. Between 1996 and 2013, crop biotechnology was responsible for additional global production of 138 million tonnes of soybeans and 274 million tonnes of corn. The technology has also contributed an extra 21.7 million tonnes of cotton lint and 8 million tonnes of canola" said Graham Brookes, director of PG Economics, co-author of the GM Crops: global socio-economic and environmental impacts 1996-2013 report during a seminar in Jakarta, on 4 September 2015.
The seminar on Global Socio-Economic and Environmental Impacts 1996- 2013 was conducted in collaboration with CropLife Indonesia, the Indonesian Society for Agricultural Biotechnology (PBPI) and SEAMEO BIOTROP and the International Service for the Acquisition of Agri-biotech Applications (ISAAA). This event brought together 50 participants from universities, industries, and media to raise awareness on the socio economic consideration of biotechnology in Indonesia. Dr. Parulian Hutagaol Bogor Agricultural University (IPB) also emphasized the need to develop new innovation system and support technological change to improve the productivity and efficiency in agriculture.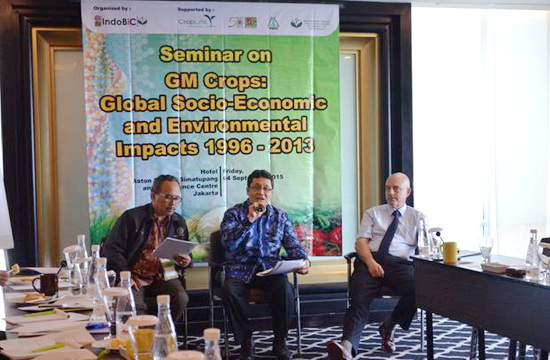 For more information, contact Dewi Suryani of IndoBIC at catleyavanda@gmail.com.