News
Africa
COMESA member states through its specialized agency ACTESA - Alliance for Commodity Trade in Eastern and Southern Africa have acknowledged the need for rigorous reforms on policies governing adoption of GM crops in Africa. This was during a two-day regional sensitization workshop on agri-biotech and biosafety held on August 30, 2017 in Kenya. The workshop brought together representatives from six COMESA member states actively involved in biotech research, the East African Community (EAC) and key private sector players.
Hon Christophe Bazivamo, the Deputy Secretary General of the East African Community in charge of Productive and Social Sectors emphasized the need to prioritize food security by incorporating all available tools along the value chain to achieve a stable economic environment in the region. He also indicated that EAC has not taken an official position on GM crops but discussions are underway.
According to Hon. Adam Malima, Vice Chair of East Africa Biotechnology and Biosafety Alliance (EABBA), regional agricultural policies are heavily influenced by attitudes and stringent rules exported from the EU that has close trade ties with Africa for their benefit. Hon. Malima informed the business community representatives that EU leads in application of GM technology in medicine and not agriculture because food security is not a problem in that part of the world.
Dr. Getachew Belay, COMESA's Senior Biotechnology and Biosafety Advisor, expressed that the prevailing arguments surrounding the application of GM technology in Africa will never go away until all stakeholders come together and establish a common ground for regional benefits. ISAAA AfriCenter Director, Dr. Margaret Karembu, reiterated the need for consensus within the agri-biotech community and urged experts entrusted with providing technical information to communicate effectively and harmonize their messages to reduce public confusion.
The workshop, which was organized by ISAAA AfriCenter under the OFAB program, in partnership with COMESA/ACTESA, also provided participants with an opportunity to visit the Water Efficient Maize for Africa (WEMA) insect resistant/drought tolerant (Bt-DT) maize field trials at the Kenya Agricultural and Livestock Research Organization (KALRO), as well as the International Institute of Tropical Agriculture's AflaSafe partnership plant addressing the aflatoxin menace.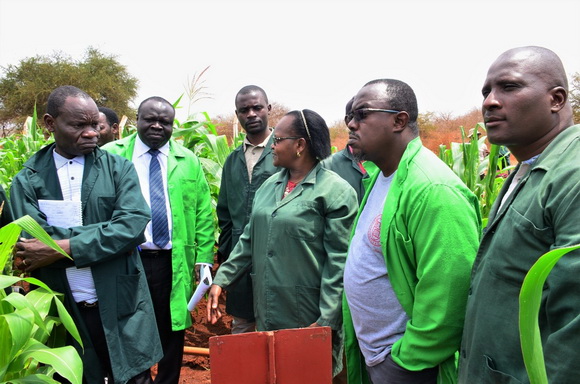 For more information on the event contact: Drs. Margaret Karembu mkarembu@isaaa.org and Getachew Belay at GBelay@comesa.int
Americas
Researchers from South Dakota State University (SDSU) hope to transfer resistance to wheat streak mosaic virus to bread wheat from a distant relative, sea wheatgrass.
Associate Professor Wanlong Li of the Department of Biology and Microbiology said, "In wheat breeding, we have a lot of very important genes transferred from relatives to wheat varieties." For instance, resistance to leaf rust, stem rust and yellow rust, as well as powdery mildew, came from rye.
The research team found that the virus resistance is not temperature sensitive. "The current resistant gene used in wheat breaks down at temperatures above 64.4 degrees Fahrenheit, but this one is still resistant up to 82 degrees Fahrenheit," Li explained. Further tests showed that the hybrid and sea wheatgrass tolerate excess water. Sea wheatgrass also has a solid stem, which helps it resist the sawfly, a pest that lays its eggs in the hollow wheat stem and makes the wheat break.
For more details, read the article in the SDSU News Center.
[ Send to a Friend | Rate this Article ]
---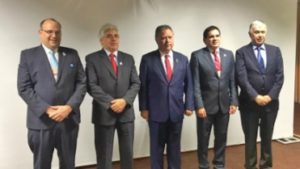 Agriculture Ministers from five countries in South America have urged the European Union (EU) and China to stop delaying GMO import authorizations. The Agriculture Ministers of Argentina, Bolivia, Brazil, Chile, Paraguay, and Uruguay participated in the XXXIV Regular Meeting of the Southern Agricultural Council (CAS) in San Pablo, Brazil on August 29, 2017.
In a joint statement signed on August 29, the ministers criticized the asynchronous 'barrier to international trade which should be minimized' and 'has a negative impact on agricultural production systems'. During the ministerial dialogue, three statements were signed: WTO Negotiation, Joint actions for the control and prevention of Avian influenza, and New technologies for improving and accessing GM products to third markets.
The third declaration, which is the joint statement, referred to new technologies for the improvement and access of genetically modified products (GMs) to third markets and stated the need for countries in the region to work together to intensify information exchange in the approval of GM products. It also seeks to reduce the asynchrony in the approval of these agencies in the region, and on the other hand will try to promote the approval in third markets of events of regional interest.
The five ministers are: Juan Carlos Baruja, Minister of Agriculture of Paraguay, chair pro tempore of the Council; Blairo Maggi, Minister of Livestock and Supply in Brazil; Carlos Furche, Minister of Agriculture of Chile; Tabaré Aguerre, Minister of Livestock Agriculture and Fisheries of Uruguay; and Ricardo Negri Secretary of Livestock, Agriculture and Fisheries of Argentina.
Read the joint statement here. Other details are available at the Consejo Agropecuario Del Sur (in Spanish).
Asia and the Pacific
The primary light reaction of photosynthesis in plants happens at photosystem II (PSII), a membrane-embedded supramolecular machine that catalyzes the water-splitting reaction. Surrounding the PSII is a number of peripheral antenna complexes that dynamically associate with it to form the PSII-LHCII supercomplexes of variable sizes in response to different light conditions.
Isolated from Arabidopsis and peas, the C2S2M2-type supercomplex is the largest stable form of PSII-LHCII supercomplex, and crucial for plants to achieve optimal light-harvesting efficiency when they are under low-light conditions. Structural analysis of the C2S2M2 supercomplex is an important step to understanding the molecular mechanisms that plants use in light harvesting, light energy transfer, and PSII functional regulation.
A team of researchers from the Institute of Biophysics (IBP) at the Chinese Academy of Sciences (CAS) used cryo-electron microscopy (cryo-EM) to resolve structures of C2S2M2-type PSII-LHCII supercomplex from peas at 2.7 and 3.2Å resolution, respectively. The study revealed the overall structural features and the arrangement of each individual subunit, as well as the sophisticated pigment network and the complete energy transfer pathways within the supercomplex. The comparison of two C2S2M2 structures suggests the potential mechanism of functional regulation on the light-harvesting process and the oxygen-evolving activity of plant PSII.
More details are available in the paper "Structure and assembly mechanism of plant C2S2M2-type PSII-LHCII supercomplex" published in Science.
[ Send to a Friend | Rate this Article ]
---
The Vegetable Industry Council of Southern Mindanao (Vicsmin) in the Philippines has expressed its full support for the commercial planting of Bt eggplant in the country. This came after Vicsmin officers and members signed a one-page manifesto of support during the roundtable discussion on Bt Eggplant held on September 4, 2017 in Davao City. Vicsmin, a non-profit organization that advocates policies beneficial to the vegetable industry in the region, has 40 active member institutions and 20 individual farmers.
After a thorough discussion with Dr. Lourdes D. Taylo, Bt eggplant study leader from the University of the Philippines Los Baños on the science, safety, and the potential actual benefits of modern biotechnology, Vicsmin in their one-page manifesto says: "We realize that Bt eggplant, which contains the gene similar to the insect-resistant Bt corn, can bring benefits to our communities such as higher yield and income, reduce chemical use, and improve environmental health. We believe that the Bt eggplant is a healthier and safer alternative solution against the relentless insect pest, the eggplant fruit and shoot borer (EFSB)."
Vicsmin President Gienovivo A. Cajes said, "If Bangladesh farmers are now planting Bt eggplant why can't we plant it here?"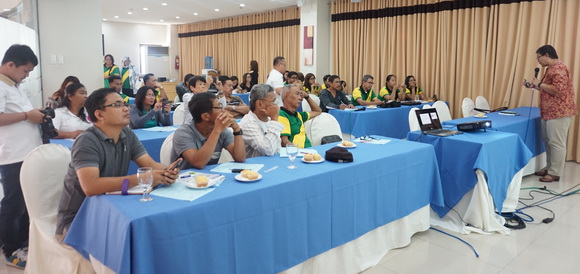 For more information about agricultural biotechnology in the Philippines, visit the SEARCA Biotechnology Information website.

[ Send to a Friend | Rate this Article ]
---
During the annual APEC High-Level Policy Dialogue on Agricultural Biotechnology (HLPDAB) Meeting in Can Tho, Vietnam on August 20, 2017, the agenda included agricultural biotechnology policies, promotion of public-private partnerships in agricultural biotechnology research and applications, and the use of agricultural biotechnology in response to climate change.
Dr. Nguyen Thi Thanh Thuy, director general of Vietnam's Ministry of Agriculture and Rural Development's department of science, technology and environment, the HLPDAB chair this year, said climate change has exacerbated the challenges to agriculture, especially in the most vulnerable economies and geographies.
"We recognize that biotechnology provides a set of powerful tools for the sustainable development of agriculture, fisheries and forestry, as well as the food industry," she said. She also added that modern biotechnology has provided the means and a whole range of well-known techniques to improve agricultural productivity.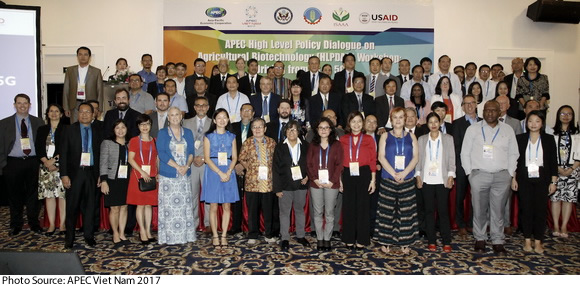 For more, read The Nation.
Research
Soybean mosaic virus (SMV) and other viral pathogens harm soybean production and often lead to significant yield loss and quality deterioration. Thus, scientists from Jilin Academy of Agricultural Sciences in China used RNAi-mediated silencing to control SMV. Their study is published in Transgenic Research.
The researchers isolated a replicase gene from the SMV SC3 strain, driven by the leaf-specific rbcS2 promoter from common bean (Phaseolus vulgaris), and introduced into soybean. The resulting lines showed lower average disease indices (2.14-12.35) compared to the control plants in three consecutive generations. The transgenic lines also exhibited stable and significantly enhanced resistance to the SMV SC3 strain under field conditions. Further analysis showed that the greenhouse-grown transgenic lines exhibited robust resistance to five SMV strains (SC3, SC7, SC15, SC18, and a recombinant SMV), bean common mosaic virus, and watermelon mosaic virus.
Read more details on the study in Transgenic Research.
[ Send to a Friend | Rate this Article ]
---
Cadmium (Cd) is one of the most toxic heavy metal elements and can cause serious damage to plant cells. The team of Shubao Hu from Nanjing Agricultural University in China hypothesized that the transcription factor OsMYB45 is involved in Cd stress response in rice.
OsMYB45 was found to be highly expressed in rice leaves, husks, stamens, pistils, and lateral roots, and its expression is induced by Cd stress. Mutation of OsMYB45 resulted in hypersensitivity to Cd treatment, which doubled the concentration of hydrogen peroxide in the leaves of the mutants, while the activity of catalase (CAT), which catalyzes the breakdown of hydrogen peroxide to water and oxygen, was halved.
Further analysis indicated that the expression of OsCATA and OsCATC, genes related to catalase, is significantly lower in the mutants than in wildtypes. Overexpression of OsMYB45 in the mutant also rescued the mutant phenotype.
These results reveal that OsMYB45 plays an important role in tolerance to Cd stress in rice.
For more information, read the article in Plant Science.
New Breeding Technologies
Meristems such as the shoot apical meristem and flower meristem (FM) act as a reservoir of stem cells. In rice (Oryza sativa), the FLORAL ORGAN NUMBER2 (FON2) gene is involved in meristem maintenance. In fon2 mutants, the numbers of floral organs are increased due to an enlargement of the FM. To identify new factors regulating meristem maintenance in rice, researchers from the University of Tokyo in Japan studied the 2B-424 rice line, a fon2 mutant with increased pistil number.
Researchers found that the 2B-424 line had a complete loss-of-function mutation in OsMADS3, a gene that is known to be involved in stamen specification. Using CRISPR-Cas9 technology, the team disrupted OsMADS3 in the fon2 mutant, causing a flower phenotype similar to that of 2B-424. This confirms that the gene responsible for enhancement of fon2 was OsMADS3.
Morphological analysis revealed that the fon2 and osmads3 mutations both simultaneously affected pistil development. These findings suggest that OsMADS3 is also involved in FM activity in early flower development.
For more information, read the article in Plant and Cell Physiology.
[ Send to a Friend | Rate this Article ]
---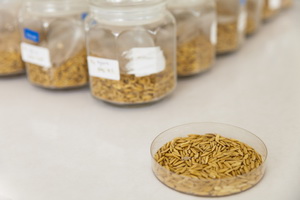 MicroRNAs (miRNAs) are small non-coding RNAs with roles in plant development and stress responses. Loss-of-function analysis of miRNA genes has been challenging due to the lack of suitable knockout tools. A team of scientists from various universities, led by Jian-Ping Zhou from the University of Electronic Science and Technology of China, aim to study miRNA genes, specifically OsMIR528, in rice using CRISPR-Cas9.
Frequencies of mutants T0 lines ranged from 48% to 89% at all target sites. Three independent guide RNAs (gRNAs) all generated biallelic mutations among mutant lines. This demonstrates that CRISPR-Cas9 is an effective tool for knocking out plant miRNAs. However, single-base pair (bp) mutations in mature miRNA regions were found to lead to the generation of functionally redundant miRNAs, while large deletions were found to abolish miRNA function. Analysis found that OsMIR528 is a positive regulator of salt stress.
This work provides guidelines on targeting miRNAs with CRISPR-Cas9 and also brings new insights into miRNA function in rice.
For more information, read the article in Frontiers in Plant Science.
Beyond Crop Biotech
Honey bees are decreasing in number, according to the 11th Annual National Survey of Honey Bee Colonies conducted in the U.S. Thus, farmers and researchers are working together to devise techniques to protect the well-being of honey bees.
Experts think that the leading contributor to the honey bee losses is the Varroa mite, a parasite that attaches to the body of a honey bee or honey bee larva, weakening the bee's immune system and spreading viruses. Thus, scientists at Monsanto developed a product to stop the infestation and improve bee health and survival.
The product is fed to honey bees in a sugar syrup that can decrease or silence gene activity through RNA interference, which suppresses the mite's gene without harming the honey bees. This approach also aims to decrease the use of pesticides in honey bee colonies. The product is under field trial in beekeeping areas of North America.
Read the original news article from CropLife.
[ Send to a Friend | Rate this Article ]
---
Producing aflatoxin-detoxifizyme (ADTZ) in pigs is a new approach to help control the aflatoxin (AFT) contamination of pig feed. Researchers from Linyi University and Yanbian University in China successfully developed transgenic pigs expressing ADTZ gene in their parotid glands.
The team found significant ADTZ activity in the saliva of 6 transgenic pigs. Feeding trial with AFT results showed that there were significant differences between AFT residues in the liver of transgenic pigs producing ADTZ and the control pigs.
To investigate the inheritance of the transgene, 11 G1 transgenic pigs were successfully obtained. The ADTZ activity in saliva of 11 G1 transgenic pigs was found to be significant. Feeding trials with AFT results also showed significant differences in the liver of G1 pigs and the control.
These results demonstrate that ADTZ produced in transgenic pigs could improve the effect of the AFT contamination of feed on pigs.
For more information, read the article in Transgenic Research.
Document Reminders
ISAAA releases a new Pocket K titled Biotech-improved Animals. This mini publication presents GE animals that have been developed to address various concerns such as disease spread, food production, and environmental pollution. Examples of GE animals discussed were GM mosquito, GE salmon, glowing fish, eco-friendly pig, and bird flu-resistant chicken. Download a free copy from the ISAAA website.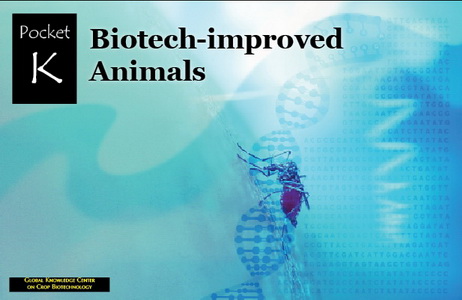 Pocket Ks are Pockets of Knowledge, packaged information on crop biotechnology products and related issues available at your fingertips. They are produced by the Global Knowledge Center on Crop Biotechnology.

---
ISAAA releases three updated infographics about biotech crops and the countries that plant them, with data from the Brief 52 Global Status of Commercialized Biotech/GM Crops: 2016.
The infographics are:
Download the infographics from the ISAAA website, where other topics materials are available for download.
From The BICs
Vietnam Genetics Association, Agricultural Genetics Institute, and Phu Yen Center for Application and Transformation of Technology (PYCAT) organized a conference on biotechnology applications and genetically modified products on July 17, 2017 in Tuy Hoa City, Phu Yen, Vietnam.
The meeting was attended by leaders of Phu Yen Department of Science and Technology and more than 120 representatives from agencies under the Department of Science and Technology: Application and Transformation of Technology Center, Center for Information and Statistics of Science and Technology; Agencies under the Department of Agriculture and Rural Development: Plant Protection Division, Varieties and Plant Techniques Center, Extension center; Representatives of the city's Agricultural Division, Farmers Association of Son Hoa, Song Hinh, Tuy An, Phu Hoa, Tay Hoa, Dong Xuan, Song Cau Districts; The Phu Yen Union of Science and Technology Associations, the Department of Information and Communication of the province; Phu Yen University.
The conference was organized to introduce biotechnology and present updates on the latest developments in the field. In addition, experts also raised the issue of inaccurate information on biotechnology, which has caused concern for consumers. Therefore, science communicators must be knowledgeable and transparent in disseminating knowledge on the technology and its applications.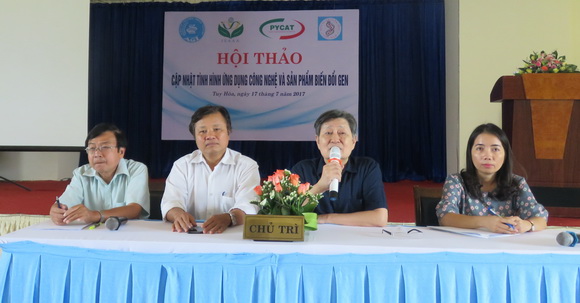 For more information, read the news in Vietnamese from Khoa Hoc Cong Nghe Viet Nam.