News
Global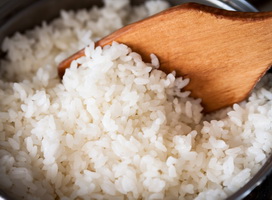 An international team of researchers from Spain, the United States, and the United Kingdom has successfully created a strain of genetically modified (GM) rice that will produce HIV-neutralizing proteins.
Scientists have been developing possible treatments for people infected with HIV. Their efforts to produce a vaccine against the virus have been unsuccessful, but oral medications have been developed that can stave off an infection for a short period of time. These medications, however, are unavailable in third world countries.
To help people who are at risk, the research team developed a strain of rice with the same HIV-neutralizing proteins as the oral medications. Once grown, the rice produces seeds that can be processed on-site to make a topical cream containing the proteins. The cream can then be applied to the skin to allow the proteins to enter the body.
The GM rice produces one type of antibody and two kinds of proteins that bind directly to the HIV virus, preventing them from interacting with human cells. The researchers note that the cost of making the cream is nominal once the rice has been grown, and people living in infection areas can grow as much of the rice as they need, then make the paste and apply it themselves.
For more details, read the paper published in the Proceedings of the National Academy of Sciences.
Africa
The Plant Variety Protection (PVP) Act, 2014 was enacted by the Parliament of Uganda in 2013, and assented to by President Yoweri Museveni in 2014. The legislation was formulated to recognize and protect breeders' rights over the varieties they develop, and promote appropriate mechanisms for fair and equitable benefit sharing from the use of plant varieties, knowledge, and technologies. However, nearly four years on, the Act is yet to be operationalized. National Agricultural Research Organization and African Agricultural Technology Foundation organized a one-day workshop, the National Stakeholders Dialogue for Strengthening the Plant Variety Protection System in Uganda on July 25, 2018 at Imperial Royale Hotel, Kampala.
The stakeholders discussed strategies to address some of the concerns that have previously hampered the operationalization of the PVP Act. Biotechnology dominated proceedings during the discussion with stakeholders pointing out the 'unique' complications associated with the technology. They emphasized that the technology has remained clouded by negative propaganda worldwide. While discussing the global status of plant breeders' rights, Prof. Phinehas Tukamuhabwa, a renowned soybean breeder at Makerere University, highlighted the challenges raised by modern agricultural biotechnology, which he referred to as an often politically sensitive topic. He noted that biotechnology plays an important role in modern plant breeding. "Almost all biotechnological innovations—processes, genes, sequences and tools are patentable," he asserted. These require statutory protection. It is noteworthy that Uganda has the highest number of genetically modified crop field trials in Africa.
Makerere University's Prof. Patrick Rubaihayo wondered why Uganda is quick to sign treaties, but does not follow through on their specific requirements. "Uganda was one of the first countries to sign and ratify the Cartagena Protocol, but has yet to enact a biosafety law," he lamented. Uganda's biotechnology and biosafety law was passed by Parliament in October 2017 but until now it is yet to be assented to by the His Excellency the President. Some Ugandan farmers are excited that neighboring countries like Kenya and Ethiopia have approved environmental release of GM cotton and are looking forward to crossing the borders to access the seed.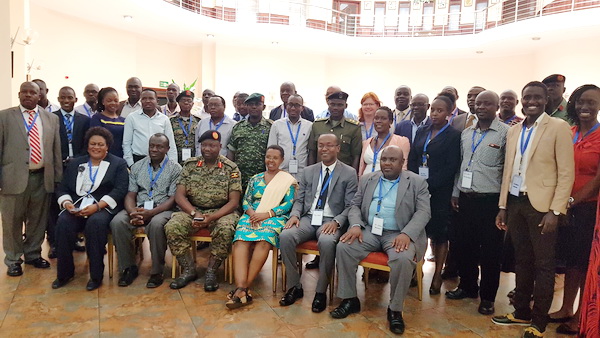 For more details, send an e-mail to ubic.nacrri@gmail.com.
[ Send to a Friend | Rate this Article ]
---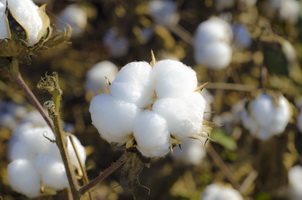 Nigeria, Africa's most populous country, has recorded a major breakthrough in crop biotechnology following official approval and registration of two Bt cotton varieties, MRC 7377 BGII and MRC 7361 BGII, by the National Committee on Naming, Registration and Release of Crop Materials. This development means farmers can now access biotech cotton seeds in addition to other conventional varieties once the permit holder multiplies the registered varieties. Nigeria also becomes the seventh African country after South Africa, Sudan, Swaziland, Kenya, Malawi, and Ethiopia to grant open cultivation approval for the crop. Latest global update indicates a total of 14 countries grew 24.1 million hectares of biotech cotton reaching an adoption rate of 80 percent. India had the largest acreage of 11.4 million hectares.
Speaking at the official announcement in Ibadan, Committee Chairman Chief Oladosun Awoyemi exuded confidence that the approval and registration of the GM cotton varieties will revolutionize agricultural development in the country as it leads to adoption of GM technology. Both varieties were developed by Mahyco Nigeria Private Ltd., in collaboration with the Institute for Agricultural Research (IAR) at Ahmadu Bello University in Zaria.
The National Biosafety Management Agency (NBMA) Director General, Dr. Rufus Ebegba, hailed the development as a victory for Nigeria and Africa. "African Biosafety Regulators need courage and knowledge to act in the face of overwhelming scientific evidence, despite threats from those who refused to believe in the efficacy of safe science and technology," Dr. Ebegba emphasized.
Director General of the National Biotechnology Development Agency (NABDA) Prof. Alex Akpa noted the registered varieties are highly viable compared to the local conventional alternative and are capable of producing 4.1 to 4.4 tons per hectare against the local variety's 600 to 900kg per hectare. "With this development, Nigeria has demonstrated that it has the institutional capacity and human resources to safely deploy genetic engineering in the agricultural sector," said Prof. Akpa. According to Dr. Rose Gidado, country Coordinator of Open Forum on Agricultural Biotechnology in Africa (OFAB), the official registration opens a new dawn for Nigeria as the country's cotton production will boomingly increase signalling a return to cotton production. Dr. Gidado remarked, "With the new varieties, farmers will have access to quality seeds subsequently recording over 50% profit. The country's textile industry will also be revamped."
In 2016, NBMA issued a permit for the commercial release and placing on the market of Bt cotton, upon which varietal performance trials were initiated to select suitability in different agro-ecological zones. Other GM crops under various stages of research in Nigeria include Maruca-resistant Bt cowpea, biofortified sorghum, Bt/Ht maize, GM cassava modified for delayed post-harvest starch deterioration and nitrogen use, water efficiency and salt tolerant rice.
For more on other biotech developments in Africa, contact Dr. Margaret Karembu at mkarembu@isaaa.org.
Americas
The USDA Animal and Plant Health Inspection Service (USDA-APHIS) released the draft Environmental Assessment (dEA) and draft Plant Pest Risk Assessment (dPRA) of genetically engineered (GE) cotton with ultra-low levels of gossypol in the seed (event TAM66274). The documents were made available for public comment to be considered for potential deregulation of the GE cotton variety.
Gossypol is a naturally produced compound in the pigment of cotton, which protects the plant from pests and diseases. The GE cotton under public comment has protective levels of gossypol in the plant parts except in the seed, where there is lower gossypol content. Cottonseed meal, a byproduct of cotton used in food and feed, is not widely used because high concentrations of gossypol are potentially toxic. Thus, once the GE cotton with ultra-low levels of gossypol becomes deregulated, cottonseed meal can be used more readily.
The notice on the public comment is posted in the Federal Register. Comments on the dEA and dPRA may be submitted until August 31, 2018 at Regulations.gov.
Asia and the Pacific
AgResearch testing of genetically modified High Metabolisable Energy (HME) ryegrass shows that it can grow up to 50% faster than conventional ryegrass, and has the ability to store more energy for optimum animal growth, to be more resistant to drought, and to produce up to 23% less methane (the largest single contributor to New Zealand's greenhouse gas emissions) from livestock.
The research is funded by the New Zealand Government and industry partners including DairyNZ. Modelling also projects that adoption of GM ryegrass could lead to less nitrogen excreted into the environment by animals feeding on the ryegrass, thus less nitrate leaching and lower emissions of nitrous oxide, another greenhouse gas.
The initial growing trial of two months was held last year, confirming the suitability of conditions for the growth of the GM plant. Full growing trial of five months is currently underway. If these trials become successful, the researchers will apply for animal feed trials which may be conducted in two years' time.
Read more from AgResearch.
[ Send to a Friend | Rate this Article ]
---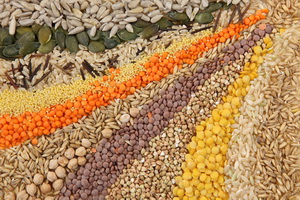 Biofortification of crops through genetic modification can effectively lessen the burden of micronutrient deficiencies in an economically viable way. This is according to review article authored by economics and policy experts from the International Rice Research Institute (IRRI), Ghent University, and European Commission and published in Current Opinion in Biotechnology.
Matty Demont, Senior Economist at IRRI, presented the highlights of their review article during the The Economics of Biotech Crops: A Symposium to Promote Economic and Financial Literacy symposium held on July 17, 2018 at the SEARCA Umali Auditorium, Los Baños, Laguna, Philippines.
According to Demont, biofortification complements current interventions to address micronutrient deficiency such as supplementation, industrial fortification of food products, and dietary diversification. Biofortification is generally a beneficial option because of its long-term cost-effectiveness, and the potential to reach the underserved, rural populations, especially in areas with high burden of hidden hunger. To date, there are several research on using GM to biofortify food crops such as the Golden Rice project, however, no GM biofortified crop is available in the market. They analyzed the consumers' willingness to pay for such products in case they become commercially available and concluded that consumers are willing to pay more for biofortified products when direct consumer benefits are presented to them.
Read the abstract from Current Opinion in Biotechnology.
Europe
Scientists from the Norwegian University of Science and Technology (NTNU) collaborating with colleagues from Imperial College London and The Sainsbury Laboratory have learned more about how plants defend themselves.
The plant cell wall protects them against various threats. When the cell wall is damaged, the plant tries to minimize the damage and repairs it so the plant is restored to its normal state. Plants respond differently depending on the danger threatening it.
The researchers, led by NTNU Associate Professor Thorsten Hamann exposed thale cress to various injuries to see how the plants would react. They disconnected 27 different genes to observe the effects. Five of the genes were important in maintaining the equilibrium of the cell walls. The experiments provided a basis for identifying multiple enzymes (kinases) and channel proteins involved in the plant's defense mechanisms. A number of genes are involved in producing these substances.
The team's most interesting finding seems to be that two defense systems can act as a kind of backup for each other. Hamann said that when they blocked the plants' immune response, the mechanisms that maintain balance in the cell walls partially compensate for the blockage, and became a kind of reserve defense system.
For more details, read the article in Gemini.
[ Send to a Friend | Rate this Article ]
---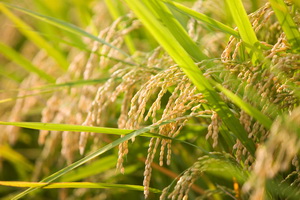 Scientists from The University of Sheffield have discovered that developing a high-yielding rice variety with reduced stomatal density helps the crop conserve water and survive high temperatures and drought.
The study, conducted in collaboration with the International Rice Research Institute (IRRI) found that low stomatal density rice lines used just 60 percent of the normal amount of water. Grown at elevated atmospheric carbon dioxide levels, the low stomatal density rice plants survived drought and high temperature (40o C) longer than the unaltered plants.
Julie Gray, Professor of Plant Molecular Biology and lead author of the study, said, "Stomata help plants regulate their water use, so this study could have a significant impact on other crops which are at risk under climate change."
For more details, read the news article from The University of Sheffield.
Research
Oil palm covers over one-third of vegetable oil production worldwide and has a variety of applications in food, cosmetics, and pharmaceuticals. Another gene related to high-oil content has been characterized by a group of scientists working on the genetic improvement of oil palm.
Through genome-wide association data analysis, phylogenetic analysis, and multiple sequence alignment, the researchers found the EgGDSL gene to be associated with high-oil content. The gene was transformed and expressed in Arabidopsis and was found to increase total fatty acid content by 9.5%. EgGDSL was also found to be highly expressed in oil palm trees with high oil content.
The EgGDSL gene would be valuable in breeding and the genetic engineering of oil palm.
For more information, read the article in Nature.
[ Send to a Friend | Rate this Article ]
---
Around 70% of coffee consumed worldwide are from the beans of Coffea arabica (Arabica coffee). As the coffee quality is determined by the coffee bean composition, further understanding on the accumulation of bean components is important in coffee quality improvement, especially in response to climate change.
Through RNA sequencing, researchers from Australia analyzed the gene expressions in coffee bean during the green, yellow, and red ripening stages. They found major lipid and protein accumulation during the green stage and the most number of transcript expression during the yellow stage. Pectin was also found to degrade throughout the ripening process.
The results of the study provides information on targeted analyses on gene families of interest and will aid the genetic control of these components in coffee.
For more information, read the article in Nature.
[ Send to a Friend | Rate this Article ]
---
Salinity is a major factor limiting agricultural production worldwide. Glycine betaine (GB) is an osmoprotectant that protects plants from environmental stresses. Jiuling Song, a scientist from Shandong University in China, led a team of researchers to develop transgenic cotton expressing both ApGSMT2g and ApDMT2g via Agrobacterium-mediated transformation.
Expression of both ApGSMT2g and ApDMT2g in cotton resulted in higher salt tolerance and more vigorous plant growth as characterized by higher GB amounts, higher relative water content (RWC), and lower osmotic potential under salt stress compared to wildtypes. Furthermore, co-expressing the two genes led to greater photosynthesis capacity, improvement of plant growth, and increases in cotton seed yield compared to wildtypes under salt stress.
These results indicate that ApGSMT2g and ApDMT2g confer higher salt tolerance and more seed yield to cotton plants under saline conditions.
For more information, read the article in Plant Science.
New Breeding Technologies
CRISPR-Cas9 and Cas12a (Cpf1) nucleases are two of the most powerful genome editing tools in plants. Iowa State University researchers compared the activities of these two nucleases by targeting the maize glossy2 gene coding region. The research team, led by Keunsub Lee, introduced the SpCas9‐guide RNA (gRNA) and LbCas12a‐CRISPR RNA (crRNA) into maize inbred embryos using Agrobacterium‐mediated transformation.
Analysis showed that 90-100% of the Cas9‐edited T0 plants carried mutations, 63-77% of which were homozygous or biallelic mutants. Meanwhile, 0-60% of Cas12a-edited T0 plants had the on-target mutations. Analysis of potential off-target sites for the two nucleases identified 18 and 67 potential off‐targets for SpCas9 and LbCas12a, respectively. Further analysis of the off‐target sites revealed no detectable mutations in the T1 plants.
These results suggest that the CRISPR-Cas9 system used in this study is highly efficient and specific for genome editing in maize. On the other hand, CRISPR-Cas12a needs to be improved for genome editing.
For more information, read the article in Plant Biotechnology Journal.
[ Send to a Friend | Rate this Article ]
---
Abnormally developed endosperm strongly affects rice appearance and grain weight. Endosperm formation is a complex process, but several factors remain largely unknown. Scientists from the China National Rice Research Institute studied a recessive mutant, wb1, in hopes of studying factors affecting endosperm development in rice.
The wb1 mutant develops a white-belly endosperm and abnormal starch granules in the inner portion of white grains. Grains of wb1 also showed higher grain chalkiness and a lower 1000-grain weight, a 34% decrease from that of wildtype grains. The contents of amylose and amylopectin in wb1 significantly decreased, and its physical properties were also altered.
The analysis identified 12 candidate genes that could be implicated for the wb1 mutant. Further analysis of transcript levels of all candidate genes showed that White Belly 1 (WB1), which encodes a cell-wall invertase, was the most probable cause of white-belly endosperm phenotype.
Switching off of WB1 using the CRISPR-Cas9 system in Nipponbare rice lines confirms that WB1 regulates endosperm development and is responsible for the wb1 mutation.
For more information, read the article in the International Journal of Molecular Sciences.
[ Send to a Friend | Rate this Article ]
---
The improvement of cotton is highly dependent on efficient tissue culture and genetic transformation techniques. Somatic regeneration in cotton is highly genotype-dependent, and a while has gone since a highly regenerative cotton genotype was developed. Nevertheless, a group of scientists developed a new elite genotype for cotton (Jin668) through the Successive Regeneration Acclimation strategy in 2017.
The plant tissue culture process affects the expression of many genes, leading to epigenetic modifications throughout the regeneration process. Researchers further explored these epigenetic mechanisms during the regeneration process of Jin668 through Bisulfite-treated, RNA, and sRNA sequencing, ChIP assay, and qRT-PCR. The methodology and results of the study may be used to improve the plant regeneration and transformation efficiencies for cotton improvement.
For more information, read the article in Plant Biotechnology Journal
Beyond Crop Biotech
University of Adelaide researchers have uncovered the mechanism of barley's malting characteristics. The researchers discovered a new link between one of the key enzymes in malt production for brewing and a specific tissue layer within the barley grain.
The most important malting enzymes come from a layer of tissue in the barley grain called the aleurone, a health-promoting tissue full of minerals, antioxidants, and dietary fiber. The researchers learned that when more aleurone is present in the barley grain, more enzyme activity is produced.
During the malting process, complex sugars in the barley grain are broken down by enzymes to produce free sugars, which are then used by yeast for fermentation. It has been unknown that the key ingredient in the beer brewing process was influenced by the amount of aleurone within the grain, or that the aleurone was potentially a storage site for the enzyme.
For more details, read the news release from The University of Adelaide.
[ Send to a Friend | Rate this Article ]
---
Deoxycytidine monophosphate deaminase (DCD) is a key enzyme in the de novo deoxythymidine triphosphate (dTTP) synthesis. DCD is known to play key roles in cell cycle progression, and plant development. However, not much is known of the function of the DCD gene in Panicoideae plants. Setaria is an ideal model of Panicoideae grasses, especially for C4 photosynthesis research.
Researchers from the Chinese Academy of Agricultural Sciences studied a foxtail millet (Setaria italica) stripe leaf mutant, sistl2. The sistl2 mutant exhibited semi-dwarfism, striped leaves, abnormal chloroplast structure, and delayed cell cycle progression compared with its wildtype parent Yugu1.
The researchers, which were led by Shuo Zhang and Sha Tang, identified the causal gene SiSTL2, which encodes a DCD protein. Further analysis indicated that SiSTL2 plays a role in the regulation of chloroplast biogenesis, cell cycle, and DNA replication, which suggested that the gene has similar functions in both foxtail millet and rice.
This study provides in-depth knowledge of the role of DCD in the C4 photosynthesis of model plant Setaria.
For more information, read the article in Frontiers in Plant Science.
[ Send to a Friend | Rate this Article ]
---
Increasing crop yield requires the coordination of multiple metabolic pathways including photosynthetic carbon fixation, and targeted carbon deposition. The research team of Madana M.R. Ambavaram from Yield10 Bioscience Incorporated in the USA search for transcription factor genes that could play a role in increasing carbon flow through pathways to increase biomass yield in switchgrass (Panicum virgatum).
Two novel switchgrass transcription factor genes, PvBMY1 (BioMass Yield 1) and PvBMY3 (BioMass Yield 3), with predicted roles in the regulation of photosynthesis and related metabolism, were identified. These genes were then overexpressed in switchgrass to determine their effect on biomass yield.
A significant increase of as high as 160% was observed in both aboveground and root biomass in the transgenic plants compared to wild-type control during the greenhouse experiment. Transgenic lines with elevated electron transport rate of photosystems I and II as well as increased levels of starch and soluble sugars were also identified.
This study reveals that PvBMY1 and PvBMY3 are capable of significantly increasing biomass in switchgrass. These genes possess huge potentials for use in developing high biomass switchgrass for biofuel production.
For more information, read the article in Plant Science.
From The BICs
Pakistan Biotechnology Information Center (Lahore Chapter) organized a lecture on science communication and policy making by Mr. Ehsan Masood at Forman Christian College (a chartered University) in Lahore, Pakistan on July 27, 2018. Members of the Mass Communication and Biotechnology departments along with the Center for Public Policy attended the lecture.
Mr. Masood talked about the importance of policy making in the development of science in Pakistan. He also enlightened the audience on the history of GDP in Pakistan and how people can improve the circumstances today. He also discussed a few points from his book "The Great Invention." Mr. Masood has taught at Imperial College London, former Commissioning Editor at Nature, and recently named as one of the 2017-2018 Knight Science Journalism fellows at Massachusetts Institute of Technology.
After the lecture, a discussion between the researchers and future journalists and they emphasized that Pakistan is in need of effective policy making to push the economy through science and agriculture.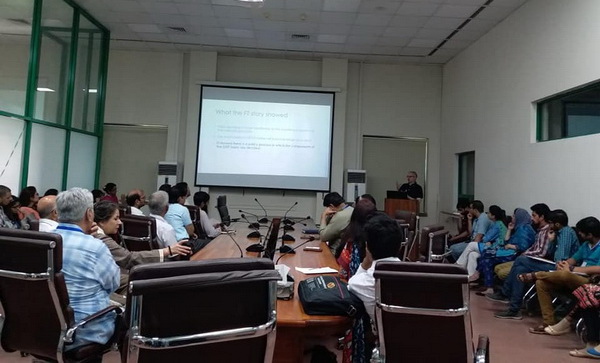 To learn more about agricultural biotechnology in Pakistan, visit the PABIC Lahore website.