News
Global
Scientists at The Sainsbury Laboratory, along with partners at the International Center for Tropical Agriculture (CIAT), and the John Innes Centre, warned that the world is not prepared for the next plant health emergency, including the rise in new epidemics and plant diseases.
In a paper published in Science, the scientists propose the creation of a Global Surveillance System (GSS) that will extend and adapt established biosecurity practices and networking facilities. The model for GSS comes from lessons gained from previous outbreaks such as the wheat blast outbreak in Bangladesh in 2016 and the bacterial outbreak of Xylella fastidiosa that started affecting olive trees in Europe in 2013. The proposal comes from a multidisciplinary group of experts from academia, research centers, and funding organizations that work on issues related to plant and human health.
The group hopes that the GSS framework they propose gains traction in 2020, designated as the International Year of Plant Health by the United Nations. The system would prioritize six major food crops – maize, potato, cassava, rice, beans, and wheat – as well as other important food and cash crops that are traded across borders. Aside from tapping cutting-edge technology for rapid disease diagnostics, GSS would also take advantage of communications networks, including social media, to rapidly share information.
"A lot of collaboration and discussion is needed to improve existing systems so we can avoid outbreaks that could negatively impact food security and trade" notes Mónica Carvajal, a researcher at CIAT and lead author of the paper.
For more details, read the articles in Science, CIAT, and The Sainsbury Laboratory.
Africa
Members of Parliament from Uganda have called upon the Kenyan government to fast track the commercialization of Bt cotton so that the entire East African Community can benefit from its advantages. This was during a genetic engineering regulatory learning visit to Kenya.
Uganda Biosciences Information Center (UBIC) collaborated with ISAAA AfriCenter to organize a learning visit on genetic engineering regulation for policymakers and regulators. The objective of the visit was to share regulatory experiences on environmental release and eventual commercialization of biotech crops in Kenya, which is likely to have implications for trade within the East African Community.
"I call upon the government of Kenya to speed up its decision in resolving this matter so that these advantages on the Bt cotton can be enjoyed not only the Kenyans but by the entire East African Community," said Hon. Fred Bwino, Member of Parliament and Chairperson for the Parliamentary Committee for Science, Technology and Innovation. This was during a seeing-is-believing visit to one of the sites of the Bt cotton national performance trials in Mwea, Kenya, on June 19, 2019. Hon. Bwino who led the Ugandan delegation added that if Kenya leads the way (with commercializing Bt cotton), other members of the East African Community can follow in this very positive development.
According to researchers in Kenya, Bt cotton effectively controls common caterpillar pests and matures in four months compared to local varieties that take nine months. The Government of Kenya is hoping to revamp its textile industry with the commercialization of Bt cotton after many years of declined cotton production. President of Kenya, H.E. Uhuru Kenyatta, recently presided over the official reopening of the Rivatex textile factory that will be one of the reliable markets to Kenyan farmers who are excited to get higher yields from Bt cotton. Three other factories: Thika Cotton Mills, Bedi Investment, and Ken Knit Factories have also rejoined the textile industry, according to Standard Media.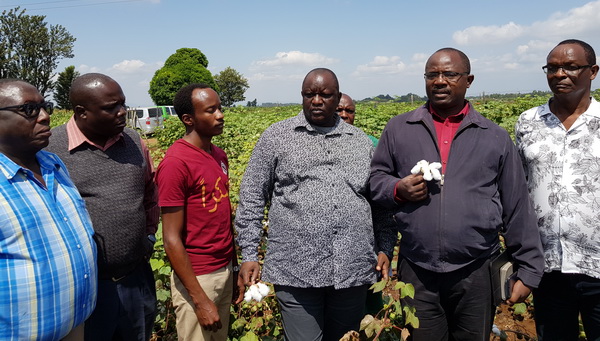 For more information, please contact ubic.nacrri@gmail.com.
[ Send to a Friend | Rate this Article ]
---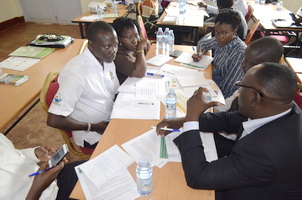 For six years, Ugandan policymakers and journalists have expressed frustrations about the difficulty in appreciating scientific terminologies and messages presented about biotechnology. On many occasions, non-scientists have volunteered to simplify the science with limited success. For this reason, Uganda Biosciences Information Center (UBIC) brought together science and media practitioners to develop the first ever 'dictionary' that provides simple language translations of some of the terminologies used in biotechnology and biosciences. UBIC further intends to have this 'dictionary' translated from English into key languages spoken in Uganda and the region such as Kiswahili, Luganda, Runyakitara, Luo, Acholi, and Ateso.
"Science communication is challenging owing to the fact that most scientific technologies originate in the western world and thus African languages often do not have accurate translations of scientific terms," noted Dr. Anton Bua, a senior scientist at the National Crops Resources Research Institute (NaCRRI).
"The goal is to simplify how we communicate science and make sure that no matter the language spoken, the audience received a similar message," said Dr. Barbara Zawedde—the UBIC Coordinator during a recent launch of this initiative at one of NARO's Zonal Agricultural Research and Development Institute in Uganda. Participants took part in identifying and simplifying some of the most commonly used terminologies by Ugandan scientists, and developing simplified messages for common socio-economic and ethical concerns associated with biotech crops.
Ambiguities in languages/semantics often distort the science messages making this effort extremely pertinent in an era of increasing and deliberate misinformation. Once finalized, the 'dictionary' will be widely disseminated to biotech communicators and champions to facilitate informed dialogue on modern agricultural biosciences and biotechnology.
For more information, please contact ubic.nacrri@gmail.com.
Americas
Scientists at the U.S. Department of Energy's Brookhaven National Laboratory have discovered that the protein that turns on oil synthesis also activates a protein that puts the brakes on the same process.
The scientists found that a protein known as BADC exerts its braking mechanism by inserting itself into ACCase, a key enzyme involved in making fatty acids. From another study, the team explored the signaling protein WRINKLED1 (WRI1) which turns on the enzymes for fatty acid synthesis, including parts of ACCase, and serves as the on switch for the oil-synthesis pathway.
The team did not find the connection between WRI1 (on switch) and BADC (off switch) until the lead authors observed that plants with mutations in genes for either protein had unusually short roots. Further investigation led them to conclude that both proteins are linked to the root growth defect.
For more details, read the news release in the Brookhaven National Laboratory Newsroom.
[ Send to a Friend | Rate this Article ]
---
The United States Department of Agriculture's Foreign Agricultural Services (USDA FAS) released their Global Agricultural Information Network (GAIN) report for Bolivia, highlighting the country's approval of two new genetically engineered events for soybean.
Soybean is an important crop in Bolivia. According to the report, soybeans are Bolivia's largest agricultural export and it accounts for 45% of the total agricultural land production, majority of which are found in Santa Cruz. Producers have been demanding for the approval for the widespread use of biotechnology to increase their productivity and reduce production costs, allowing them to be at part with their competitors in the market. The Bolivian government gave its support to the producers by granting the approval to cultivate two new genetically engineered soybean events. Prior to this, the sole genetically engineered seed approved for cultivation in the country was the glyphosate-resistant soybean.
The Bolivian government is also considering the approval to use biotechnology for both corn and cotton, as both crops are also high in demand.
Read more in USDA FAS.
Asia and the Pacific
Around 50 participants from different partner agencies gathered for the two-day Consultative Workshop on Strengthening Partnerships for Biotechnology Advocacy in the Philippines held last June 26-27, 2019 in Los Baños, Laguna.
Ms. Ann Lopez, Director-Coordinator of the Department of Agriculture Biotechnology Program Office (DA-BPO), spoke about the need for enhanced cooperation among the institutions. "The foundation of a national IEC program is a synergistic partnership. We hope that a stronger alliance will come out of this activity, driven by the principle that our IEC efforts and advocacies should be able to help our stakeholders and the general public make their own choice, have their own voice, and assert their right to technology access," she said.
Science communication experts from the University of the Philippines Los Baños – College of Development Communication (UPLB-CDC) facilitated a series of activities to identify each agency's/organization's communication strategies and find areas of potential convergence as well as determine information gaps. Common issues experienced in implementing the communication and outreach activities were likewise brought up in the discussions.
The group also developed umbrella key messages as an overall guide for their communication initiatives covering the 5 Ks of Biotech -- Kalikasan, Kalusugan, Kagandahan, Kabuhayan, at Kaunlaran (Environment, Health, Wellness, Livelihood, and Development). The 5 Ks were developed as the focus of the National Biotechnology Week celebrations in the past years.
The workshop was organized by DA-BPO, in partnership with the Southeast Asian Regional Center for Graduate Study and Research in Agriculture – Biotechnology Information Center (SEARCA-BIC), International Rice Research Institute (IRRI), Biotechnology Coalition of the Philippines (BCP), and CropLife Philippines.

For more details about biotechnology developments in the Philippines, visit the SEARCA BIC website.
Europe
A study has unveiled the origins and adaptation of the modern European potato using plants that were collected 350 years ago, including those from by Charles Darwin's 1834 voyage on HMS Beagle. The new genetic analysis led by scientists from the Max Planck Institute for Developmental Biology in Germany settles the debate about the origins of the European potato. While Russian scholars thought that the European potato came from Chile, English researchers believed it has Andean origins. Results of the new study reveal that the European potato is in fact rooted in both regions of South America.
The researchers extracted DNA from 88 samples that included landraces, modern cultivars, and historical specimens kept in herbaria. The oldest sample from 1660, which was found in the Sloane herbarium at London's Natural History Museum. The study shows that European potatoes collected during the period 1650–1750 were closely related to Andean landraces. After their introduction to Europe, these potatoes mixed with Chilean genotypes.
The first potatoes collected by Europeans came from the equatorial Andes in the 16th century, adapted to short days. Tubers from these potatoes only developed in late autumn as the days shortened, mimicking the day length and temperature cues of their original habitat. The research tracks the emergence of this adaptation in Europe and traces it to the 19th century, coinciding with an influx of Chilean potatoes and the transformation in the cultivation of potatoes in Europe.
For more details, read the news release at the Max Planck Institute for Developmental Biology website.
[ Send to a Friend | Rate this Article ]
---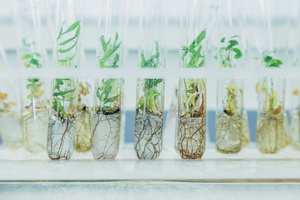 In a recent interview for IEG Policy's new special report titled Smart Solutions for Food and Farming: A Policy Perspective, EuropaBio's Secretary General, Joanna Dupont-Inglis talked about her organization's views on the European Union's policy on GM crops and genome editing.
Dupont-Englis said she objects the European Court of Justice ruling in July 2018 because the ruling could cause European life science innovation to grind to a halt, citing that Europe's world-leading scientific community is also calling for change. She added that the EU's approval system has already prevented farmers from accessing products that have been used safely for decades in other parts of the globe. According to her, the existing system for GMOs in the EU could and should work much more smoothly, even within the existing Directive.
Dupont-Inglis said, "Any products classified as GMOs have little chance of ever gaining fair market access in the EU. EuropaBio firmly believes that, in order to advance the UN Sustainable Development Goals by 2030, a proportionate, fit-for-purpose, and science-based approach to modern technologies, such as innovative biotechnology and life sciences, is essential."
As EuropaBio's Secretary General, she sees the promising potential applications of genome editing in the development of pest and disease resistant fruit and vegetables, products with lower allergenic potential, healthier soybean oils that reduce trans-fats, cereals that use water more efficiently, as well as crops with improved yields, and those that can reduce waste.
Read more about the interview in IEG Vu.
Research
Scientists from Mexico assessed the potential impacts associated with gene flow from transgenic maize to maize landraces in Mexico, which is the center of origin and diversity of maize. The results are published in Transgenic Research.
Insect resistance and herbicide tolerance traits (MON89034xMON88017) known as Genuity® VT Triple Pro (VT3Pro) were introgressed into two Mexican landraces, Tuxpeño and Tabloncillo. Field trials in four locations with varying environments were conducted to evaluate phenotypic characteristics, plant response to stressors, and kernel composition of landraces with and without the IR and HT traits. Materials from four backcrossing generations were also analyzed for segregation of these GM traits.
Results showed that there were no significant differences between landraces with and without VT3Pro traits for the characteristics observed. Segregation analysis showed that GM traits, when introgressed into landraces, followed Mendelian principles. These findings imply that if accidentally introgressed into landraces through natural gene flow, VT3Pro traits would not alter phenotypic or kernel characteristics, plant response to stressors and would segregate like any endogenous gene.
Read more results in Transgenic Research.
[ Send to a Friend | Rate this Article ]
---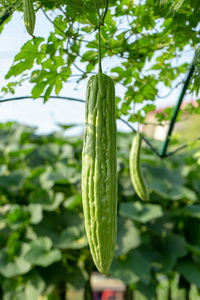 Sheath blight (SB) caused by Rhizoctonia solani fungus is one of the problems in rice production, but scientists have not found a source of resistance within the rice germplasm. Thus, researchers from Southwest University in China searched for other sources of resistance and tested a gene from bitter melon. The findings are published in Transgenic Research.
The research team developed transgenic lines harboring the chitinase gene (McCHIT1) of bitter melon with good SB resistance. Then they inoculated the transgenic and wild-type rice plants with hyphae of highly pathogenic SB strain. Results showed that there was higher SB disease incidence in wild-type plants (92%) than in transgenic lines (37-44%). From 1 to 5 days after inoculation with fungus hyphae, the chitinase activity in transgenic plants with high SB resistance was 2 to 5.5 and 1.8 to 2.7x that of wild-type and disease-susceptible transgenic plants, respectively. There was also a strong correlation between SB resistance and chitinase activity in transgenic rice plants.
Based on the results, the researchers concluded that McCHIT1 from bitter melon can be used to protect rice plants from SB infection.
Read the research article for more details.
New Breeding Technologies
Calyno oil represents the first cultivated plant that used gene-editing and was commercialized. Compared to oil from conventional soybeans, Calyno oil contains less saturated fatty acids and healthier oleic acid.
In gene regulation, techniques such as mutation, selection, hybridization, and classical breeding have been done to breed new genotypes that are able to adapt to changing environmental conditions. However, for decades now, artificial mutations using radioactive rays have allowed plant breeders to develop thousands of varieties of genotypes. New plant breeding innovations such as CRISPR are used as part of gene regulation. Using this method, no transfer of genes from external species are needed like it is with GMOs. Instead, a target gene is manipulated using DNA-cutting enzymes, creating new genotypes.
Before GMO crops are released for the consumption of the public, the crops first undergo health and environment safety tests, making the whole process of commercialization very expensive. On the other hand, genotypes developed from gene editing cost about a tenth of developing GMOs. This allows low-budget startups, universities and public institutions to get involved. This opportunity led to crop gene editing projects to rise globally.
For more details, visit BlogActiv.eu.
[ Send to a Friend | Rate this Article ]
---
Flowering time is of the vital characteristics of soybean that affects successful adaptation of soybeans to diverse latitudes and farming systems. In several studies, GmFT2a and GmFT5a have been found to play as flowering activators and integrator in soybeans. Chinese Academy of Agricultural Sciences reported in Plant Biotechnology Journal two quantitative trait loci (QTLs) regions harboring the GmFT2a and GmFT5a linked with various genetic effects on flowering under different photoperiods.
The researchers analyzed the flowering time of transgenic plants overexpressing GmFT2a or GmFT5a,ft2a mutants,ft5a mutants and ft2aft5a double mutants under long‐day (LD) and short‐day (SD) conditions. This confirmed that GmFT2a and GmFT5a have different functions and collectively control flowering time, and the effect of GmFT2a is more prominent than that of GmFT5a under SD conditions whereas GmFT5a has more significant effects than GmFT2a under LD conditions. It was also found that GmFT5a was vital for soybean's adaption to high latitude regions.
Read the research article in Plant Biotechnology Journal.
Beyond Crop Biotech
Thousands of genetically engineered salmon eggs hatched in New York, USA, which were shown to journalists who toured the AquaBounty Technologies facility just outside Albany.
"We believe in transparency, because there is this concern with genetically modified. We want people to see that (our) fish look like fish and how we care for and raise those fish. So in a limited, controlled environment, we want to be able to show people what we do and how we raise the fish," said AquaBounty CEO, Sylvia Wulf.
Pete Bowyer, who manages the AquaBounty facility, showed about 8,000 newly hatched salmon in alevin stage. "They're threadlike, about the size of the end of a thumbnail. You can make out eyes and movement, but they're not feeding yet, still living off of their attached yolk sac," Star Press reported. When asked about what he thinks of the term "Frankenfish" which is used by critics to refer to the GE salmon, Bowyer said that there is strong need to inform the "uneducated mob". The journalists also emphasized the biosecurity controls exercised in the facility which they described, "(there are) locked gates; surveillance cameras; sign-in/sign out logs; instructions not to touch the fish or equipment; white lab coats over street clothes; rubber boots; and multiple foot baths to disinfect the boots as you move between buildings."
Read an article from BIO SmartBrief and watch the video coverage from Star Press.
Document Reminders
Science and She is an online campaign of the International Service for the Acquisition of Agri-biotech Applications (ISAAA) and its network of Biotechnology Information Centers which aims to empower women in science. Scientists and science communicators tell their stories and aspirations for science and the society with the hope that the stories will help bridge the gap between science and the public.
For one week, a female scientist or science communicator serves as the curator of the Science and She social media pages on Facebook, Twitter, and Instagram. One of the previous curators was Dr. Maria Monina Cecilia Q. Arcelo-Villena, former Special Projects Coordinator & Network Administrator of the Southeast Asian Regional Center for Graduate Study and Research in Agriculture Biotechnology Information Center or SEARCA BIC (February 2014 to June 2018). While still working on the objectives of the BIC, Dr. Villena eventually took a bigger role as head of SEARCA's Knowledge Management Department. As Head, she leads the implementation of KMD's projects geared towards the promotion of a learning culture, knowledge creation, and knowledge sharing and use among key actors in agricultural and rural development in Southeast Asia.
Continue reading the ISAAA Blog.
From The BICs
South Asia Biotechnology Centre (SABC) based in New Delhi, India, through the project Safeguarding Agriculture and Farmers against Fall Armyworm (SAFFAL), in collaboration with Taralabalu Krishi Vigyan Kendra, Davangere; Department of Agriculture, Karnataka; and University of Agriculture and Horticultural Sciences, Shivamoga met maize farmers, extension officials, retailers, and local media during a workshop on management of fall armyworm (FAW) at Taralabalu Krishi Vigyan Kendra, Davangere, Karnataka on June 29, 2019.
SABC distributed pheromone traps, FAW lures, personal protective equipment, and safety kits to smallholder maize farmers during the event. SABC also released a Kannada translation of posters for education and awareness among smallholder farmers in Davangere area of Karnataka.
Project SAFFAL is an initiative to empower farmers with tools and techniques, knowledge, and effective control measures to overcome the invasive FAW pest. The project is supported by FMC Corporation and implemented by SABC in collaboration with key stakeholders in the maize value chain.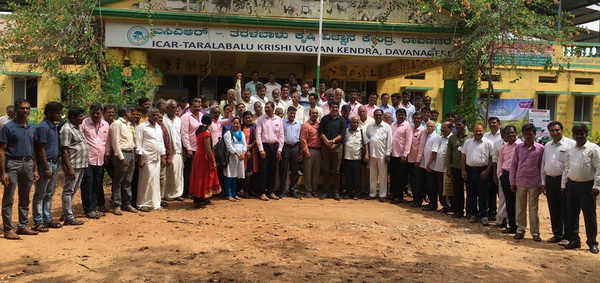 For more information about Project SAFFAL, visit the SABC website.