News
Global
"Innovations in plant breeding are enabling us to develop plants that meet the needs of a changing world," said Jean-Christophe Gouache, President of the International Seed Federation (ISF) during his speech at the opening ceremony of the ISF World Seed Congress 2018 in Brisbane, Australia. "This is down to the 'power of genetics,'" he stressed. "Unlocking the potential of genetic resources to produce more with less is the fantastic mission of the seed industry over the coming decades." The congress, taking place from June 3 to 6, 2018, gathered 1,200 delegates from 64 countries to discuss about the opportunities and challenges facing the seed industry.
According to Gouache, in the earlier years, it was enough to use genetics to improve the efficiency of agriculture. Today, it is necessary to also ensure the resiliency and sustainability of the farming systems. "Yes, the 'power of genetics' can deliver on both efficiency and sustainability," he concluded.
"The responsibility for delivering higher yields and more nutritious food rests on the innovation that the seed industry brings to world food production," said Hon. Senator James McGrath, Assistant Minister to the Australian Prime Minister to the delegates. He lauded the organizations for supporting the food chain globally and for driving innovation in food and feed production.
Read the press release from the International Seed Federation.
Africa
Malawi launched a new national seed policy which includes farmers' rights and other emerging issues in the sector, replacing the 1993 seed policy. During the launch in Lilongwe, Minister of Agriculture, Irrigation and Water Development Joseph Mwanamvekha mentioned that the new policy is vital for the growth of the seed industry. Mwanamvekha emphasized that as an agro economy, Malawi needed a seed policy that aligns with the regional frameworks to satisfy the growing demand for quality and high yield. He also mentioned that the new policy will serve as a guide for the initiatives that seek to improve food security and seed trade.
Seed Traders Association of Malawi (STAM) chairperson John Lungu lauded the government for working with the seed sector to address their pressing concerns before releasing the final document. "Effective seed trade is one of the essential components in the attainment of food security in the region hence the need for government and all stakeholders to work together in making the seed industry vibrant," he said. Lungu also said that to improve productivity in the agricultural sector, increased access to affordable and high-quality inputs such as seed is very critical.
Read more from MBC.
[ Send to a Friend | Rate this Article ]
---
At the 2018 OFAB Media Awards launched by the Open Forum on Agricultural Biotechnology (OFAB) Ghana Chapter, former Director-General of the Council for Scientific and Industrial Research and OFAB Ghana Chapter Programming Committee member Prof. Walter Sandow Alhassan urged journalists to develop interest and exhibit professionalism in science and technology reporting. Prof. Alhassan strongly said that the media has a role in creating necessary awareness among farmers for new technology and its use.
Dr. Richard Ampadu Ameyaw, OFAB Ghana Coordinator told the journalists that products from genetically modified organisms are not dangerous. He said that over the years, plant species and plant products have been modified in various forms.
"The crops that we have today have all been modified. What is happening with modern biotechnology is for scientists to go directly into the gene map and change the order of the gene. That is all, and there is nothing dangerous about it," Dr. Ameyaw said.
For more details, read the news article at GBC Ghana.
[ Send to a Friend | Rate this Article ]
---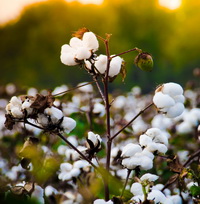 The Government of Ethiopia is the latest African country to authorize cultivation of biotech crops by granting two landmark approvals for environmental release of Bt cotton and research trials on biotech maize. In a letter signed by the Minister for Environment, Forest and Climate Change H.E. Gamado Dale to the Ethiopian Institute of Agricultural Research (Applicant), the country will start with two Bt cotton hybrids: JKCH1050 and JKCH1947. The release for Bt cotton is based on experts' analysis of the results from two-season confined field trials conducted under the supervision of the Biosafety Affairs Directorate of Ministry of Environment, Forest and Climate change and Biosafety technical working team drown from different institutions that have evaluated the final report submitted by the applicant. The Ethiopian government has identified cotton as a strategically important commodity crop to supply raw material for the rapidly growing textile sector and to generate thousands of jobs along the cotton sub-sector value chain.
On maize, the research institute will commence confined field trials of an event with stacked traits for drought tolerance and insect resistance in partnership with the African Agricultural Technology Foundation. The research permit is for five years.
Ethiopian researchers are also working closely with International Institute of Tropical Agriculture (IITA) on an enset bacterial wilt project, to develop resistant varieties through modern agricultural biotechnology. Enset, an Ethiopian banana also commonly known as the false banana, is a key food security crop. Enset can withstand long periods of drought, heavy rains, and flooding, which normally devastates other crops. However, bacterial wilt is devastating the crop, hence threatening food security for over 15 million people who depend on it as a staple food. Thirty years of research efforts by the national system to manage/control bacterial wilt of enset using conventional techniques could not succeed due to absence of resistant clones in the genetic base of the crop.
For more on this and other biotech developments in Ethiopia, contact Mr. Assefa Gudina at bile.kela1@gmail.com.
Americas
Plant scientists at Iowa State University (ISU) have completed a new study describing the genetic pathways at work when corn plants respond to heat stress, a step that could lead to crops better capable of withstanding stress. The research project mapped the stress response detected by the endoplasmic reticulum, an organelle in cells of corn seedlings.
To mimic stressful environmental conditions, the researchers applied a chemical to corn seedlings and then tracked the activity of around 40,000 genes using several high throughput technologies. This is one of the first studies on maize stress to be carried out at this level, said Renu Srivastava, an assistant scientist in the ISU Plant Sciences Institute and a co-author of the study. The scientists exposed the plants to persistent stress and found the plants could adapt – at least for a time. However, with persistent stress, the cells eventually "give up," which quickly leads to cell death, Srivastava said.
The research was a multilevel study in which the scientists analyzed massive datasets to account for the expression of tens of thousands of plant genes. The size of the study required a multi-institutional effort that included scientists at Iowa State, Michigan State, and the University of North Carolina, Wilmington.
For more details, read the ISU news release.
Asia and the Pacific
Shetkari Sanghatana, a farmers organization based in Maharashtra, India is making a strong pitch for genetically modified (GM) seeds. The group has launched a campaign circulating social media posts and organizing conferences where farmers share knowledge of GM crops even as the state cracks down on use of unapproved GM cotton varieties.
For more than 20 days now, farmers across Maharashtra have been getting social media forwards urging them to give a missed call if they wish to fight for the availability of the GM seed technology. Ajit Narde, Shetkari Sanghatana leader said, "We have been getting about 100-150 missed calls on a daily basis supporting the cause." He added that they are now sending these farmers information about GM seed technology.
The organization has held a farmer workshop and conference in Akola in Maharashtra's Vidarbha district in May. More than 700 farmers attended the event, where agriculture and seed techonology experts explained GM technology, experiences from other countries, and tests conducted worldwide that attest to safety of biotech.
For more details, read the article in ThePrint.
[ Send to a Friend | Rate this Article ]
---
A team of scientists from the International Crops Research Institute for the Semi-Arid Tropics (ICRISAT) in India, together with NRGene, Israel have helped create multiple assembly lines of pigeonpea and chickpea genomes. The collaboration has produced chickpea and pigeonpea genomes to a reference level quality that researchers can use.
"For effective use of genomics-assisted breeding, we need reference genomes of several varieties of a given crop. Therefore, new assemblies of chickpea and pigeonpea lines by NRGene and ICRISAT will allow our scientists and partners to better understand plant traits to breed more nutritional varieties," says Dr. Rajeev K. Varshney, Research Program Director, Genetic Gains and Director, Center of Excellence in Genomics & Systems Biology at ICRISAT.
"While DeNovoMAGIC has been successfully deployed by the world's leading seed companies and academic institutions, implementing this for organizations such as ICRISAT enhances our mission of making an impact on the world food supply," says Dr. Gil Ronen, CEO of NRGene. He added that chickpea, pigeonpea, and other protein-rich legumes will be even more critical crops in the years to come.
Read more in the media release from ICRISAT.
[ Send to a Friend | Rate this Article ]
---
In recent years, China has taken considerably longer time to commercialize GM crop events compared to other countries. Thus, CropLife International commissioned Informa to analyze the agricultural and economic impacts of delays in Chinese approvals.
The report, The Impact of Delays in Chinese Approvals of Biotech Crops, quantifies the significant economic impact due to the delayed availability of new biotech products for farmers in major biotechnology cultivation countries, including the United States, Brazil, Argentina, and China. According to the report, timely approvals of biotech imports benefit both exporters and importers. Aside from the economic gains for the exporters, there are also indirect benefits such as growth in the agricultural and ancillary industries. Farmers benefit from adopting GM seeds that produce more yield with less input and can better adapt to climate change conditions. On the other hand, importers benefit from the timely approvals by having more and diversified availability of food/feed crops, which leads to a safe and stable food supply, improved consumer choice, and lower food prices in some areas.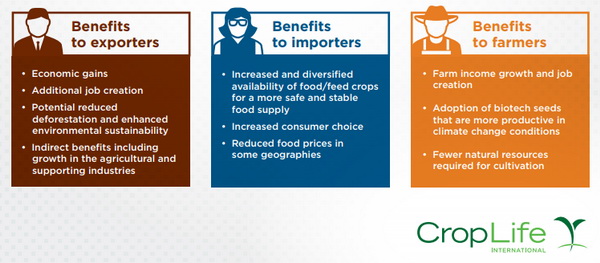 Download a copy of the report from CropLife.
Europe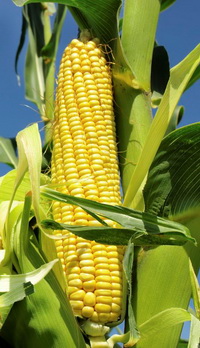 Three studies including GRACE and G-TwYST at European level and GMO90+ in France launched by European and French authorities disprove the controversial study on genetically modified (GM) maize by Gilles-Éric Séralini.
In September 2012, Gilles-Eric Séralini, a professor at the University of Caen, published a sensational article in Food and Chemical Toxicology, which later retracted the study, claiming that GM maize NK603 induces tumors in rats. The results of the European Union funded G-TwYST were reported on April 29, 2018 at a conference in Bratislava, Slovakia which confirms the lack of health effects of maize MON810 and NK603 in the 90-day rat feeding studies. These studies conclude that:
No potential risk for humans and animals was identified in the original assessment of the GM maize NK603. The G-TwYST data from 90-day and long-term rodent feeding studies did not identify potential risks as well, and therefore support the results from the initial analyses.
The G-TwYST data from the long-term feeding rat study with NK603 did not identify potential risks as well, and therefore support the results from the initial analyses and 90-day rat feeding studies.
Three immune function assays performed in the course of the two 90-day rat feeding trials with the GM maize NK603, did not affect the immune functions tested in both studies.
According to the French Association of Plant Biotechnology (AFBV) the results of these experiments are now published by enviscope.com. While referring to G-TwYST one-year and two-year long-term studies, AFBV states that "the results do not show any toxic effects of the corn analyzed and provide nothing more than 90-day studies as predicted by toxicologists". The AFBV declares that these studies "refute the main conclusions drawn from the GE Seralini studies on the toxicity of the analyzed GMO maize as no potential risk has been identified. In addition, these new studies contradict Seralini's proposal on the need to carry out long-term studies."
The AFBV asserts that "European consumers must be informed of the results of these studies, who should reassure them on the quality for their health of genetically modified plants authorized for commercialization and on the European evaluation procedure, already the most rigorous in the world.
Read the results from G-TwYST.
Research
Weeds, which have long been a problem in agriculture, are managed manually, mechanically, as well as by using chemicals. However, chemical control options are dwindling due to the rise of herbicide-resistant weeds in fields. Devendra Pandeya and Damar L. López-Arredondo from Texas A&M University and StelaGenomics México, respectively, led a team of researchers to develop an alternative weed control system.
Their team developed transgenic cotton (Gossypium hirsutum) plants expressing the bacterial phosphite dehydrogenase (ptxD) gene, which confers the ability to convert phosphite (Phi) into orthophosphate (Pi), the metabolizable form of phosphorus (P). When P is supplied in the form of Phi, the ptxD-expressing cotton plants outcompete different weed species intentionally introduced in the experiments, as well as weeds naturally present in the tested soils. Furthermore, the ptxD/Phi system was highly effective in inhibiting the growth of the glyphosate-resistant Palmer amaranth.
With several weed species having resistance to currently available herbicides, these ptxD-transgenic plants fertilized with Phi presents an effective alternative for suppressing weed growth.
For more information, read the full article in Proceedings of the National Academy of Sciences of the United States of America.
[ Send to a Friend | Rate this Article ]
---
Alpha-linolenic acid (ALA) deficiency and a skewed n6:n3 fatty acid ratio in the diet are some of the major reasons why there is prevalence of cardiovascular diseases and inflammatory/autoimmune diseases. With more evidence of the healthful benefits of omega-3 long chain polyunsaturated fatty acids (LC PUFA's), there's an increasing demand for fish oil and meal. However, due to several reasons, the fish supplies do not match the increasing need for healthy oils. Thus, one alternative being explored by experts is the metabolic engineering of transgenic plants with the capacity to produce n3 LC-PUFAs.
Scientists from Vittal Mallya Scientific Research Foundation investigated the capability of transgenic safflower to produce pharmaceutically important alpha-linolenic acid (ALA, C18:3, n3). Safflower accumulates ~78% of the total fatty acids as linoleic acid, which is the immediate precursor of ALA.
ALA production was confirmed to be produced in the safflower seeds after transforming hypocotyls with Arabidopsis specific delta 15 desaturase (FAD3) driven by truncated seed specific promoter. Biofortified safflower was shown to be not just a source of potentially valuable nutritional superior novel oil, but also exhibited reduced ratio of LA to ALA which is optimum for good health.
Read the research article in Transgenic Research.
[ Send to a Friend | Rate this Article ]
---
Lycopene is an important carotenoid pigment in fruits and vegetables, especially in tomato. While lycopene synthesis is known to be regulated by multiple factors, little is known about their regulation. Isopentenyltransferases (IPTs) are known to catalyze the initial rate-limiting step in the synthesis of cytokinin, an important hormone involved in various aspects of plant growth. However, the other roles of IPTs remain unclear.
A research team led by Yong Zhang from Chongqing University in China studied the function of the SlIPT4 gene, which encodes an isopentenyltransferase, using RNAi-mediated gene silencing in tomato. As expected, silencing of SlIPT4 resulted in accelerated leaf senescence. However, silencing of SlIPT4 also generated never-red orange fruits, suggesting a dramatic reduction in lycopene. Among the lycopene synthesis-related genes, the ZISO gene was found to have significantly reduced expression.
This study revealed that SlIPT4 positively regulates lycopene biosynthesis by affecting the expression of the ZISO gene. SlIPT4 also has crucial roles in leaf senescence. This provides a new light on lycopene biosynthesis in tomato.
For more information, read the article in BMC Plant Biology.
New Breeding Technologies
Rice produces agronomic biomass residues that contain lots of secondary cell walls (SCW) comprising cellulose, hemicelluloses and lignin. However, the transcriptional regulation mechanism underlying SCWs synthesis in rice remains elusive. The team of Yafeng Ye from the Chinese Academy of Sciences studied a NAC family transcription factor (TF), OsSND2, and its relation to OsMYB61, a TF known to regulate SCW synthesis.
The team confirmed that OsSND2 directly binds to the promoter of OsMYB61. The OsSND2 TF was found to be localized in the nucleus and has transcriptional activation activity. Further analysis also indicated that OsSND2 was mainly expressed in internodes and panicles.
Using CRISPR-Cas9, the team developed OsSND2-knockout mutants. These mutants exhibited decreased cellulose content and downregulated expression of SCW related genes. Meanwhile, overexpression of OsSND2 resulted in rolled leaves, increased cellulose content, and upregulated expression of SCW related genes.
Taken together, these findings suggest that OsSND2 functions as a master regulator of SCW synthesis. This study can provide groundwork for manipulating plant biomass production.
For more information, read the article in Rice.
[ Send to a Friend | Rate this Article ]
---
Cotton (Gossypium hirsutum) is an allotetraploid species. This makes mutants difficult to generate by traditional approaches due to gene redundancy. The team of Zhennan Zhang from the Institute of Microbiology of the Chinese Academy of Science used the CRISPR-Cas9 system to confer fungal resistance to cotton through editing of the Gh14-3-3d gene.
In T0 transgenic plants, several mutations at the expected target site were detected in the allotetraploid cotton At or Dt subgenomes. These same mutations were also found to be stably transmitted to the next generation. These mutations in the At and Dt subgenomes also segregated in the T1 transgenic plants following Mendelian law.
Two homozygous Gh14-3-3d-edited transgene-free plants were chosen and designated as ce1 and ce2. Both lines exhibited high resistance to Verticillium dahliae infestation compared to the wildtype plants. These transgene-free lines can be used as a germplasm to breed disease-resistant cotton varieties.
For more information, read the article in Frontiers in Plant Science.
[ Send to a Friend | Rate this Article ]
---
The GW2 gene is emerging as a key determinant of grain weight in cereal crops. In hexaploid wheat (Triticum aestivum), it has three homoeologs, TaGW2-A1, -B1, and -D1. The team of Yi Zhang from the Chinese Academy of Sciences analyzed the CRISPR-edited mutants that lack one, two, or all three homoeologs of TaGW2 to gain insights into the functions of TaGW2 in wheat grain traits.
Both TaGW2-B1 and -D1 affect the thousand-grain weight (TGW) by influencing grain width and length, but the effect conferred by TaGW2-B1 is stronger than that of TaGW2-D1. There is also a functional interaction between the TaGW2 homoeologs since the TGW increase shown by a double mutant (lacking B1 and D1) was substantially larger than that of their single mutants.
TaGW2-B1 and -D1 were also found to modulate cell number and length in the outer pericarp of developing grains, with TaGW2-B1 being the more potent one. TaGW2 homoeologs also affect grain protein content as this was generally increased in all mutants, especially in the double and triple mutants. Moreover, flour protein content and gluten strength were also elevated in the mutants.
These data provide insights on the functions of the TaGW2 homoeologs in the genetic control of grain weight and protein content traits in common wheat. This may accelerate research on this important gene and its application in wheat improvement.
For more information, read the article in The Plant Journal.
[ Send to a Friend | Rate this Article ]
---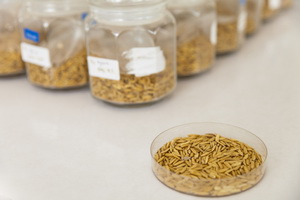 The fungus Ustilaginoidea virens causes rice false smut, a major disease of rice (Oryza sativa). However, there are only limited molecular studies on this pathogen due to the lack of techniques for studying targeted gene disruption mutants. The research team of Yafeng Liang from the Northwest A&F University in China used the CRISPR-Cas9 system to generate mutants with deleted USTA ustiloxin and UvSLT2 MAP kinase genes.
Three gRNAs targeting USTA, namely UA01, UA13, and UA21, were transformed into U. virens. For all three, the gene replacement frequency was higher when the Cas9 and gRNA constructs were transformed on the same vector. UA01 had the highest knockout frequency of 90% for generating ustA mutants. No off-target mutations were detected in the ustA mutants generated via any of the three gRNAs.
For UvSLT2, the gene replacement frequency was 50% with CRISPR-Cas9. While ustA mutants had no detectable phenotypes, Uvslt2 mutants had slightly reduced growth rate and had over 70% reduction in conidiation. Deletion of UvSLT2 also increased sensitivity to cell wall stresses but tolerance to hyperosmotic or oxidative stresses.
These results showed that the CRISPR-Cas9 system can be used as an efficient gene editing approach in U. virens and could be used to develop varieties resistant to false smut.
For more information, read the article in Frontiers in Plant Science.
Announcements
What: International Association for Plant Biotechnology Congress 2018 (IAPB2018)
Where: The Convention Centre Dublin, Ireland
When: August 19-24, 2018
Early registration for this event has been extended. More details are available in the Congress website.
Document Reminders
Recent developments in genome editing have opened the door for exploring biological mechanisms of health and disease. On January 10-11, 2018, the U.S. National Academies of Sciences, Engineering, and Medicine's Standing Committee on Emerging Science for Environmental Health Decisions conducted a 2-day workshop to explore what role genome and epigenome editing tools could play in advancing environmental health research and decision-making. This month, they released the proceedings of the workshop which highlights the presentation and discussions. Get a copy from the National Academies Press.