News
Global
As the effects of climate change continue to bite, it is emerging that advances in crop science offer critical solution to drought and threat posed by pests and diseases. The International Food Legumes Research Conference (IFLRC) in Marrakech, Morrocco has revealed targeted approaches in successfully developing resilient legume varieties that have a great potential to combat these problems.
The approaches include efforts to breed lentils with vertical nodulation and nodule clusters – associated with high nitrogen fixation; legume varieties with mature leaf concentration – a solid proxy for p-acquisition; and pea varieties with waxy leaf surfaces that help to combat heat-stress. Also at the center of discussion at the conference was the progress of additional efforts to screen germplasm for heat tolerance and disease-resistance in chickpeas, lentil, and mung bean.
Doug Cook of the University of California, Davis, introduced the delegates to a new USAID project, which is evaluating the germplasm of two wild progenitor species of cultivated chickpea – Cicer reticulatum and Cicer echinospermum – to identify genes that contribute to abiotic stress tolerance. Cook said the project aims at developing climate-resilient chickpea varieties over the long-term.
The delegates noted that efforts to raise legume production can be supported by big data analytics, which has the potential to transform genomics and crop breeding; enhance agronomic strategies; and refine decision-making. Discussions also touched on geospatial data management; socio-economic data harmonization; accelerated breeding schemes; building computational infrastructures to implement genomic selections; and semantics and plant phenotyping data structuration for data analytics.
The event, which was held on May 6-8, 2018, was hosted by the International Centre for Agricultural Research in the Dry Areas (ICARDA) and the Moroccan National Institute for Agricultural Research (INRA).
Read more from ICARDA.
Africa
The field trials of high-yielding and pest-resistant sunflower varieties in Tanzania showed promising results. A long term facility has been established by the Agricultural Markets Development Trust to address the challenges in sunflower farming and marketing. Successful development of better sunflower varieties would lead to improved supply of sunflower oil, which is cholesterol-free.
Trials have been conducted in nine out of 12 regions where the sunflower program is being implemented. These regions include Iringa, Njombe, Songwe, Rukwa, Singida, Shinyanga, Manyara, Lindi, and Mtwara. The trials were conducted outside the normal sunflower season and were in wetlands or areas where irrigation farming has been conducted.
Farmers who have tried the hybrid seeds of sunflower expressed their appreciation for the benefits that they gained. Bernard Lema, of Mtinko Village in Singida District, said that his production has increased significantly. "I normally harvest six sacks of sunflower in one acre. In the trials, I bought four kilos of seeds for sowing in one acre. After following expert recommendations such as proper spacing, use of required fertilizers, weeding and observing proper harvesting time, I harvested 16 sacks in one acre."
For more details, read the article from All Africa.
Americas
A study led by the University of Maryland explains how plants communicate within cells using a protein that closely resembles an animal protein that has a role in communication between nerve cells.
While plants lack a true nervous system, previous studies have shown that plants need these proteins, called glutamate receptor-like proteins (GLRs), to do important things such as mate, grow, and defend themselves against diseases and pests. In the study, researchers working with pollen cells from Arabidopsis thaliana found that these GLR proteins form the basis of a complex communication network inside individual plant cells.
The similarities between the animal nerve proteins (glutamate receptors) and the GLR plant proteins suggest that the two proteins date back to a common ancestor—a single-celled organism that gave rise to both animals and plants. Research findings suggest that GLRs rely on another group of proteins, called "cornichon" proteins, to transport GLRs to different locations in plant cells and to regulate activity of the protein within each cell. The study found that with the help of cornichon proteins, GLRs act as valves that carefully manage the concentration of calcium ions—a vital aspect of many cell communication pathways—within various structures inside the cell.
For more details, read the news release from the University of Maryland.
[ Send to a Friend | Rate this Article ]
---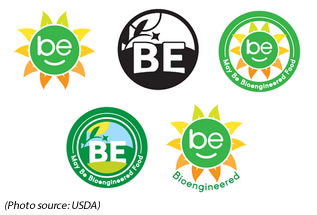 The U.S. Department of Agriculture (USDA) invites public comments on the proposed rule to establish the National Bioengineered Food Disclosure Standard mandated by Congress in 2016. The standard will provide a uniform way to offer meaningful disclosure for consumers who want more information about their food and avoid a patchwork system of state or private labels that could be confusing for consumers and would likely drive up food costs.
The National Bioengineered Food Disclosure Standard Law was enacted by Congress on July 29, 2016. Agriculture Secretary Sonny Perdue said, "This rulemaking presents several possible ways to determine what foods will be covered by the final rule and what the disclosure will include and look like." He added that they are looking for public input on a number of these key decisions before a final rule is issued later this year.
The USDA proposed a variety of labels containing the abbreviation BE standing for "bioengineered", as well as sun and smiley face icons. The companies may opt to use QR codes as well.
The proposed rule is open for comment for 60 days, and will end on July 3, 2018. Due to the Congressionally mandated timeline for this rulemaking, the comment period will not be extended.
For more information, and for details on submitting comments, read the USDA press release. The proposed rule can be previewed in the May 3 Federal Register.
[ Send to a Friend | Rate this Article ]
---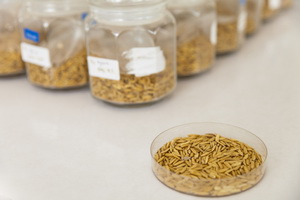 Field trials of multiple rice lines carrying the nitrogen use efficiency (NUE), water use efficiency, and salinity tolerance traits show significant increase in yields by up to 50 percent compared to control under various abiotic stresses. The rice lines with triple-stack trait was developed by Arcadia Biosciences and the field trials were conducted by experts from the International Center for Tropical Agriculture (CIAT) under the Nitrogen-Use Efficient, Water-Use Efficient and Salt-Tolerant Rice (NEWEST) project, coordinated by the African Agricultural Technology Foundation, and sponsored by the Feed the Future initiative of USAID.
Under limiting nitrogen applications, the triple-stack rice lines outperformed the control by an average of 25%, with the lead line yielding up to 33% more. The same lines produced an average of 40% more than controls under limiting nitrogen and drought conditions in the field, with the lead line producing 50% more yield.
Based on the previous field trials conducted in California by Arcadia, triple-stacking the traits in rice has the potential to contribute towards food security. The latest data from the field trials conducted by CIAT shows that there may be synergistic effects between traits that protect crops against abiotic stresses.
For more details, read the news release from Arcadia.
Asia and the Pacific
While rice is widely grown and consumed in China, it is not well known that the county is also the world's largest producer of wheat. Today, scientists would like to know the path that wheat took to get to China.
Prior research showed that wheat was first domesticated in the Fertile Crescent around 8500 BCE. It then spread west into Europe and east into Asia. In this research conducted by several institutions in Germany and China, researchers suggest that it was carried east to places along the Yangtze and then migrated west. They do acknowledge, however, that wheat could have been introduced into Asia, and more specifically into China many times. They suggest wheat was carried by travelers to eastern parts of China, where it was subsequently planted and harvested.
The team conducted radiocarbon dating on ancient wheat grains and charred wheat remains dug up in Bronze-Age and Neolithic excavation sites (Zhaojiazhuang and Dinggong sites in Shandong Province), which have yielded artifacts dating back to 8500—to 1500 BCE. Results of the tests showed that the wheat samples dated from around 2600 BCE, which predates grains found and tested in other parts of China.
More details about the research are published in a paper in Nature Plants.
[ Send to a Friend | Rate this Article ]
---
Australia's Office of the Gene Technology Regulator (OGTR) is currently assessing license application DIR 162 from the Commonwealth Scientific and Industrial Research Organisation (CSIRO), for a field trial (limited and controlled release) of wheat genetically modified for enhanced rust disease resistance.
The field trial is proposed to take place in the Australian Capital Territory and the Hilltops Council area in New South Wales over five growing seasons between September 2018 and September 2023. The proposal is to plant up to 40 m2 in total in each growing season. The GM wheat grown in this field trial would not be used in human food or animal feed.
The Gene Regulator has prepared the Risk Assessment and Risk Management Plan (RARMP) for the application which concludes that the proposed release would pose negligible risk to human health and safety or to the environment. The Regulator welcomes written submissions to finalize the RARMP, which will then inform the decision on whether or not to issue the license. Submissions should be received by close of business on June 12, 2018.
For more details, read the DIR 162 documents available at the OGTR website.
[ Send to a Friend | Rate this Article ]
---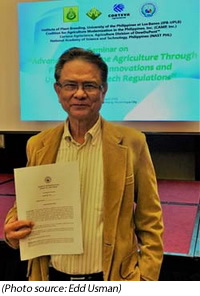 Biotech experts in the Philippines aim to advance modern biotechnology in the country to help reduce hunger and poverty, mitigate the effects of climate change, among other benefits. With this objective, a draft bill titled "An Act to Support Modern Biotechnology for Sustainable Rural Development in the Republic of the Philippines and Appropriating Funds Thereof" is being developed by the Coalition of Agriculture Modernization in the Philippines (CAMP), together with other like-minded organizations.
On April 25, 2018, the draft bill was discussed in a seminar on plant breeding innovations organized by the National Academy of Science and Technology (NAST) in Manila.
CAMP president, Dr. Benigno Peczon, said that the contents of the proposed draft bill include the establishment of a body called Biotechnology Authority of the Philippines, which will lead the modern biotechnology initiatives in the country. The draft bill is scheduled to be transmitted to the House of Representatives in May 2018.
"We have to pass this soon because the poverty in this country is a big problem, and we are falling behind our neighboring countries. This is such a useful technology, but we are tying up ourselves because of that Supreme Court ruling. Our regulatory process is way too slow," stressed Dr. Peczon.
Officials of the International Service for the Acquisition of Agri-biotech Applications expressed their support for the draft bill. "So, it is one package that provides development boost and, at the same time, carries the cautionary requirement that it supports a safe and responsible use of technology," said Dr. Randy Hautea, Global Coordinator of ISAAA. Dr. Rhodora Aldemita, Director of ISAAA Global Knowledge Center on Crop Biotechnology said that the draft bill would promote research and development (R&D) on biotechnology, give incentives to scientists and educate scientists, especially on agri-biotechnology.
For more information, read the original article from Business Mirror.
Europe
Scientists from Wageningen University & Research (WUR) have published a new analysis of research results that were published in February this year. The said research, conducted in collaboration with other institutes, concluded that after 13 years of organic cultivation, organic agriculture was almost as productive as conventional agriculture, and with less nitrate leaching into the groundwater.
However, other scientists from WUR identified inconsistencies in the publication regarding the approach of the research and the interpretation of the results, and decided to reanalyze the setup and results. The crops cultivated were inconsistent over the 13 years: the early years involved more sugar beets while the later years saw more maize. This made it seem like the yield of the organic crops increased on average, although this was not the case for each crop.
In a comparison between the systems in later years (2011-2016), which saw the same crops being cultivated every year, the difference between organic and conventional agriculture in Vredepeel was a constant 20%. This percentage is in line with all recent meta-analyses, which examined the difference between organic and conventional agriculture based on a large number of studies.
Further analysis showed that the soil of the organic testing fields in the research in Vredepeel had different properties than the soil of the non-organic fields (different groundwater levels and, originally, a higher soil organic matter content), which may have reduced the leaching of nitrate.
For more details, read the news article from Wageningen University & Research.
Research
Researchers from the Chinese Academy of Sciences (CAS) and the University of Chinese Academy of Sciences reported that a MAPK cascade signalling regulates grain size in rice. The results are published in Molecular Plant.
MAPK signaling pathways have been known to have significant functions in multiple processes of plant growth and development and defense responses. The MAPK cascade contains at least three kinases: a MAPK kinase kinase (MKKK), a MAPK kinase (MKK) and a MAPK.
A previous study showed that loss-of-function mutant of OsMKK4 (smg1) forms small grains in rice. In the latest study, they identified a gain-of-function mutant of OsMKK4, which forms large grains. They also identified the smg2 mutant, which exhibits similar small-grain phenotype as smg1. SMG2 encodes OsMKKK10.
Overexpression of constitutively active OsMKKK10 leads to large grains. Biochemical analysis showed that OsMKKK10 could sequentially phosphorylate and activate OsMKK4 and OsMAPK6. Further analyses showed that enhanced activity of OsMAPK6 results in large grains, while decreased activity of OsMAPK6 leads to small grains. Genetic analysis showed that OsMKKK10, OsMKK4, and OsMAPK6 function in a common pathway to control grain size.
Their analyses revealed that OsMKKK10, OsMKK4 and OsMAPK6 act as a cascade to promote grain growth.
Read the news release from CAS for more information.
[ Send to a Friend | Rate this Article ]
---
Basic region/leucine zipper (bZIP) transcription factors (TF) regulate ABA-mediated stress response in plants. However, the functions for most bZIP members in tomato (Lycopersicon esculenta) remain unknown. Jiangsu Normal University researchers led by Mingku Zhu and Xiaoqing Meng studied the function of the tomato TF gene, SlbZIP1, under salt and drought stresses.
Silencing of SlbZIP1 in transgenic tomato plants resulted in reduced tolerance to salt and drought stresses compared to wild type plants. This was a result of the reduced expression of multiple ABA synthesis- and signal transduction-related genes in the transgenics. Furthermore, the transcription levels of multiple genes encoding defense proteins for plant response to abiotic and biotic stresses were also downregulated in the transgenic plants.
These findings suggest that SlbZIP1 is essential in salt and drought stress tolerance by regulating an ABA-mediated pathway. The gene may hold potential applications in the development of salt- and drought-tolerant tomatoes.
For more information, read the article in BMC Plant Biology.
[ Send to a Friend | Rate this Article ]
---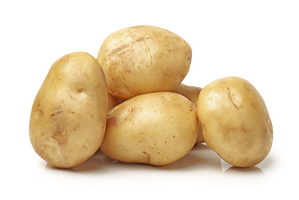 Vitamin B6 is a vitamin required for organisms as a substrate in metabolic reactions. While it is available from the plant dietary resources, the availability of the vitamin in the edible portions of the consumed plants is insufficient to meet the daily recommended doses. Genetic engineering techniques have proven successful in increasing the vitamin B6 content in the model plants.
In their study, a research team led by Deepak Singh Bagri from the Dr. Harisingh Gour Central University in India aimed to develop a transgenic potato (Solanum tuberosum) overexpressing the PDXII gene, a key vitamin B6 pathway gene from Arabidopsis thaliana. The resulting transgenic potato tubers exhibited a significant improvement in vitamin B6 content, reaching as high as a 150% increase, compared to the control potatoes.
The significant increase in vitamin B6 content of the transgenic potato was also found to be associated with resistance to abiotic stresses, including salt stress.
For more information, read the article in Plant Science.
New Breeding Technologies
The CRISPR-Cas9 system has been a go-to tool for targeted mutagenesis in crops. To further test its range of applications, the team of Yuhei Kanazashi from Hokkaido University in Japan aimed to use the CRISPR-Cas9 system to perform simultaneous targeted mutagenesis of a duplicated locus, GmPPD1 and GmPPD2, orthologs of Arabidopsis PEAPOD (PPD) gene in soybean (Glycine max), using only a single guide RNA.
Most of the transformed plants had mutations for the targeted loci. Analysis of T1 and T2 generations indicates that the mutations induced in the T0 generation can be transmitted to subsequent generations. Mutations induced in T1 plants can also be detected in succeeding generations. This indicates that induction of mutations during T1 generation increases the occurrence of mutations in germ cells, ensuring the transmission of mutations to succeeding generations.
Simultaneous site-directed mutagenesis in both GmPPD loci was confirmed in at least 33% of T2 seeds examined. Double mutants with mutations in both GmPPD1 and GmPPD2 had dome-shaped trifoliate leaves, extremely twisted pods, and produced few seeds.
These data indicate that continuous induction of mutations in advanced generations of transgenic plants enable efficient simultaneous mutagenesis in duplicated loci in soybean.
For more information, read the article in Plant Cell Reports.
[ Send to a Friend | Rate this Article ]
---
Fruit color is regarded as one of the most important commercial traits in tomato (Solanum lycopersicum). Different regions have different color preferences, with pink tomatoes being popular in Asia, particularly in China and Japan. The team of Lei Deng from the Chinese Academy of Sciences aims to develop pink tomatoes by targeting the SlMYB12 gene, a key gene in flavonoid accumulation in tomato.
The team used CRISPR-Cas9 to disrupt the SlMYB12 gene in red-fruit tomato lines. Eleven individual T0 regeneration plants were developed, 10 of which had at least one mutated SlMYB12 allele, indicating high editing efficiency (90.9%). All homozygous and bi-allelic mutants displayed a pink fruit phenotype.
No off-target mutations were detected at any of the three potential off-target sites suggesting that the sgRNAs used were specific for their recognition sites.
For more information, read the article in Journal of Genetics and Genomics.
[ Send to a Friend | Rate this Article ]
---
The CRISPR-Cas9 system has been widely used for modifying endogenous genes. Thus, it is expected to be applied for the breeding of other economically important plant species. A research team led by Ayako Okuzaki from Tamagawa University in Japan recently modified a fatty acid desaturase 2 gene (FAD2), which encodes an enzyme that catalyzes the desaturation of oleic acid, in rapeseed (Brassica napus) cultivar, Westar.
Two guide RNAs were designed to target the BnaA.FAD2.a gene and two mature plants with mutant alleles were generated. Plants with the fad2_Aa allele without any transgenes were selected from the backcross progenies and plants homozygous for fad2_Aa were then produced by self-crossing the BC1 progenies. The fatty acid composition analysis of their seeds revealed a significant increase in the content of oleic acid compared to wild types.
These results showed that the application of the CRISPR-Cas9 system is useful in producing desirable mutant plants with agronomically suitable traits by modifying their metabolic pathway.
For more information, read the article in Plant Physiology and Biochemistry.
[ Send to a Friend | Rate this Article ]
---
The application of gene editing techniques such as TALENs and CRISPR-Cas9 is hindered by the long life cycle of crop species. Moreover, desired genotypes generally require multiple generations to achieve. Meanwhile, single-celled microspores are haploid cells that can be developed into double haploid plants and have been widely used as a breeding tool to generate homozygous plants within a generation.
A researcher from the National Research Council Canada, Pankaj Bhowmik, and his colleagues combined the CRISPR-Cas9 system with microspore technology to develop a haploid mutagenesis system to induce genetic modifications in the wheat genome.
The team first investigated the optimal conditions for microspore transfection of the CRISPR-Cas9 into microspores. Using multiple Cas9 and sgRNA constructs, the team successfully introduced targeted mutations in the reporter gene, DsRed, as well as two endogenous wheat genes, TaLox2 and TaUbiL1. However, the regeneration efficiency from microspores is still low and requires further study.
This study demonstrates the feasibility of combining microspore technology and CRISPR-Cas9 for trait discovery and crop improvement.
For more information, read the article in Scientific Reports.
Beyond Crop Biotech
A study conducted by a multinational team and published in Nature Genetics reveals a new, detailed breakdown of the modern rose genome. This could help growers improve traits such as pest and drought resistance, and boost the vase life of cut stems, researchers said.
The new map is based largely on the genome of a rose known as "Old Blush" or Rosa chinensis, introduced to Europe from Asia in the 18th century. With its 36,377 genes, the Old Blush is considered one of the main ancestors of today's tens of thousands of rose cultivars from some 200 known, wild species. The major contribution of Old Blush to the creation of modern varieties is the trait of repeat flowering.
The rose genome comprises 36,377 inferred protein-coding genes and 3,971 long non-coding RNAs. Annotation assessment identified 96.5% complete gene models and analyses identified 93.5% complete genes. On the basis of transcriptomic data from pooled tissues, 207 miRNA precursors were predicted, transposable elements spanned 67.9% of the assembly, and 50.6% were long-terminal-repeat retrotransposons.
For more details, read the open-access paper in Nature Genetics.
Announcements
The potential of agribiotechnology to contribute to sustainable agriculture depends on the R&D as well as on the integration of many other factors such as effective communication, science-based national regulatory frameworks, adequate understanding of international legal instruments. Strong collaboration among scientists, regulators, and lawyers, is important so that science and regulations can coevolve and society can benefit from modern biotechnology while risks are minimised.
This Asian regional short course to be held on August 13-17, 2018 in Kuala Lumpur, Malaysia, is designed to enable participants to better understand
the entire value chain related to research, development, commercialisation and trade of LMOs;
national and international legal instruments related to LMOs; and
effective communication of agribiotechnology and biosafety regulation.
An Asian hub is crucial for capacity building in this area for Asian scientists, regulators and policymakers. This is a joint effort of Monash University's Global Asian for the 21st Century (GA21) and the Malaysian Biotechnology Information Centre (MABIC).
Register now at https://goo.gl/forms/QVzYKPOBi5dLNJcj1 and email your payment slip to shamira@bic.org.my and farah@bic.org.my. For more details, download the updated brochure from MABIC.