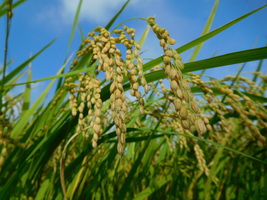 A new study opens the possibility of accelerating rice breeding to help achieve food security for some of the world's most vulnerable rice farmers. A collaboration among the International Rice Research Institute (IRRI), the Institute of Crop Sciences of the Chinese Academy of Agricultural Sciences (CAAS), BGI-Shenzhen, and 13 other partner institutions, the research will enable scientists and breeders to discover new gene variants and characterize known genes for important traits, such as disease resistance and tolerance to floods, drought, and salty water. Additionally, molecular breeders could use the genetic markers to select rice plants that are more likely to carry a desired trait before they are planted in the field.
FDA Approves Application for AquaBounty Salmon Facility in Indiana, USA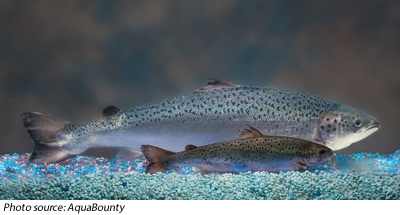 The U.S. Food and Drug Administration (FDA) has approved a supplemental New Animal Drug Application (NADA) submitted by AquaBounty Technologies, Inc. that requests FDA approval to raise AquAdvantage Salmon – a product under an application previously approved in 2015 – at a land-based contained facility near Albany, Indiana.
Early Leaf Senecence and Salt Stress Response Gene Found in Rice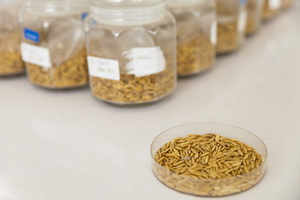 Early leaf senescence can cause negative effects on rice yield and its regulation is relatively unknown. The team of Dong-Dong Zeng from Zhejiang University in China isolated and studied the bilateral blade senescence 1 (bbs1) rice (Oryza sativa), an early leaf senescence mutant with a premature senescence phenotype that occurs at the leaf margins, in hopes of understanding the mechanism of early leaf senescence.

A biweekly update on gene editing research, regulations, and impact
produced by ISAAA Inc.

A monthly update on gene drive research and development provided by ISAAA in collaboration with the Outreach Network for Gene Drive Research
GM APPROVAL UPDATES
Brazil approved the wheat event HB4 for commercial cultivation.
The Philippines approved the eggplant event EE-1 for cultivation
The USA approved the canola event MON94100 for food and feed.
Nigeria approved the wheat event HB4 for food and feed.
The USA approved the corn event MON87429 for food and feed.

Ghana approved the cowpea event AAT709A for food, feed, and cultivation.
Biotech Updates is a weekly newsletter of ISAAA, a not-for-profit organization. It is distributed for free to over 22,000 subscribers worldwide to inform them about the key developments in biosciences, especially in biotechnology. Your support will help us in our mission to feed the world with knowledge. You can help by donating as little as $10.