News
Global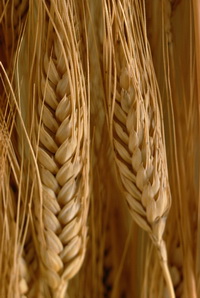 Gluten-free diet is a new trend followed by many health conscious individuals. However, this diet is designed for people with celiac disease, or those who cannot tolerate a certain type of gluten in their digestive system. Gluten, a protein found in wheat, barley, rye, and other related species, acts as glue when cooked or baked that holds breads and cakes together as they rise. The specific type of gluten responsible for causing adverse reactions are called gliadins.
Francisco Barro from the Institute for Sustainable Agriculture in Cordoba, Spain, and colleagues, used genetic engineering to remove 90 percent of the gliadins in wheat. They added genes that stop the production of the proteins. To prevent the wheat from making gliadins again, they knocked out 35 out of the 45 genes involved using CRISPR gene-editing.
Though the resulting wheat cannot be used in baking sliced loaf breads because of less gluten content, it is good enough for making baguettes and rolls. The GM wheat is currently being tested in 30 celiac patients from Mexico and Spain and so far the results are very encouraging.
For more information, read the news article in New Scientist and the open-access research article Plant Biotechnology Journal.
Africa
Uganda's biotech research received yet another boost with the launching of the largest state of the art rain out facility in the region. The facility is part of the capacity building by the NEWEST Rice program in Uganda to effectively breed for water use efficiency in the crop. Fitted with a movable roof, the facility will enable scientists to conduct controlled testing for drought tolerance in rice and other crops. The project aims to develop and release farmer preferred varieties that are Nitrogen-use Efficient, Water-use Efficient and Salt Tolerant (NEWEST) through genetic engineering.
Speaking at the launch on September 26, 2017, Dr. Sanni Kayode, Rice Project manager at African Agricultural Technology Foundation (AATF) noted that Uganda will be the first country in Africa to release a completely public GM technology if the National Biotechnology and Biosafety Bill is passed. To date, the Biosafety Bill has been passed by the Parliament of Uganda, and awaiting for the President's signature to be implemented as law. Dr. Kayode urged government officials present to fast track the passing of this bill that will allow commercial release of GM crops in the country. Dr. Jimmy Lamo, the principal investigator of the project pointed out that five of the NEWEST Rice lines have demonstrated higher yield potential under low soil nitrogen levels than NERICA 4-currently the most cultivated conventional variety in the country. "This is one of the arsenals to improve genetic gains in rice and consolidate the investments in a very important crop" asserted Dr. Godfrey Asea, Director National Crops Resources Research Institute where the facility is hosted.
The NEWEST Rice project is coordinated by the African Agricultural Technology Foundation (AATF) and other partners with support from USAID.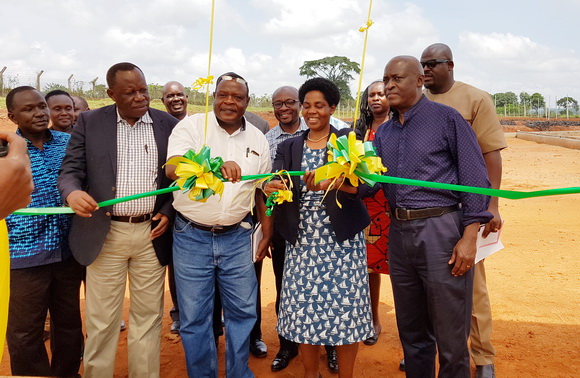 For more information on biotechnology in Uganda, contact the Uganda Biosciences Information Center Coordinator at ubic.nacrri@gmail.com.
[ Send to a Friend | Rate this Article ]
---
The Open Forum on Agricultural Biotechnology (OFAB) - Kenya Chapter recognized science and business reporters at a media recognition award gala dinner on September 20, 2017, in Nairobi, Kenya. The event brought together a diverse range of stakeholders to celebrate and honor journalists who have used their skills to educate the public on agricultural biotechnology and biosafety.
Speaking on behalf of the Cabinet Secretary for Agriculture, Livestock and Fisheries Hon. Willy Bett, the Crops Director, State Department of Agriculture, Dr. Johnson Irungu, commended OFAB-Kenya for continuously engaging agri-biotech stakeholders and using innovative ways to educate the public on GMOs. "OFAB-Kenya has been at the forefront of providing factual information to key stakeholders in order to dispel myths and misconceptions created over the years," he said. "The program's deliberate effort to engage media practitioners has been very successful in transforming how journalists report on modern biotechnology," he added.
Dr. Margaret Karembu, Director, ISAAA AfriCenter, and OFAB-Kenya Chair appreciated the journalists for walking with OFAB-Kenya over the last decade, stating the partnership has resulted in increased and balanced reporting. "We are proud and honored to recognize journalists who have journeyed with us in sensitizing the public and making agricultural biotechnology a public agenda issue," she said. "This initiative seeks to encourage not only agricultural biotechnology reporting, but excellence in science journalism."
The overall winner, Ms. Zeynab Wandati from Nation Television (NTV), lauded the initiative, "It feels special to be honored for something that we enjoy doing... Such awards serve to encourage reporters in improving their craft to tell better stories that are fact-based," she said. Winners were drawn from TV, radio, and print. Participants of the competition were judged based on the following criteria: consistency, credibility, initiative, completeness and science in the story, human interest, and presentation style. The event dubbed "Recognizing Excellence in Science Journalism" was in commemoration of OFAB's tenth anniversary. It was co-supported by the African Agricultural Technology Foundation and the National Commission for Science Technology and Innovation.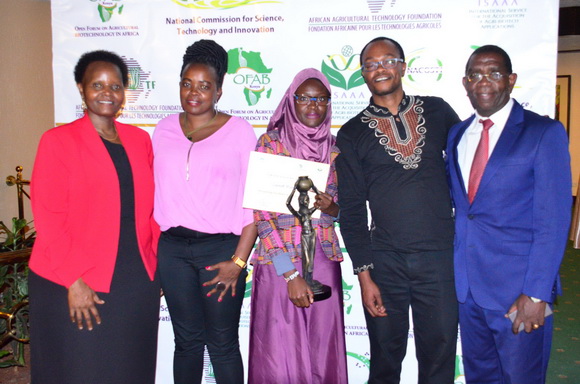 Watch OFAB-Kenya's Voices of Change success story, here. For more information on the event, contact Dr. Margaret Karembu at mkarembu@isaaa.org.
[ Send to a Friend | Rate this Article ]
---
The President of the Republic of Uganda H.E. Yoweri Kaguta Museveni has called upon African states to embrace the use of agricultural biotechnology to transform agriculture and enhance food security. This was during the official opening of a High-level Conference on the Application of Science, Technology and Innovation (STI) in Harnessing African Agricultural Transformation held on September 27-29, 2017 in Kampala, Uganda.
In a speech delivered by the Cabinet Minister for Agriculture, Animal Industry and Fisheries Hon. Vincent Ssempijja, the president reiterated that scientific, technological and innovation advancement are a crucial precursor for industrialization and socioeconomic development in Africa. "Agriculture is the sector upon which the success of sub-Saharan Africa's ambition for a steady economic growth rests and our efforts must begin by strengthening investments in breakthrough technologies, such as climate resilient and disease resistant crops and livestock using both conventional and genetically engineered approaches," he said. "This technology is working elsewhere and we should not be left behind, the way we missed out on the green revolution that delivered food security to South East Asia," he added. As of this writing, the National Biotechnology and Biosafety Bill has been passed by the Parliament. His newly appointed Minister for Science, Technology and Innovation (MoSTI), Hon. Dr. Elioda Tumwesigye, also declared his support for the bill, stressing that it must be adopted for safe development and deployment of GM crops to boost food security and wealth creation in Uganda.
The high-level conference brought together government officials, delegates comprising of both African and international researchers, private sector and advocacy institution leaders, media personalities as well as scientists from agriculture and livestock sectors. It was organized by the African Agricultural Technology Foundation (AATF) in partnership with Uganda National Council for Science and Technology (UNCST), Common Market for Eastern and Southern Africa (COMESA), New Partnership for Africa's Development (NEPAD), Tropical Institute of Development Innovations (TRIDI), MoSTI and Open Forum on Agricultural Biotechnology in Africa (OFAB).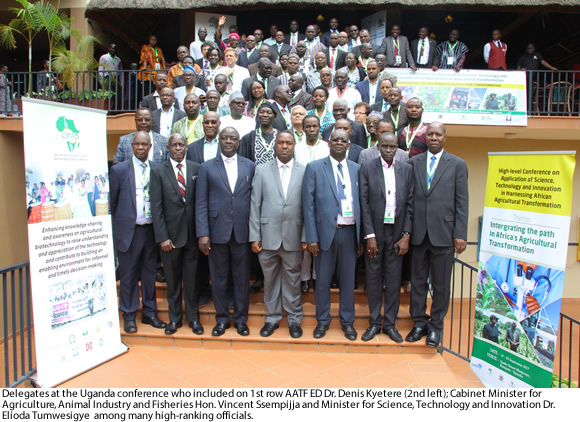 For more information on agri-biotech in Africa, contact Dr. Margret Karembu at mkarembu@isaaa.org.
Asia and the Pacific
Farmers, Department of Agriculture (DA) information officers, regulators, members of the academe, and officials of local government units of selected municipalities in Region X were enlightened about the science, food, and environmental safety, biotech products in the pipeline, socioeconomic benefits of Bt eggplant, and the biosafety regulatory guidelines in the country during the Biotechnology 101 & Joint Department Circular (JDC) Public Briefing held on October 3, 2017 at The Mallberry Suites Business Hotel, Cagayan De Oro City.
During the open forum, participants clarified and asked about the safety of Bt technology, particularly its effects in the environment, labeling, regulatory costs, availability of Bt eggplant seeds, and the status of the Golden Rice project among others. Present during the open forum were representatives from the five concerned departments of the JDC — the Departments of Agriculture, Science and Technology, Health, Environment and Natural Resources, and the Interior and Local Government.
The activity was organized by ISAAA, the Southeast Asian Regional Center for Graduate Study and Research in Agriculture-Biotechnology Information Center (SEARCA BIC), DA-Biotechnology Program Office, and DA-Regional Field Office X.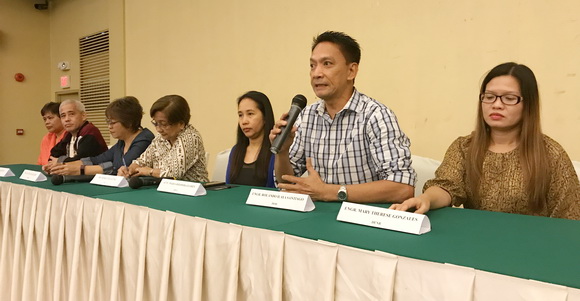 For more information on biotechnology in the Philippines, visit the SEARCA BIC website.
Europe
An international consortium has sequenced one of the first genomes of a moth from the superfamily Noctuoidea: Spodoptera frugiperda, or fall armyworm. Unlike majority of herbivorous insects, the armyworm is highly polyphagous and attacks over one hundred plant species, including maize, rice, sorghum, cotton, and soybean.
The research team first analyzed a group of genes involved in the recognition of host plants which allows them to feed or lay their eggs. The researchers found an expansion in the number of genes (230 versus 45-74 in other Lepidoptera) encoding a certain type of taste receptor. They found these receptors located on the moth's trump (proboscis) or under their legs, which allows insects to detect toxins or bitter compounds produced by plants. The only insect known to have such taste receptor expansions is the red flour beetle, which also attacks a wide range of foods.
The researchers discovered expansions in two of the four major gene families for detoxification (encoding cytochrome P450s (CYP) or glutathione-S-transferases (GST). These genes are for resistance to pesticides. The team also described a group of genes involved in digestion of plant tissues.
For more details, read the news release at the Institut National de la Recherche Agronomique.
[ Send to a Friend | Rate this Article ]
---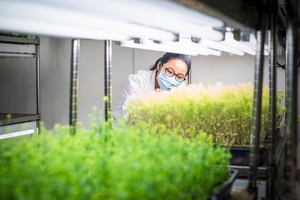 The European seed sector launched the campaign #EmbracingNature to emphasize and explain the essential role that plant breeding innovation plays in tackling Europe's agri-food challenges, including meeting consumer demands and contributing to a highly productive and more sustainable agriculture and food production system.
Nigel Moore, President of the European Seed Association (ESA), representing the seed sector in the conference panel on Modern Biotechnologies in Agriculture and Societal Challenges said that Europe cannot afford to miss out on the opportunity to develop new varieties more quickly, more efficiently, and address the needs of farmers, consumers, and the environment in a more targeted way.
The European seed sector calls upon the EU to ensure a supportive public policy that enables plant breeding innovation, and to consider the latest plant breeding methods as essential components of the plant breeders' toolbox, concludes Garlich von Essen, Secretary General of the European Seed Association.
For more details, read the news release in the ESA website.
Research
The AP2/ERF family is a plant-specific transcription factor associated with developmental processes and stress tolerance. The team of Harin Jung from Seoul National University in South Korea studied the drought-inducible OsERF48 gene.
When OsERF48 was overexpressed in rice either via a root-specific (ROXOsERF48) or whole-plant (OXOsERF48) expression, transgenic plants showed a longer and denser roots compared to the controls. When plants were grown on a 40% polyethylene glycol-infused medium under drought conditions, ROXOsERF48 plants showed a more vigorous root growth than OXOsERF48 and the control plants. Moreover, the ROXOsERF48 plants exhibited higher grain yield than OXOsERF48 and control plants under field-drought conditions.
The team hypothesized the involvement of 20 drought-related genes associated with OsERF48 expression. These genes involved in stress signalling and drought responses, including OsCML16, a key gene in calcium signalling during abiotic stress, which was revealed to be a direct target of OsERF48. These results demonstrated that OsERF48 regulates OsCML16, which enhances root growth and drought tolerance.
For more information, read the article in Plant Biotechnology Journal.
[ Send to a Friend | Rate this Article ]
---
Fruit ripening and quality are known to be strictly regulated by transcription factors. Results of a previous study indicated that banana MADS-box protein named MuMADS1 interacts with an ovate family protein, named MaOFP1, to regulate banana fruit ripening. The team of Juhua Liu from Chinese Academy of Tropical Agricultural Sciences used a genetic transformation and transcriptional characterization to investigate the role of MuMADS1 and MaOFP1 in the regulation of fruit quality in tomato.
Co-expression of MuMADS1 and MaOFP1 in the ovate mutant could rescue the fruit shape and inferior qualities related to fruit firmness, soluble solids and sugar content. The number of differentially expressed genes (DEGs) between the wildtype and ovate tomatoes was 1,395, with 883 upregulated and 512 downregulated genes. However, the numbers of DEGs gradually decreased when the ovate tomato was transformed using MuMADS1 and MaOFP1.
Expression of genes related to starch and sucrose metabolism were also different when MuMADS1 and MaOFP1 were integrated into ovate. Metabolic genes involved in cell wall biosynthesis were also upregulated in the wildtype, explaining the firmer texture and lower sugar contents in the ovate fruit.
These results show that MuMADS1 and MaOFP1 are co-regulators of fruit quality.
For more information, read the article in Plant Biotechnology Journal.
New Breeding Technologies
CRISPR-Cas9 has been a valuable tool for research and has been widely applied to different plant species. However, this method is still not widely used for the allotetraploid rapeseed (Brassica napus), an important oilseed crop. Huazhong Agricultural University researchers, led by Hong Yang, examined the mutation efficiency of the CRISPR-Cas9 method for 12 genes. The team also determined the pattern, specificity and heritability of these gene modifications in B. napus.
The team found that the average mutation frequency for a single-gene targeted sgRNA in the T0 generation is 65.3%. Homozygotes were also readily found in T0 plants. A total of 48.2% of the gene mutations, including homozygotes, bi-alleles, and heterozygotes, were stably inherited in the next generation (T1) without any new mutations or reversions. Moreover, no mutation was found in the off-target sites among the T0 plants.
These results demonstrate that CRISPR-Cas9 can be an efficient tool for creating targeted genome modifications at multiple loci in rapeseed.
For more on this promising study, read the article in Scientific Reports.
[ Send to a Friend | Rate this Article ]
---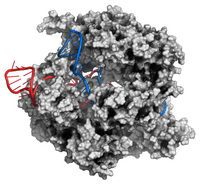 Scientists from the University of California Berkeley continue to be ahead of the CRISPR game. Together with researchers at Massachusetts General Hospital and Harvard University, they have designed a more precise version of Cas9, the enzyme that cuts DNA. The result of their study is published in Nature.
The researchers identified a key region called REC3 in the Cas9 protein that governs how accurately CRISPR-Cas9 homes in on a target DNA sequence, and redesigned it with a hyper-accurate gene editor with the lowest level of off-target cutting to date.
"If you mutate certain amino acid residues in REC3, you can tweak the balance between Cas9 on-target activity and improved specificity; we were able to find the sweet spot where there is sufficient activity at the intended target but also a large reduction in off-target events," said Janice Chen, one of the authors of the study and a graduate student in the lab of Jennifer Doudna, who co-invented the CRISPR-Cas9 gene-editing tool.
The hyper-accurate Cas9 or HypaCas9 has shown to retain its on-target efficiency, but is slightly better at discriminating between on- and off-target sites in human cells.
Read more from Berkeley News.
Beyond Crop Biotech
Brassinosteroids (BRs) are essential hormones that play crucial roles in plant growth, reproduction and response to abiotic and biotic stress. In Arabidopsis, AtCYP85A2 catalyzes the final step in the BR-biosynthetic pathway. The team of Yan-Ji Lin from Ludong University in China studied the PtCYP85A3 gene, one of the three AtCYP85A2 homologous genes from poplar (Populus trichocarpa).
PtCYP85A3 was found to be highly similar to AtCYP85A2 and can rescue the retarded-growth of the Arabidopsis cyp85a2-2 and tomato mutants. Constitutive expression of PtCYP85A3 increased the BR levels and significantly promoted the growth and biomass production in both transgenic tomato and poplar. Compared to the wild type, plant height, shoot fresh weight, and fruit yield increased significantly in transgenic tomato plants.
Plant height and stem diameter also increased significantly in transgenic poplar plants. Further analysis revealed that overexpression of PtCYP85A3 enhanced xylem formation without affecting the composition of cellulose and lignin, as well as the cell wall thickness in transgenic poplar.
These results suggest that PtCYP85A3 could be used as a potential candidate gene for engineering fast-growing trees with improved wood production.
For more information, read the article in Plant Biotechnology Journal.
Announcements
What: 4th Conference of Cereal Biotechnology and Breeding
Where: Budapest, Hungary
When: November 6-9, 2017
For more details, visit the conference website.
Document Reminders
Fundación Antama celebrates 20 years of growing Bt maize in Spain with two short videos that discuss the cultivation of Bt maize in Spain and its benefits to Spanish farmers.
Watch the videos (in Spanish) at the Fundacion Antama website.
From The BICs
Department of Agriculture (DA) Region X information officers and farmer-leaders were trained on promoting agricultural technologies, particularly biotechnology, on social media during the Storytelling Agri Innovations through Social Media held on October 4, 2017 at The Mallberry Suites Business Hotel, Cagayan De Oro City.
ISAAA's social media managers Clement Dionglay and Kristine Tome served as resource persons on maximizing engagement through Facebook and Twitter, crafting social media posts, developing infographics and a social media plan, and using Facebook for advocacy. The activity included exercises that encouraged participants on how to plan and implement a social media campaign.
The training was organized by the Southeast Asian Regional Center for Graduate Study and Research in Agriculture – Biotechnology Information Center (SEARCA BIC), DA-Regional Field Office X, and ISAAA.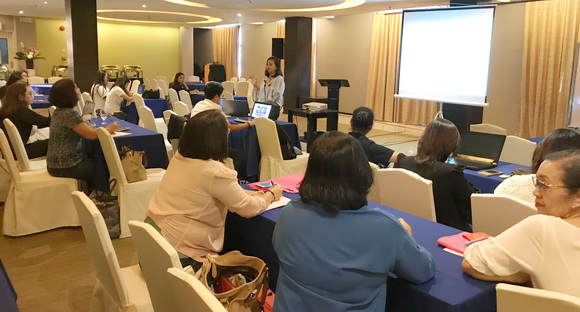 For more information about biotechnology in the Philippines, visit the SEARCA BIC website.