Davao Stakeholders Updated on Crop Biotech and Philippine Biosafety Guidelines
Various key stakeholder groups: regulators, farmer leaders, students, scientists, academe, DA information officers, and members and officials of local government units of selected municipalities in Davao region in the Philippines learned about the science, food and environmental safety, and socioeconomic benefits of biotech crops, as well as the biosafety regulatory guidelines in the country, during the Biotechnology 101 & Joint Department Circular (JDC) Public Briefing held on August 16, 2017 at The Pinnacle Hotel and Suites, Davao City.
A team of researchers at the John Innes Centre (JIC) led by Professor Robert Sablowski studied DELLA proteins which cause a range of growth responses in plants. Mutations in DELLA genes were selected by plant breeders during the green revolution to increase yield through reduced stem length.
Scientists working on transgenic vegetatively propagated crops in Africa have acknowledged the need to simplify terminologies for public communication. Speaking at a joint technical-communication meeting on August 18, 2017, in Nairobi, Kenya, Dr. Margaret Karembu, ISAAA AfriCenter Director, lauded the technical, regulatory and communication team members from the cassava, banana,and potato projects for coming together to define how best to communicate with non-technical stakeholders. "For the public to accept and appreciate efforts going into improving these important food crops, we must shift from using terms that might increase fear and anxiety and begin using those that build trust and confidence," she said.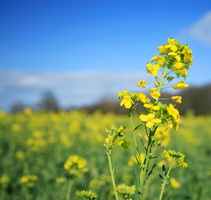 CRISPR-Cas9 is a valuable tool for research and has been widely applied to different plant species. However, the efficiency of this method is not available for the allotetraploid rapeseed (Brassica napus), an important oilseed crop. Huazhong Agricultural University researchers evaluated the mutation efficiency of the CRISPR-Cas9 for 12 genes in rapeseed, including paralogous genes.
NEWS FROM AROUND THE WORLD

PLANT

RESEARCH HIGHLIGHTS

News Archive | Translations

A biweekly update on gene editing research, regulations, and impact
produced by ISAAA Inc.

A monthly update on gene drive research and development provided by ISAAA in collaboration with the Outreach Network for Gene Drive Research
Biotech Updates is a weekly newsletter of ISAAA, a not-for-profit organization. It is distributed for free to over 22,000 subscribers worldwide to inform them about the key developments in biosciences, especially in biotechnology. Your support will help us in our mission to feed the world with knowledge. You can help by donating as little as $10.