John Cardinal Onaiyekan, the Archbishop of the Catholic Archdiocese of Abuja, Nigeria, together with other church leaders have called on agricultural biotechnology experts to undertake research that is focused on the population's agricultural challenges. The leaders met with agri-biotech researchers, regulators, and communicators at Daughters of Divine Love Retreat and Conference Centre (DRACC) Lugbe, Abuja on February 7, 2017. The Director General, National Biotechnology Development Agency (NABDA), Prof. Lucy Ogbadu who gave an overview on the global status of GM crops, explained the need to create access to this technology for farmers. "The position of the Catholic Church is to leave scientists to do their research, but we are also constantly looking at what comes out of it in the light of the will of God and what is good for human beings," said Cardinal Onaiyekan. He further said that safe use of the technology is the church's utmost priority.
Dr. Rufus Ebegba, the Director General of Nigeria National Biosafety Management Agency (NBMA) reassured the faith-based leaders that the Agency is diligently doing its job in ensuring GM technology is well regulated. The agency was created following the ratification of Nigeria's Biosafety Management Act in 2015, which ensures safety application of modern biotechnology.
Prof. Mohammed Ishiyaku, the Bt cowpea project principal investigator, made a presentation on the need to develop Bt cowpea, one of the key biotech crops under research in Nigeria. The project addresses one of the most damaging pests that poses threat to millions of Nigerians who rely on the crop for food security.
Cardinal Onaiyekan was accompanied by priests, nuns, and Catholic medical professionals in the event that was organized by the Open Forum on Agricultural Biotechnology (OFAB) in Africa, Nigeria Chapter in collaboration with the Catholic Secretariat of Nigeria (CNS) and the Action Family Foundation (AFF).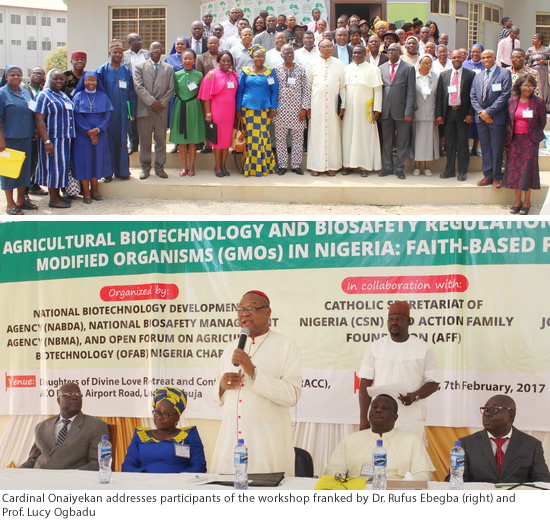 For more information on the event and biotechnology developments in Nigeria, contact Dr. Rose Gidado, OFAB-Nigeria Coordinator at roxydado91@gmail.com.
Australian OGTR Issues License for Field Trial of GM Indian Mustard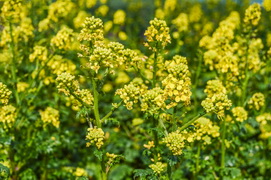 Australia's Office of the Gene Technology Regulator (OGTR) has issued a license to Nuseed Pty Ltd., allowing the field trials of Indian mustard (Juncea canola) genetically modified (GM) for altered oil content. The field trials (License Application DIR 149) will be carried out between April 2017 and May 2022, and will take place at a maximum of 4 sites of up to 2 hectares per site in 2017, 10 sites of up to 5 hectares per site in 2018, and 15 sites of up to 10 hectares per site in each subsequent year.
The final Risk Assessment and Risk Management Plan (RARMP) concludes that this limited and controlled release poses negligible risks to people and the environment and does not require specific risk treatment measures. The finalized RARMP, together with a summary of the RARMP, a set of Questions and Answers on this decision and a copy of the license, are available online from the DIR 149 page in the OGTR website.
Scientists at the John Innes Centre, Norwich have discovered how complex plant shapes are formed. The work, led by Dr. Alexandra Rebocho and colleagues in Professor Enrico Coen's laboratory, could have wide implications on the understanding of shape formation, or 'morphogenesis', in nature. Understanding how genes influence plant shape formation would lead to better-adapted and higher yielding crop varieties.
One of the prevailing theories of how complex plant shapes develop, upon which this new research builds, is the theory of 'tissue conflict resolution'. In this theory, growth outcomes depend on tissues. In isolation, individual tissue regions grow equally in all directions or elongate in a preferred direction. In reality, tissue regions do not occur in isolation, but the adhesion and cohesion between adjoining regions cause tissues to buckle, curve, or bend to a compromise state.
The three proposed types of tissue conflict resolution are areal, surface, and directional. The new research provides evidence for the third category: directional conflict. Tissues, or collections of tissues, can have a set of directions, or 'polarity field', which is caused by the asymmetrical distribution of proteins within cells. An example of a response to this directionality is when plants grow faster parallel or perpendicular to the local polarity field.

For more information about this research, read the news release from the John Innes Centre.
Researchers Review Targeted Genome Editing Techniques in Horticultural Crops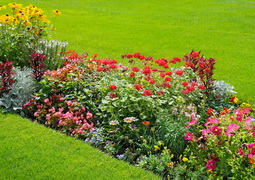 Breeding technologies, whether conventional or modern, have been often used to enhance crop production. However, these breeding methods are sometimes laborious and complicated, especially when attempting to improve desired traits without inducing pleiotropic effects.
Targeted genome editing (TGE) technology using engineered nucleases, including meganucleases, zinc finger nucleases (ZFNs), transcription activator-like effector nucleases (TALENs), and clustered regularly interspaced short palindromic repeat (CRISPR) has been used to improve the traits of economically important plants.
These TGEs has emerged as novel plant-breeding tools that are alternative approaches to conventional breeding, but with higher efficiency.
Saminathan Subburaj of the Chungnam National University in South Korea, together with researchers from various academic institutions, described the basic principles of TGE as well as their advantages and disadvantages. Their study also discussed TGEs' potential use to improve the traits of horticultural crops.
For more information, read the article in Horticulture, Environment, and Biotechnology.
NEWS FROM AROUND THE WORLD

PLANT

RESEARCH HIGHLIGHTS

News Archive | Translations

A biweekly update on gene editing research, regulations, and impact
produced by ISAAA Inc.

A monthly update on gene drive research and development provided by ISAAA in collaboration with the Outreach Network for Gene Drive Research
Biotech Updates is a weekly newsletter of ISAAA, a not-for-profit organization. It is distributed for free to over 22,000 subscribers worldwide to inform them about the key developments in biosciences, especially in biotechnology. Your support will help us in our mission to feed the world with knowledge. You can help by donating as little as $10.