The Nigeria Academy of Science, the country's top scientific organization and the federal government's scientific advisor has declared that GMOs are safe and beneficial to improve agricultural productivity. Furthermore, the Academy noted that the technology has the potential to address food security. The Academy's declaration also reiterated the U.S. National Academy of Sciences' report that GM crops are safe.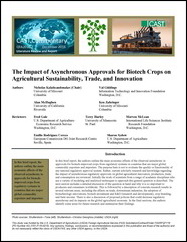 The Council for Agricultural Science and Technology (CAST) Literature Review and Report has been released. The Impact of Asynchronous Approvals for Biotech Crops on Agricultural Sustainability, Trade, and Innovation looks at problems caused by asynchronous approvals for biotech crops. The authors focused on the economic effects in countries that are major global commodity exporters and importers, which show that asynchrony in the global approval of new biotech crops and the resultant risk of low level presence (LLP) puts large volumes of trade worth billions of dollars at risk.
Reassessment of the Yield-Related Genes in Rice through CRISPR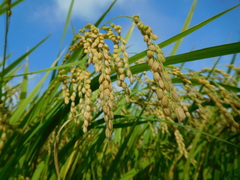 The CRISPR/Cas9 system has been successfully used as efficient tool for genome editing in a variety of species. Researchers from the Chinese Academy of Sciences in China aimed to use the CRISPR/Cas9 system to mutate genes reported to function as regulators of grain number (Gn1a), panicle architecture (DEP1), grain size (GS3), and plant architecture (IPA1) in rice.
NEWS FROM AROUND THE WORLD

PLANT

RESEARCH HIGHLIGHTS

News Archive | Translations

A biweekly update on gene editing research, regulations, and impact
produced by ISAAA Inc.

A monthly update on gene drive research and development provided by ISAAA in collaboration with the Outreach Network for Gene Drive Research
GM APPROVAL UPDATES
Brazil approved the wheat event HB4 for commercial cultivation.
The Philippines approved the eggplant event EE-1 for cultivation
The USA approved the canola event MON94100 for food and feed.
Nigeria approved the wheat event HB4 for food and feed.
The USA approved the corn event MON87429 for food and feed.

Ghana approved the cowpea event AAT709A for food, feed, and cultivation.
Biotech Updates is a weekly newsletter of ISAAA, a not-for-profit organization. It is distributed for free to over 22,000 subscribers worldwide to inform them about the key developments in biosciences, especially in biotechnology. Your support will help us in our mission to feed the world with knowledge. You can help by donating as little as $10.