Biofortification Scientists Awarded with 2016 World Food Prize in Des Moines
The 2016 World Food Prize laureates Drs. Maria Andrade, Howarth Bouis, Jan Low, and Robert Mwanga were honored during an awarding ceremony on October 13, 2016 at the Iowa State Capitol, Des Moines, Iowa, U.S. before an international audience. Drs. Andrade, Low, and Mwanga of the International Potato Center (CIP) were recognized for their efforts in developing "the single most successful example of biofortification" which is the orange-fleshed sweet potato. Dr. Bouis was lauded for creating HarvestPlus, an organization that focuses on improving nutrition and public health through biofortification.
"At a time when malnutrition, stunting and early childhood death remain a scourge for millions on our planet, the four 2016 World Food Prize Laureates have uplifted the health and well being of more than 10 million persons through the biofortification of staple crops, particularly the vitamin fortified orange fleshed sweet potato," Ambassador Kenneth Quinn, President of the World Food Prize said. "They have truly fulfilled the dictum attributed to Hippocrates from almost 2,400 years ago - to "Let Food Be Thy Medicine."
The 2016 laureates were initially announced in July 2016. The awarding ceremony held in Des Moines was part of the annual Borlaug Dialogue, a premier food security conference.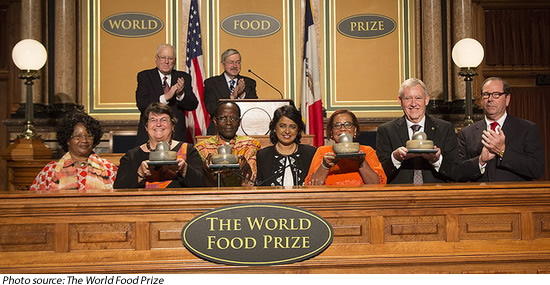 Read the media release from the World Food Prize.
Some 56 participants from 12 countries convened in the Malaysian Agriculture Research and Development Institute (MARDI) in Serdang, Malaysia to facilitate the participation of Asian scientists and stakeholders in the upcoming Meeting of the Parties (MOP 8) and Conference of the Parties (COP 13) in Cancun, Mexico.
The workshop Strengthening Asia's Participation in MOP 8 was conducted to raise awareness on some topics in the convention that includes how modern biotechnology can contribute to the conservation and sustainable use of biodiversity; the main characteristics of functional national biosafety systems and related elements of the Cartagena Protocol for Biodiversity; the importance of regional collaboration and harmonization; MOPs and key items on the MOP8 agenda and related topics in CoP13 and MOP2; how outcomes of MOPs and COPs relate to national systems; as well as to provide public and private sectors perspectives. Topics on socio-economic considerations, public awareness, synthetic biology, and the Nagoya Protocol were also discussed.
Experts from Public Research Regulation Initiative (PRRI), U.S. Department of Agriculture, India, Malaysia Biotechnology Information Center (MABIC) and an industry representative discussed the most updated documents and declarations for MOP 8. The ongoing workshop (October 24-27) was organized by the International Service for the Acquisition of Agri-biotech Applications, in partnership with the PRRI, MABIC, MARDI, and Agricultural Biotechnology Institute of Malaysia.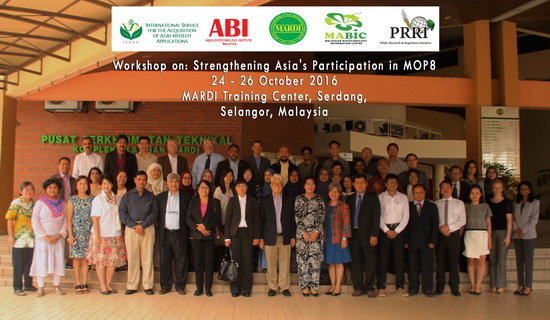 For details of the workshop, contact knowledge.center@isaaa.org.
Targeted Mutagenesis of P450 Gene Confers Male Sterility in Monocots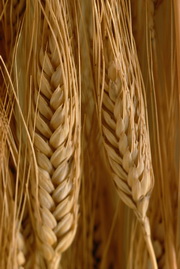 Targeted mutagenesis using programmable DNA endonucleases, such as CRISPR and TALENs, is promising in studying gene function in plants and in improving crop yields. Recently, a method that eliminates the need to emasculate the female inbred during hybrid seed production has been described. The system relies on identifying genes critical to anther and pollen development, such as the P450 fertility gene in maize, known as Ms26. However, theP450 gene has not been isolated in other monocots.

A biweekly update on gene editing research, regulations, and impact
produced by ISAAA Inc.

A monthly update on gene drive research and development provided by ISAAA in collaboration with the Outreach Network for Gene Drive Research
GM APPROVAL UPDATES
Brazil approved the wheat event HB4 for commercial cultivation.
The Philippines approved the eggplant event EE-1 for cultivation
The USA approved the canola event MON94100 for food and feed.
Nigeria approved the wheat event HB4 for food and feed.
The USA approved the corn event MON87429 for food and feed.

Ghana approved the cowpea event AAT709A for food, feed, and cultivation.
Biotech Updates is a weekly newsletter of ISAAA, a not-for-profit organization. It is distributed for free to over 22,000 subscribers worldwide to inform them about the key developments in biosciences, especially in biotechnology. Your support will help us in our mission to feed the world with knowledge. You can help by donating as little as $10.