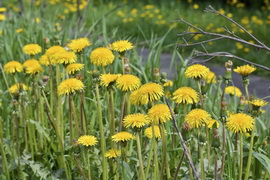 Rubber dandelion (Taraxacum kok-saghyz; TK) is notable for its ability to produce rubber in its roots and a potential alternative source of natural rubber. In order to accelerate the domestication of TK, Brian Iaffaldano and his team from Ohio State University have established a simple strategy to use CRISPR/Cas9 in this species to target the fructan:fructan 1-fructosyltransferase (1-FFT) gene, implicated in inulin synthesis. This gene was targeted as inulin is an expected antagonist of rubber production.

A biweekly update on gene editing research, regulations, and impact
produced by ISAAA Inc.

A monthly update on gene drive research and development provided by ISAAA in collaboration with the Outreach Network for Gene Drive Research
Biotech Updates is a weekly newsletter of ISAAA, a not-for-profit organization. It is distributed for free to over 22,000 subscribers worldwide to inform them about the key developments in biosciences, especially in biotechnology. Your support will help us in our mission to feed the world with knowledge. You can help by donating as little as $10.