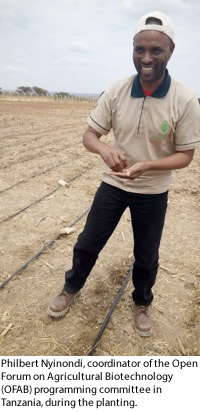 The first genetically modified (GM) maize research trials have been planted on October 5, 2016 in Tanzania's Dodoma region, a semi-arid area in the central part of the country. The confined field trial aims to demonstrate the effectiveness and safety of a drought tolerant GM maize hybrid developed by the Water Efficient Maize for Africa (WEMA) project. Dr. Alois Kullaya, country coordinator for the WEMA project in Tanzania, said that researchers are happy that they are now able to carry out confined field trials, "and produce tangible results for people to see, as well as illustrate how biotech maize will benefit the farmers." He however stated that the GM maize would take at least three years to establish its value.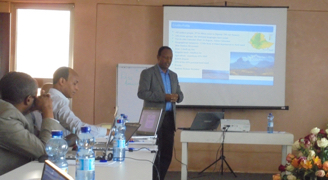 The Ethiopian government's political goodwill has been praised for placing the country in a strategic position to utilize biotechnology tools in agricultural production. A team comprising representatives from U.S. Department of Agriculture, Bill and Melinda Gates Foundation, Common Market for Eastern and Southern Africa (COMESA) and other international biotechnology and biosafety partners lauded that, for the first time, Ethiopian government had committed USD4.5 million towards development of the country's biotechnology road map. The road map was unanimously adopted by the Council of Ministers led by H.E. Hailemariam Desalegn, Prime Minister of Ethiopia. It has led to the establishment of Ethiopian Biotechnology Research Institute in a bid to raise the country's capacity for agricultural biotechnology.
During the coordination meeting on September 29, 2016 in Addis-Ababa, it was announced that after the revision of the biosafety proclamation which was previously described as stringent, the country has seen a complete turnabout in the progress towards adoption of agricultural biotechnology. Other than the biotechnology road map, there have also been remarkable institutional achievements such as development of the country's biosafety guidelines. These include guidelines on application for deliberate release of living modified organisms (LMOs), risk assessment parameters for LMOs, management of risks from handling of LMOs, requirements for transport and storage of products from LMOs and guidelines of application for special permit to handle LMOs for research and teaching.
Mr. Belete Geda who represented the Ministry of Environment, Forest and Climate Change in the meeting, called on international partners for support in strengthening the country's capacity for biotechnology. While tremendous progress has been made, a lot remains to be done in infrastructural and human resource capacity in biotechnology. Awareness creation efforts among policy makers and the public needs to be heightened while creating enabling systems for scientists to communicate biotechnology information to the public. The parliamentarians present in the meeting promised to address the issue of procurement so that research may not be unnecessarily delayed.
For more updates about biotechnology in Africa, visit the ISAAA AfriCenter website.
Scientists Review the Use of Engineered Viruses in Genome Editing Tools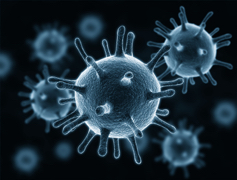 Genome editing based on sequence-specific designer nucleases modify genetic information of living cells in a targeted manner. Delivering these designer nucleases, individually or together with donor DNA templates, can result in gene knock-outs or knock-ins.
Viral vectors, which are engineered replication-defective viruses, recently gained an important role as delivery vehicles for donor DNA templates and designer nucleases, such as zinc-finger nucleases (ZFNs), transcription activator-like effector nucleases (TALENs) and clustered, regularly interspaced, short palindromic repeats-associated Cas9 (CRISPR−Cas9).
Researchers from Leiden University Medical Center in the Netherlands reviewed the use of engineered viral particles on genome editing and also focused on their main scaffolds. They discussed the repurposing of viral vectors as delivery systems for genome editing tools as well as information on their characteristics, and the advantages and disadvantages of this new approach.
For more information, read the article in Molecular Therapy.

A biweekly update on gene editing research, regulations, and impact
produced by ISAAA Inc.

A monthly update on gene drive research and development provided by ISAAA in collaboration with the Outreach Network for Gene Drive Research
Biotech Updates is a weekly newsletter of ISAAA, a not-for-profit organization. It is distributed for free to over 22,000 subscribers worldwide to inform them about the key developments in biosciences, especially in biotechnology. Your support will help us in our mission to feed the world with knowledge. You can help by donating as little as $10.