Kenyan National Biosafety Authority CEO Shares Status of the Country's Regulatory System
June 10, 2011
Dr. Roy Mugiira, Acting Chief Executive Officer of the Kenyan National Biosafety Authority (NBA) was featured in SEARCA's Special Seminar on "Biosafety in Kenya" last May 19, 2011. The NBA is the body that controls and governs the use and transfer of genetically modified organisms (GMOs), as well as the competent authority on matters of biosafety and biotechnology.
Dr. Mugira reported that there is a policy, legal framework, administrative mechanism, and public participation already in place for the country's biosafety framework. In addition, the Kenyan government already has policy statements recognizing biotechnology as a potential tool for poverty reduction and food security enhancement. The government also recognizes its role to safeguard the citizens and the environment from possible risks associated with GMOs, hence, the creation of the NBA and its collaboration with other concerned government agencies to form the regulatory administrative structure.
The biosafety regulations, which would specify the details of the requirements for application, we rem drafted April 12 during a stakeholders' workshop. According to Dr. Mugiira, the drafts are currently undergoing legal scrutiny by the state law office and will soon be published. This, he said, would pave the way for the materials that are in confined field trials to be commercially or environmentally released. Among the GM crops that are already in confined field trials in Kenya are Bt cotton, insect resistant maize, water efficient maize, and virus resistant sweet potato.
The Special Seminar was co-organized by SEARCA Biotechnology Information Center and the Program for Biosafety Systems.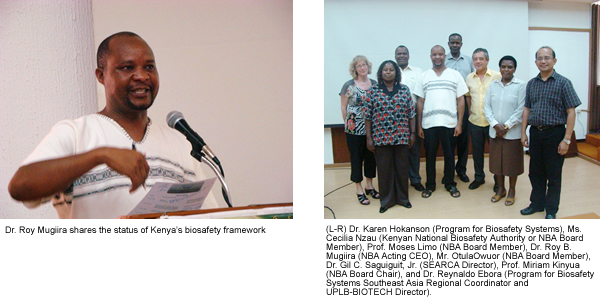 For a related article visit http://www.bic.searca.org or e-mail bic@agri.searca.org.
The Crop Biotech Update is a weekly newsletter of ISAAA, a not-for-profit organization. The CBU is distributed for free to over 23,000 subscribers worldwide to inform them about the key developments in biosciences, especially in agricultural biotechnology. Your support will help us in our mission to feed the world with knowledge. You can help by donating as little as $10.