Degree Course on Biotech and Biosafety Launched at Kenya's Moi University
September 18, 2009
A degree course in biotechnology and biosafety was launched at Moi University in Kenya School of Science, Department of Biological Sciences (DBS) on September 11, 2009. The new degree program was developed by Dr. Donald F. Otieno and other colleagues in the DBS with support from the Program for Biosafety Systems (PBS). Contributions were also made by PBS partners at Michigan State University's Institute of International Agriculture.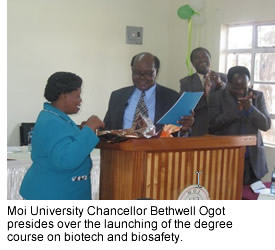 Through course work, seminars, field and laboratory training, this new degree program will provide students with a comprehensive understanding of the principles and practices of biotechnology and biosafety as well as biosafety regulatory processes and how these can be implemented and properly enforced to support agricultural and biotechnological innovations. The official launching ceremony was presided over by Moi University Chancellor Bethwell Ogot who said the first and foremost challenge facing Kenya and Africa in general is the fight to eradicate poverty and hunger. He pointed out that scientific and technological innovations are fundamental in solving problems of poverty, hunger and food security. The Chancellor noted that the North-South gap in harnessing biotechnology in Africa constitutes a major technological divide that can be bridged by capacity building in biotechnology and biosafety.
During the event, International Service for the Acquisition of Agri-biotech Applications' (ISAAA) AfriCenter Director Margaret Karembu made a presentation on "Communicating Agricultural Biotechnology: The Role of Universities".
For more information contact Dr. Donald Otieno of Moi University at dfotieno@yahoo.co.uk
The Crop Biotech Update is a weekly newsletter of ISAAA, a not-for-profit organization. The CBU is distributed for free to over 23,000 subscribers worldwide to inform them about the key developments in biosciences, especially in agricultural biotechnology. Your support will help us in our mission to feed the world with knowledge. You can help by donating as little as $10.