Governments Set Targets for Biodiversity Conservation by 2050
December 5, 2018
One hundred and ninety-six Governments have agreed to scale up investments for sustainable development and harmonious coexistence of all life on Earth by 2050. This was during the United Nations Biodiversity Conference held on November 17-29, 2018 in Sharm El Sheikh, Egypt. Addressing the convention, His Excellency, Abdel Fattah el-Sisi, President of the Arab Republic of Egypt called for mainstreaming of biodiversity to all economic sectors in order to conserve natural resources for the coming generations.
Dr. Christiana Paşca Palmer, Executive Secretary of the United Nations (UN) Convention on Biological Diversity observed that since the convention came to force 25 years ago, meaningful progress has been achieved in conservation and sustainable use of biodiversity. Dr. Palmer, however, emphasized that these successes are not enough to halt the ongoing loss of plant and animal diversity on earth, urging all Governments to gear up efforts in conserving biodiversity.
The two weeks of deliberations and multilateral negotiations closed with a broad international agreement on reversing the global destruction of nature and biodiversity loss threatening all forms of life on earth. To combat this crisis, Governments agreed to accelerate action to achieve the Aichi Biodiversity Targets, agreed in 2010. The meeting also agreed on a comprehensive and participatory process for developing the post-2020 global biodiversity framework anticipated to be agreed upon at the next UN conference in Beijing in 2020.
The ISAAA delegation participated in the meetings, making statements on biosafety items in the conference agenda. ISAAA also co-hosted a side event on LMOs, synthetic biology and digital sequence information (DSI) on genetic resources. The event was co-organized by the Alliance for Science (AfS), the German Association of Synthetic Biology, International Genetically Engineered Machine (iGEM), Public Research and Regulation Initiative (PRRI), and SynBio Africa.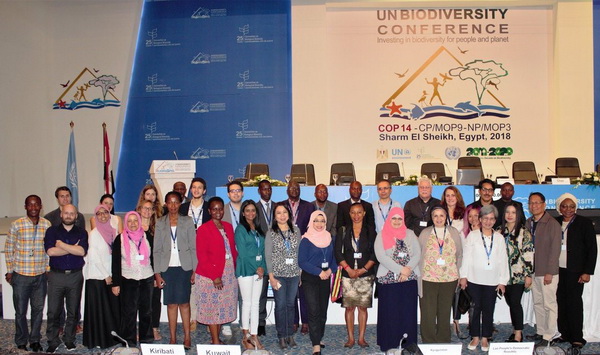 For more information, contact knowledge.center@isaaa.org.
Biotech Updates is a weekly newsletter of ISAAA, a not-for-profit organization. It is distributed for free to over 22,000 subscribers worldwide to inform them about the key developments in biosciences, especially in biotechnology. Your support will help us in our mission to feed the world with knowledge. You can help by donating as little as $10.
See more articles:

News from Around the World

Research Highlights

Beyond Crop Biotech

Resources

Plant


Read the latest:


Subscribe to BU: