Consistency in Biotech Reporting Vital in Cultivating Public Awareness
August 15, 2018
The Kenya Chapter of Open Forum on Agricultural Biotechnology in Africa (OFAB) has recognized journalists for their consistent reporting on agricultural biotechnology. The event, held in Nairobi on August 9, 2018, brought together more than 150 biotechnology stakeholders, including journalists, scientists, policy makers, regulators, and producers.
Presiding over the event, Principal Secretary (PS) in the State Department of Agriculture Research at the Ministry of Agriculture, Livestock, Fisheries and Irrigation, Prof. Hamadi Boga, lauded OFAB's role in engaging the media and supporting their efforts in educating the public about agricultural biotechnology. He challenged journalists to deeply interrogate scientific issues, then decode and interpret complex biotechnology issues for better understanding by the public. "This event is an exercise that will stimulate journalists to talk more about science, especially biotechnology and other emerging technologies," the PS observed.
ISAAA AfriCenter Director and OFAB-Kenya chapter chair, Dr. Margaret Karembu, acknowledged the role of media in cultivating public awareness. "Armed with accurate information, journalists have a critical role in shaping public and policy opinions that can lead to speedy adoption of agricultural biotechnology, noting even as Africa debates, global adoption continues to rise. This has contributed to higher yields and increased farm incomes greatly reducing poverty, hunger and malnutrition in some regions most prone to these challenges. These benefits have spurred an increase in global acreage of biotech crops from 1.7 million hectares in 1996 to 189.8 million hectares in 2017. Biotechnology can thus make a significant contribution towards achieving the Kenyan Government's Big Four Agenda, and the media are best placed to pass this information to the wider public," she said.
Four journalists were awarded for their consistency in reporting and sensitizing the public on agricultural biotechnology The top winners were Philip Keitany and cameraman Japheth Makau of Kenya Television Network (KTN). Radio Maisha's Rose Mukonyo, Brian Okinda of Daily Nation were the first and second runner-up winners, respectively. The winning journalists will participate in OFAB Africa Media Awards (OMAs) in September 2018 to be held in Burkina Faso.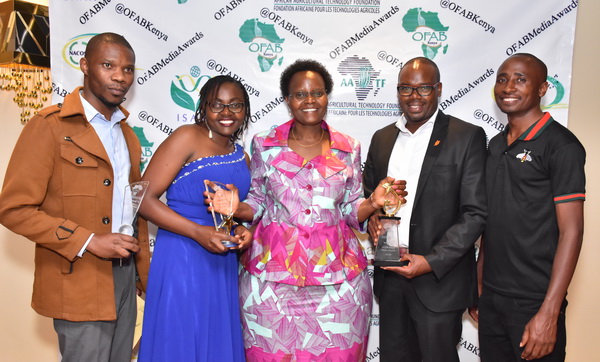 For more on OFAB-Kenya media awards, contact Dr. Margaret Karembu on mkarembu@isaaa.org.
Biotech Updates is a weekly newsletter of ISAAA, a not-for-profit organization. It is distributed for free to over 22,000 subscribers worldwide to inform them about the key developments in biosciences, especially in biotechnology. Your support will help us in our mission to feed the world with knowledge. You can help by donating as little as $10.