Science Enthusiasts Call for Science-based Biotech Policies in Uganda
April 18, 2018
On April 14, 2018, scientists, students, policy makers, farmers and civil society among other science enthusiasts braved a heavy tropical downpour — and took to the streets of Kampala, with variedly marked insignia, in a peaceful but passionate procession — to express their support for science and advocate for its prioritization in policy decisions.
The march that attracted over 100 participants in Uganda's biggest metropolis was one of the numerous similar satellite marches in over 300 cities worldwide.
According to the event organizers, the Kampala march was intended to hold political leaders accountable for passing equitable, evidence-based policies. "We shall march to remind our policy makers to restore the place of science and evidence in key decision making" a statement from the organizers read in part.
A significant number of participants marched to call on the government to pass the National Biosafety Bill — a legislation that will permit the commercialization of GM crops in Uganda. In a country where anti-GM activism and protracted political debate continues to stifle efforts to get products of modern agricultural technologies such as GM crops, into the hands of farmers, the march offered a platform for stakeholders to call out their leaders to action.
"Science plays a pivotal role in decision making. Our government needs to prioritize it in all policy processes," noted a co-organizer Timothy Nyanzi, a biotechnology student at Makerere University. "In Uganda, science has played a major role in eradicating diseases, modernizing agriculture, and creating new industries and jobs", said Papa Were Salim, march special guest and Makerere University Guild President. "This is a critical time to stand up for science, as it's under attack both globally and locally by anti-science movements," he stressed.
The march was organized by the Uganda Alliance for Science, Makerere University, Uganda Biosciences Information Center (UBIC), and other pro-science organizations.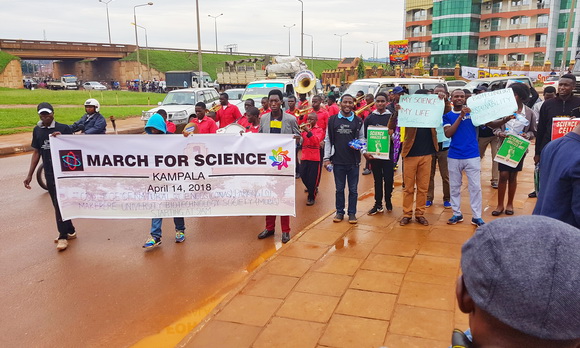 For more information, please contact the coordinator UBIC at ubic.nacrri@gmail.com.
Biotech Updates is a weekly newsletter of ISAAA, a not-for-profit organization. It is distributed for free to over 22,000 subscribers worldwide to inform them about the key developments in biosciences, especially in biotechnology. Your support will help us in our mission to feed the world with knowledge. You can help by donating as little as $10.