Experiences on Implementing GM Labeling Laws Tackled in Seminar
April 18, 2018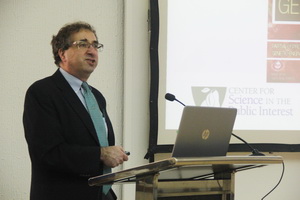 "Any kind of labeling has to fit within the labeling system in your country."
This was the bottom line of Atty. Gregory Jaffe's presentation titled "Experiences in GM Labeling: How Do Other Countries Label GM Food" during the Agriculture and Development Seminar Series (ADSS) of the Southeast Asian Regional Center for Graduate Study and Research in Agriculture (SEARCA) on April 10, 2018. Atty. Jaffe is the Associate Director for Legal Affairs of the Alliance for Science at Cornell University, USA.
According to Atty. Jaffe, experts and policy-makers should always keep in mind that labeling must be accurate, neutral, not misleading, and informative. His discussion also centered on the complexities and issues surrounding labeling of GM products. The examples he shared showed that no two GM labeling laws are alike, as countries have different regulations when it comes to threshold levels and highly-processed ingredients, among other factors. This also affects the labeling of imported food products. On the other hand, voluntary labeling is an option for countries that do not have mandatory labeling laws. Other countries opt to implement a disclosure law that allows consumers to know more about the product through an electronic or digital link in the package.
The seminar was organized by SEARCA Biotechnology Information Center (BIC), in coordination with the Program for Biosafety Systems (PBS) Philippines, Cornell Alliance for Science, and Department of Agriculture-Biotechnology Program Office (DA-BPO). It was attended by students, researchers, key scientists, and experts from the Los Baños scientific community.
For more news about biotech in the Philippines, visit the SEARCA website.
Biotech Updates is a weekly newsletter of ISAAA, a not-for-profit organization. It is distributed for free to over 22,000 subscribers worldwide to inform them about the key developments in biosciences, especially in biotechnology. Your support will help us in our mission to feed the world with knowledge. You can help by donating as little as $10.