Temple University Study Did Not Conclude Link Between Canola Oil Consumption and Alzheimer's
December 20, 2017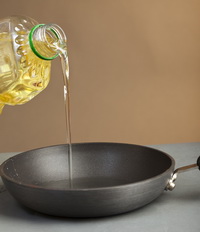 Temple University scientists recently reported the results of their study involving mice that were genetically engineered to develop Alzheimer's Disease-like neural pathology fed with canola oil. Their findings suddenly evolved into fake news stories linking Alzheimer's with canola oil consumption.
Dr. Kevin Folta, Professor and Chairman of the Horticultural Sciences Department at the University of Florida, explains how sensationalist media misinterprets science transforming facts into fake news, using the canola oil study as an example.
According to Dr. Folta, the findings of the Temple University scientists do not show that canola oil causes memory problems, dementia, obesity, and Alzheimer's Disease, especially in humans. However, the contents of the press release of Temple University titled "Canola Oil Linked to Worsened Memory and Learning Ability in in Alzheimer's Disease, Temple Researchers Report," was not in line with the conclusion of the research. The press release was picked up by other news writers who published content that caused public fear towards canola oil consumption.
"It is a perfect storm for distrust. A set of experiments by competent experts, an exaggerated press release from a university communications office and runaway unfiltered media turn a modest set of results into a public health crisis. It is the perfect recipe to sprout a horrendously bogus claim from a seed of truth and a stunning example of how false information propagates and shapes food choice," Dr. Folta concluded.
Read the original article from the Genetic Literacy Project.
Biotech Updates is a weekly newsletter of ISAAA, a not-for-profit organization. It is distributed for free to over 22,000 subscribers worldwide to inform them about the key developments in biosciences, especially in biotechnology. Your support will help us in our mission to feed the world with knowledge. You can help by donating as little as $10.
See more articles:

News from Around the World

Research Highlights

Beyond Crop Biotech

Resources

Plant


Read the latest:


Subscribe to BU: