Development of Low-Cesium Rice Plants via CRISPR-Cas
July 19, 2017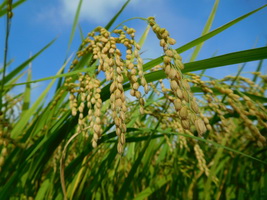 Occurrence of radiocesium in food has raised health concerns after nuclear accidents. Despite being present at low concentrations in contaminated soils, cesium (Cs+) can still be taken up by crops and transported to their edible parts. Such a plant capacity to take up Cs+ from low concentrations has affected the production of rice (Oryza sativa L.) in Japan after the nuclear accident at Fukushima in 2011.
Manuel Nieves-Cordones from CEBAS-CSIC, together wuith researchers from various universities and institutions worldwide, recently reported the inactivation of the Cs+-permeable K+ transporter, OsHAK1, using the CRISPR-Cas system, which then reduced Cs+ uptake by rice plants.
In rice, Cs+ uptake is dependent on two functional properties of OsHAK1: a poor capacity of the plant system to discriminate between Cs+ and potassium (K+), and a high capacity to transport Cs+ from very low external concentrations. In an experiment with a Fukushima soil highly contaminated with 137Cs+, transformed rice plants lacking OsHAK1 function displayed significantly reduced levels of 137Cs+ in roots and shoots.
These results open new perspectives to produce safe food in regions contaminated by nuclear accidents.
For more information, read the article in The Plant Journal.
Biotech Updates is a weekly newsletter of ISAAA, a not-for-profit organization. It is distributed for free to over 22,000 subscribers worldwide to inform them about the key developments in biosciences, especially in biotechnology. Your support will help us in our mission to feed the world with knowledge. You can help by donating as little as $10.
See more articles:

News from Around the World

Research Highlights

Beyond Crop Biotech

Resources

Plant


Read the latest:


Subscribe to BU: