Adesina Wins 2017 World Food Prize
June 28, 2017
The 2017 World Food Prize Laureate is Dr. Akinwumi Adesina, president of African Development Bank (AfDB), in honor of his efforts to improve food security in Africa for over 25 years. The winner was announced in a ceremony at the U.S. Department of Agriculture on June 26, 2017.
Prior to his achievements as president of AfDB, Dr. Adesina had breakthrough achievements as Minister of Agriculture of Nigeria (2011-2015), particularly the introduction of E-wallet system to get rid of corruption in fertilizer distribution. The policies he implemented helped increase the food production of Nigeria by 21 million metric tons, and attracted US$5.6 billion from private sector investments in agriculture. Because of these, he has been known as the "farmers' minister." He also played a critical role in putting up the Alliance for a Green Revolution in Africa, where he became a Vice President and pushed for the extension of commercial bank lending to farmers in Kenya, Tanzania, Uganda, Ghana, and Mozambique.
"As someone who grew out of poverty, I know that poverty is not pretty," said Dr. Adesina. "My life mission is to lift up millions of people out of poverty, especially farmers in rural areas of Africa. We must give hope and turn agriculture into a business all across Africa to create wealth for African economies. The World Food Prize gives me an even greater global platform to make that future happen much faster for Africa," said Dr. Adesina.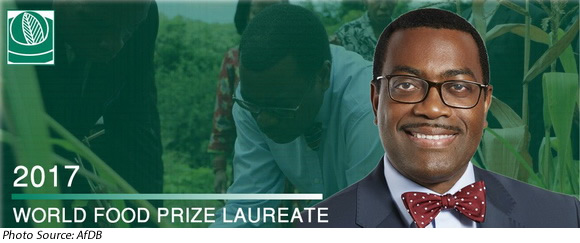 Read the news release from The World Food Prize.
The Crop Biotech Update is a weekly newsletter of ISAAA, a non-for-profit organization. The CBU is distributed for free to over 23,000 subscribers worldwide to inform them about the key developments in biosciences, especially in agricultural biotechnology. Your support will help us in our mission to feed the world with knowledge. You can help by donating as little as $10.
See more articles:

News from Around the World

Research Highlights

Plant Breeding Innovations

Beyond Crop Biotech

Resources


Subscribe to CBU: