Development of New Tool to Estimate GM Pollen Spread
April 12, 2017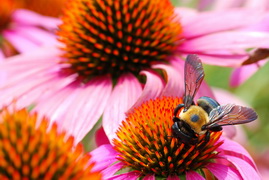 An international study led by the University of British Columbia (UBC) evaluated the spread of genetically modified (GM) organisms to non-modified crops to figure out how far GM pollen travels, and develop accurate tools to estimate it.
Together with colleagues from the Université Catholique de Louvain (Belgium) and Delft University (The Netherlands), Rebecca Tyson, study co-author and associate professor of mathematics at UBC Okanagan developed a mathematical model of pollen dispersal by bees, based on field experiments. Tyson said that their study suggests that separation distances of several hundred meters, proposed by some European countries, is unnecessarily large, but separation by 40 meters is not sufficient.
Tyson adds that their model calculates separation sizes with better accuracy. For example, they estimate that for a 0.9 per cent cross-pollination rate, the ideal distance of separation between two crops is between 51 and 88 meters, depending on crop size and type. These numbers are specific to particular crops and landscapes, she explains, but the predictive ability is the same.
For more details, read the news article at UBC Okanagan News.
The Crop Biotech Update is a weekly newsletter of ISAAA, a not-for-profit organization. The CBU is distributed for free to over 23,000 subscribers worldwide to inform them about the key developments in biosciences, especially in agricultural biotechnology. Your support will help us in our mission to feed the world with knowledge. You can help by donating as little as $10.
See more articles:

News from Around the World

Research Highlights

Plant Breeding Innovations

Beyond Crop Biotech

Announcements

Resources


Read the latest:


Subscribe to CBU: