CRISPR/Cas9 Genome Editing of Rubber-Producing Dandelion
November 16, 2016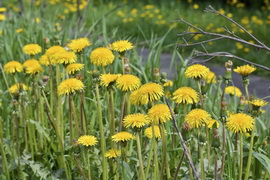 Rubber dandelion (Taraxacum kok-saghyz; TK) is notable for its ability to produce rubber in its roots and a potential alternative source of natural rubber. In order to accelerate the domestication of TK, Brian Iaffaldano and his team from Ohio State University have established a simple strategy to use CRISPR/Cas9 in this species to target the fructan:fructan 1-fructosyltransferase (1-FFT) gene, implicated in inulin synthesis. This gene was targeted as inulin is an expected antagonist of rubber production.
TK plantlets were inoculated with Agrobacterium rhizogenes harboring a plasmid encoding a Cas9 and single guide RNA targeting TK 1-FFT. The team was able to rapidly induce hairy roots harboring knockout alleles. Mutagenesis was confirmed by observing a loss of restriction sites within 1-FFT.
Out of 11 hairy root samples, 10 showed the presence of genome editing, with mutation rates as high as 88.9%, suggesting a high efficiency mutagenesis induced by CRISPR/Cas9 via A. rhizogenes-mediated transformation. Whole TK plants were then generated from hairy roots harboring knockout alleles. The regenerated plants contained knockout alleles, with mutation rates as high as 80.0%.
The application of high efficiency CRISPR/Cas9 genome editing could facilitate the rapid domestication and commercialization of TK as a rubber producing crop, and may accelerate basic research on the regulation of rubber synthesis.
For more information, read the article in Industrial Crops and Products.
Biotech Updates is a weekly newsletter of ISAAA, a not-for-profit organization. It is distributed for free to over 22,000 subscribers worldwide to inform them about the key developments in biosciences, especially in biotechnology. Your support will help us in our mission to feed the world with knowledge. You can help by donating as little as $10.
See more articles:

News from Around the World

Research Highlights

Beyond Crop Biotech

Announcements

Resources

Plant


Read the latest:


Subscribe to BU: