Philippines Supreme Court Reverses Bt Talong Ruling
July 27, 2016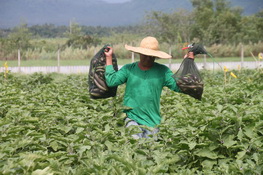 In a unanimous decision, the Philippines Supreme Court on Tuesday, July 26, 2016, reversed its December 2015 ruling, which temporarily stopped the field testing, propagation, commercialization, and importation of genetically modified organisms (GMOs) in the country.
In the En Banc session, the Supreme Court granted nine Motions for Reconsideration filed by the Bt talong (eggplant) proponents, and issued a new one, dismissing on the ground of mootness, the petition for Writ of Continuing Mandamus and Writ of Kalikasan filed by Greenpeace Southeast Asia (Philippines) and Magsasaka at Siyentipiko sa Pagpapaunlad ng Agrikultura (MASIPAG).
The Supreme Court agreed with the petitioners that the case should have been dismissed in view of the completion and termination of the Bt talong field trials and the expiration of the Biosafety permits in 2012. The Court also stated that it should not have resolved the case on its substantive merits due to mootness, and should not have acted on the constitutional question of whether the Department of Agriculture (DA) Administrative Order 08-2002 was unconstitutional, citing that this matter was only collaterally raised.
The Court also stated that the exceptions to mootness were not present and thus the Court should not, in the first place, have decided the matter.
In December 2015, the Supreme Court not only stopped the field testing of Bt talong, but also temporarily stopped any application for field testing, contained use, propagation, and importation of GMOs; it also nullified DA AO 08-2002, saying the order lacked the minimum safety requirements under Executive Order 514, which established the National Biosafety Framework.
For more information about agricultural biotechnology in the Philippines, visit the SEARCA Biotechnology Information Center website.
The Crop Biotech Update is a weekly newsletter of ISAAA, a non-for-profit organization. The CBU is distributed for free to over 23,000 subscribers worldwide to inform them about the key developments in biosciences, especially in agricultural biotechnology. Your support will help us in our mission to feed the world with knowledge. You can help by donating as little as $10.
See more articles:

News from Around the World

Research Highlights

Beyond Crop Biotech

Announcements

Resources


Subscribe to CBU: