University of the Philippines College of Law Holds Forum on GM Crops
June 29, 2016
The Institute of International Legal Studies of the University of the Philippines Law Center (ILSI-UPLC) held the forum "GM Crops: Public Perception and Trade Regulation Practices" on June 28, 2016 in Diliman, Quezon City, Philippines. The activity brought together scientists, biotech proponents from the public and private sectors, and other concerned agencies and organizations to discuss the implications of the Philippines' Supreme Court decision on December 8, 2015 on the Bt 'talong' (eggplant) field trials, and the new Joint Department Circular (Rules and Regulations for the Research and Development, Handling and Use, Transboundary Movement, Release into the Environment, and Management of Genetically-Modified Plant and Plant Products Derived from the Use of Modern Biotechnology) as the revised GM regulatory guidelines in the country.
Assistant Professor at the UP College of Law and ILSI-UPLC Officer-in-Charge Atty. Edgardo Carlo L. Vistan II discussed the Bt talong case and emphasized the importance of effective communication between the legal and scientific sectors to enhance understanding and establish proper mechanisms for regulation. He pointed out the need for workable rules in terms of the level of uncertainty that can be accommodated when it comes to modern biotech applications. Atty. Vistan also explained that the Supreme Court decision was not entirely an attack on science, but aimed to encourage the institution of a sound regulatory and biosafety framework. He likewise encouraged scientists and lawyers to be more creative in communicating their messages to various sectors.
Other topics discussed during the event include: basic foundation of and latest developments in biotechnology and its importance and impact in health and agriculture; relevant trade agreements and their relation and impact to GMOs; socioeconomic impacts of Bt corn in the Philippines; and the role of the Department of Health in crafting the new GM regulatory guidelines.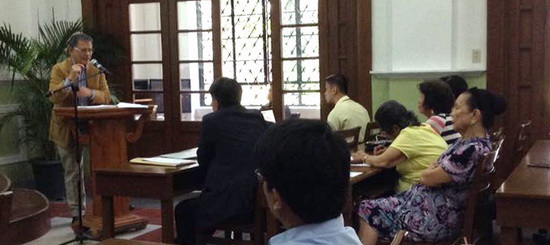 For more information about biotech developments in the Philippines, visit SEARCA Biotechnology Information Center website.

Biotech Updates is a weekly newsletter of ISAAA, a not-for-profit organization. It is distributed for free to over 22,000 subscribers worldwide to inform them about the key developments in biosciences, especially in biotechnology. Your support will help us in our mission to feed the world with knowledge. You can help by donating as little as $10.
See more articles:

News from Around the World

Research Highlights

Beyond Crop Biotech

Resources


Read the latest:


Subscribe to BU: