Potato Farmers in Uganda Demand Local Leaders to Pass Biotech and Biosafety Bill
June 1, 2016
Potato farmers from the South Western region of Uganda have asked their local leaders to support the passage of the National Biosafety Bill. The farmers also pledged to petition their Members of Parliament (MPs) to urgently re-table and discuss the National Biotechnology and Bisoafety Bill 2012. The Bill provides for regulation to make sure that there is safe development and use of biotechnology products, including genetically modified (GM) crops such as late blight resistant potato. South Western region grows 60% of potato in Uganda and houses potato processing industries which need constant supply of potatoes. However, the effects of late blight disease constrain potato supply to the industries, threaten incomes and livelihoods.
According to Dr. Andrew Kiggundu, a biotechnology scientist from the National Agricultural Research Organisation (NARO), the disease can cause up to 60% farm yield loss and Uganda losses about USD 128 million due to late blight. Farmers also decried the high costs of spraying the potatoes against late blight disease and urged researchers to develop varieties that require less spraying.
The farmers made the appeal to their leaders during a sensitization meeting on agricultural biotechnology and a tour of confined fields of GM late blight resistant potato, held on May 21, 2016 at Kachwekano Zonal Agricultural Research and Development Institute (KaZARDI). The meeting was organized by Program for Biosafety Systems (PBS) in collaboration with Uganda Biosciences Information Center (UBIC) and KaZARDI. Meeting participants included: potato farmers, processors, District Production Officers, District Agricultural Officers, local government officials, representatives of the area Members of Parliament, officials from International Fertilizer Development Corporation (IFDC), Uganda Industrial Research Institute (UIRI), media representatives, and researchers from NARO.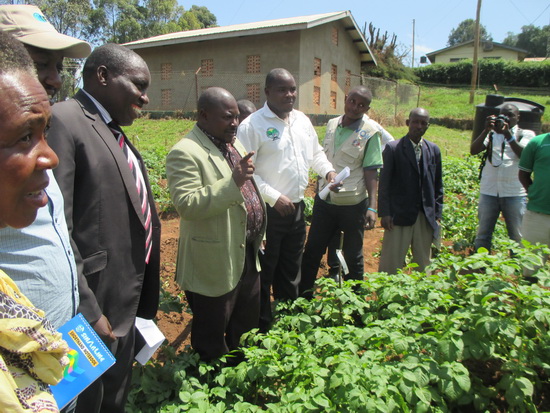 Mr. Patrick Besigye Keihwa, the Chief Guest and LC V Chairman of Kabale district lauded the researchers and cautioned: "If the road to the granary closes, people will die. There are many challenges with our crops and our only hope is in the scientists". Mr. Keihwa urged farmers to change their mindset and be committed to support initiatives aimed at sensitizing farmers and local leaders to address agricultural challenges including relevant products from modern biotechnology.
For more information, send email to ubic.nacrri@gmail.com or visit www.ugandabic.org.
The Crop Biotech Update is a weekly newsletter of ISAAA, a not-for-profit organization. The CBU is distributed for free to over 23,000 subscribers worldwide to inform them about the key developments in biosciences, especially in agricultural biotechnology. Your support will help us in our mission to feed the world with knowledge. You can help by donating as little as $10.