Defra Allows Field Trial of GM Camelina in Rothamsted
April 27, 2016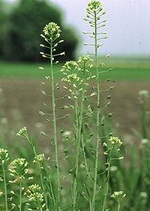 The Department of Environment, Food and Rural Affairs (Defra) allowed Rothamsted Research to conduct field trial of genetically modified (GM) camelina plants in the Rothamsted Farm in 2016 to 2017. The field trials will be conducted to evaluate the amount of omega-3 long chain polysaturated fatty acids (LC-PUFAs) in the camelina seeds. Omega-3 LC-PUFAs exhibit benefits to human health including protection against coronary heart diseases. The research team has also developed camelina plants that accumulate astaxanthin, a pigment that is commonly used as a feed additive in aquaculture. The field trial will also assess the performance of this new trait.
Read the news release from Rothamsted Research.
Biotech Updates is a weekly newsletter of ISAAA, a not-for-profit organization. It is distributed for free to over 22,000 subscribers worldwide to inform them about the key developments in biosciences, especially in biotechnology. Your support will help us in our mission to feed the world with knowledge. You can help by donating as little as $10.