EU Regulators and Food Suppliers Can Now Access Online GM Crop Database
September 16, 2015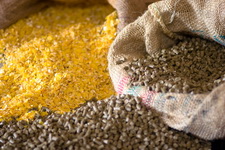 The IPAFEED database is an EU-funded MARLON project, which contains searchable data for monitoring possible health impacts of genetically modified (GM) crops on livestock animals. The project seeks to help regulators and the food supply chain to ensure that any health risk is identified early and effectively.
The MARLON project focused on bringing knowledge on GM crops in animal feed. The IPAFEED database contains information from scientific papers with detailed descriptions of each study, accessible results and links to sources. The database was regularly updated throughout the project, which was completed last July. Researchers have also collated information on animal health indicators. Tools and guidelines to help monitor the health of animals exposed to GM feed have been developed as well.
The positive news for both regulators and European agriculture is that data collected from controlled short-term, long-term and multi-generational feeding trials have revealed that no adverse health effects have been caused by GM feed on animals, with some studies even detecting positive effects.
The EU approves GM-derived ingredients if it passes vigorous safety assessments, and regulators may still require post-market monitoring as a means of verifying pre-market assumptions. While this has not yet been imposed on GM animal feed, the MARLON consortium determined that European agriculture should stay ahead of the curve by having the means to closely monitor the GM content of feed.
For more on the database, read the article on Balkan News.
Biotech Updates is a weekly newsletter of ISAAA, a not-for-profit organization. It is distributed for free to over 22,000 subscribers worldwide to inform them about the key developments in biosciences, especially in biotechnology. Your support will help us in our mission to feed the world with knowledge. You can help by donating as little as $10.