Ugandan Scientists and Journalists Strive to Find a Middle Ground
September 16, 2015
Scientists from Uganda's National Agricultural Research Organization and select Ugandan science journalists had a unique opportunity to meet on September 2-3, 2015, and deliberate on the various issues that have created rifts between these two professions.
The meeting, held in Uganda's capital Kampala and organized by ISAAA AfriCenter in collaboration with the Programs for Biosafety Systems, aimed to create a platform that would afford these two professions a chance to map out their inherent differences that have resulted in miscommunication of agricultural biotechnology to the public, and identify tangible solutions. The meeting also gave the scientists and journalists an opportunity to familiarize themselves with the status of agricultural biotechnology and biosafety at the national, regional and global level, as well as enhance their skills on biotechnology and biosafety communications.
According to Lominda Afredraru, a correspondent with Uganda's Daily Monitor and a Treasurer at the African Federation of Science Journalists, "scientists tend to hoard information and only want to share it at a later stage in the research process when the journalists have lost interest." These sentiments were echoed by all the journalists in the meeting who challenged scientists to be a bit more upfront with information.
However, after a brief explanation of the biotechnology product development process by Dr. Priver Bwesigye, a Plant Biotechnologist at National Agricultural Research Laboratories – NARO, the media practitioners left with a better understanding of the scientists' dilemma and why they sometimes hold back from talking about their research at premature stages.
At the end of the two day training workshop, the scientists pledged to make themselves more available to the media. "This was certainly the right place for me to be," said Dr. Bwesigye. "I would like to apologize to all the journalists who in the past have felt that we've not been as available as they would like," she added.
The participants also came up with a number of recommendations that they felt would help keep Uganda's Biosafety Bill issue alive.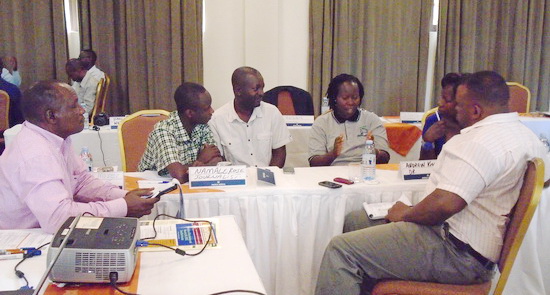 For more information on the workshop, contact Dr. Margaret Karembu at mkarembu@isaaa.org.
Biotech Updates is a weekly newsletter of ISAAA, a not-for-profit organization. It is distributed for free to over 22,000 subscribers worldwide to inform them about the key developments in biosciences, especially in biotechnology. Your support will help us in our mission to feed the world with knowledge. You can help by donating as little as $10.