Workshop Presents Differences of Traditional and Modern Biotech in Egypt
September 2, 2015
The Federation of Arab Scientific Research Councils with the Academy of Scientific Research and Technology organized the 6th International Arab Workshop on Biotechnology which was held at the National Research Center on August 24-25, 2015 under the auspices of the Minister of Scientific Research and the President of Academy of Scientific Research and Technology. More than 200 participants attended the workshop, including scientists from Sudan, Tunisia, and Jordan. Prof. Andreas Börner from Leibniz Institute of Plant Genetics and Crop Plant gave a presentation on their gene bank management and seed materials reproduction. Dr. Hanaiya El-Itraby talked about the activities in the National Gene Bank in Egypt and how they play a crucial role in preserving the biodiversity.
Dr. Naglaa Abdallah, Director of EBIC gave a presentation on the challenges and opportunities of genome editing for crops improvement. She compared this newly developed technique with mutagenesis, and genetic modification. According to Dr. Abdallah, although genome-editing technologies promise to be more efficient and precise to edit genes, it is in its early stage and could not replace GM crops completely. GM crops may have some disadvantages such as regulatory delays, cost and time to launch, but until now it is the technique of choice.
Concerning the regulatory system she added, "Many of these techniques could cause variation in the genotype that is indistinguishable from the natural means or conventional mutagenesis; and therefore, they do not fit current definitions of GMO used within most regulatory regimes. Regulation will focus on the process used, rather than the nature of the novel phenotype developed."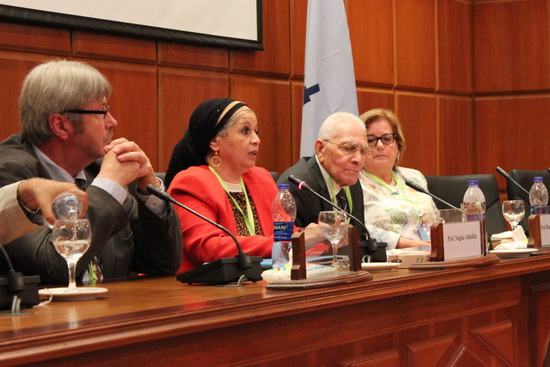 For more information, visit the EBIC website or contact Prof. Naglaa Abdallah through email (nabdallah.ebic@gmail.com or naglaa.abdallah@agr.cu.edu.eg).
Biotech Updates is a weekly newsletter of ISAAA, a not-for-profit organization. It is distributed for free to over 22,000 subscribers worldwide to inform them about the key developments in biosciences, especially in biotechnology. Your support will help us in our mission to feed the world with knowledge. You can help by donating as little as $10.