GMO Question Determines Winner of Miss Uganda 2015
August 5, 2015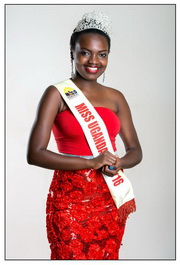 Miss Uganda 2015/2016, Zahara Nakiyaga, impressed judges and the public with her answer when asked about genetically modified organisms (GMOs). This was during the crowning of Miss Uganda 2015/2016 last July. Questions on agriculture dominated the final round of adjudication, and the GMO question was directed to the eventual winner. Miss Nakiyaga's response on GMOs was positive and spot-on, something unusual with socialites' pronouncement on the subject in Uganda. She mentioned that, "GMOs are genetically modified organisms made from joining DNAs of plants to produce more resistant and long lasting crops."
Miss Nakiyaga was one of the 21 contestants who participated in the beauty pageant. Prior to the crowning ceremony, Uganda Biosciences Information Center (UBIC) organized a week-long agricultural boot camp for the contestants. They were introduced to various crop agricultural technologies, including genetic engineering. In the laboratories, the contestants interacted with Ugandan scientists involved in the production of GMOs. The current GM research in Uganda aims to address some of the difficult challenges affecting farmers, and other priorities such as reducing malnutrition especially among young children. Miss Nakiyaga added that the agricultural boot camp improved her understanding of modern agriculture. "I learnt so many things, including the benefits of modern agriculture, which I want to pass on to other youth during my reign," said Miss Nakiyaga.
For more information about biotech in Uganda, send a message to ubic.nacrri@gmail.com.
The Crop Biotech Update is a weekly newsletter of ISAAA, a non-for-profit organization. The CBU is distributed for free to over 23,000 subscribers worldwide to inform them about the key developments in biosciences, especially in agricultural biotechnology. Your support will help us in our mission to feed the world with knowledge. You can help by donating as little as $10.