New Pocket K on Nitrogen Efficient Use Biotech Crops
May 14, 2014
ISAAA releases another Pocket K titled Nitrogen Use Efficient Biotech Crops. It includes a summary of genes studied to modify nitrogen use of plants and the research status of biotech crops with improved nitrogen use including corn, wheat, canola, rice, wheat, sugarcane, and sugar beet.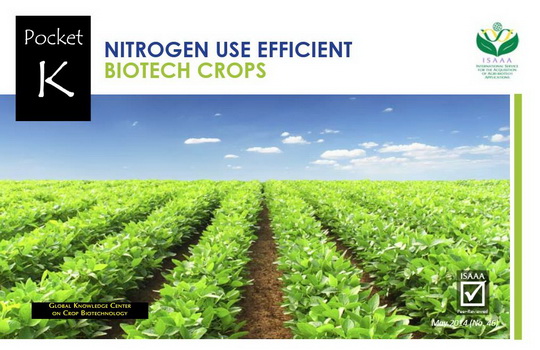 Pocket Ks are Pockets of Knowledge, packaged information on crop biotechnology products and related issues available at your fingertips. They are produced by the Global Knowledge Center on Crop Biotechnology (http://www.isaaa.org/kc). The new format of the Pocket K is optimized for reading on PC or mobile devices.
Biotech Updates is a weekly newsletter of ISAAA, a not-for-profit organization. It is distributed for free to over 22,000 subscribers worldwide to inform them about the key developments in biosciences, especially in biotechnology. Your support will help us in our mission to feed the world with knowledge. You can help by donating as little as $10.