Nigeria's Supervising Minister for S&T Acknowledges Need for Biosafety Law
April 30, 2014
Nigeria's Supervising Minister for Science and Technology, Mrs. Omobola Johnson, has urged biotech stakeholders in the country not to relent in lobbying for establishment of a Biosafety Law. She noted that this will ensure Nigerians to reap the benefits of modern biotechnology similar to the rest of the world. Mrs. Omobola added that the role of agricultural biotechnology in tackling food insecurity, spurring youth employment and enhancing socioeconomic development cannot be overemphasized. The Minister made these remarks while addressing participants at the 4th Annual Open Forum on Agricultural Biotechnology in Africa (OFAB) Review and Planning Meeting held in Abuja, Nigeria on 22th – 26th April 2014.
The Nigerian Biosafety Bill is currently under discussion in Parliament after being returned there by the President following the lapse of the 6th Assembly which passed it. According to Nigerian Parliamentary rules, the President cannot assent to any bill if the time of the Assembly that passed it has expired.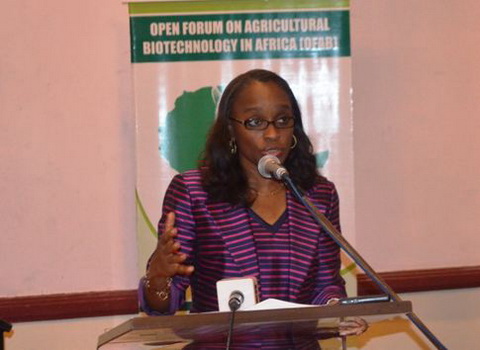 For more information contact Mrs. Rose Gidado, OFAB Nigeria Coordinator, at roxydado@yahoo.com.
Biotech Updates is a weekly newsletter of ISAAA, a not-for-profit organization. It is distributed for free to over 22,000 subscribers worldwide to inform them about the key developments in biosciences, especially in biotechnology. Your support will help us in our mission to feed the world with knowledge. You can help by donating as little as $10.