ISAAA Inc. Launches the Philippines' First Agbiotech Magazine Supplement for Senior High School Students
September 28, 2022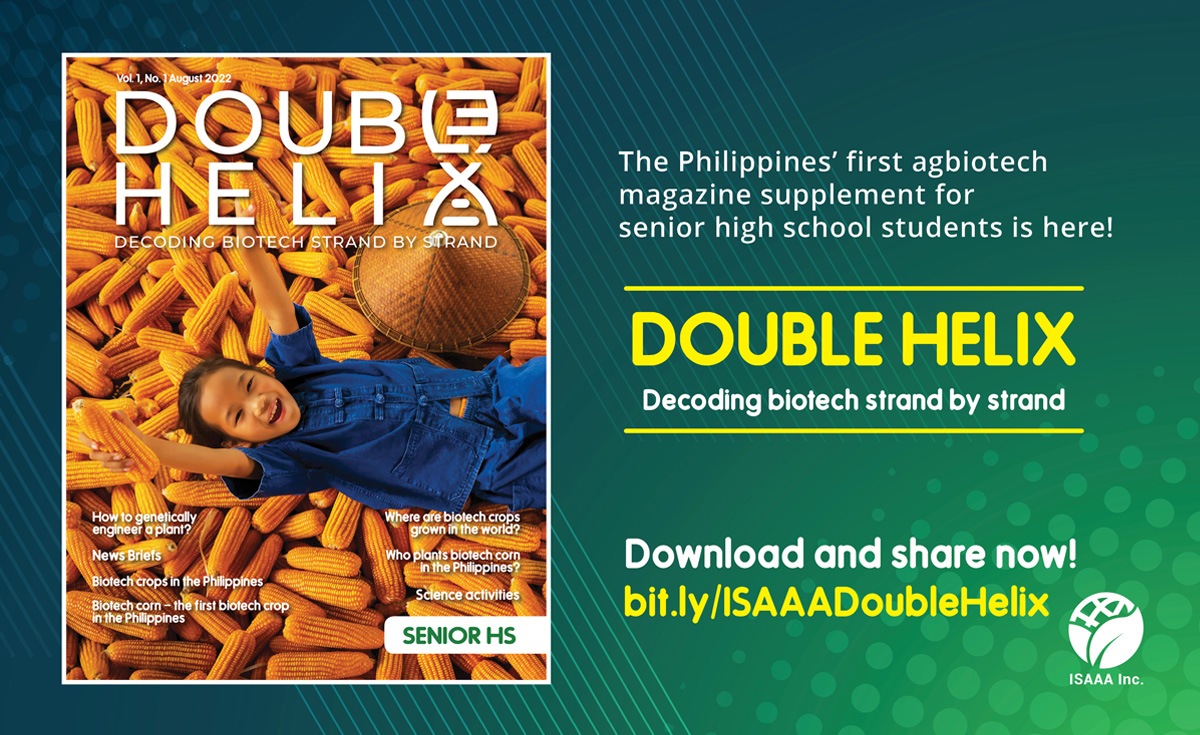 ISAAA Inc., as part of the Know The Science: Strengthening Biotech Links project with the Philippine Department of Agriculture Biotechnology Program Office, launches Double Helix, the first and only magazine supplement on agricultural biotechnology (agbiotech) for senior high school students taking the Science, Technology, Engineering, and Mathematics (STEM) strand in the country.
Magazines have a big impact in the classroom

High school students are always curious about new concepts and ideas. They actively explore their world and discover new things. New developments in agbiotech could be an interesting subject for them, but these should be presented in a format that suits young audiences. Magazines are wonderful supplements to classroom instruction as they provide students with a variety of information on different topics, as well as activities that allow them to apply the concepts to real-life situations. An agbiotech supplemental magazine would provide senior high school students in the Philippines with a variety of topics on biotechnology and its benefits to farmers planting biotech corn and activities that are widely available from ISAAA Inc. materials including Pocket Ks, sQuizBox, 50 Biotech Bites, and the most popular and retweeted articles in the Crop Biotech Update.

Double Helix -- the maiden issue

The world is facing major challenges to food production as the global population increases and climate change severely affects agriculture and food production. Agbiotech, a field of science that uses modern tools and techniques to improve crops and livestock, helps address the challenges of feeding and clothing the global population of 9.8 billion by 2050.

Double Helix was developed for senior high school students to help introduce them to agbiotech. The eight-page magazine is filled with illustrated stories, infographics, and activities to engage the young mind. The maiden issue of the Double Helix presents the process of developing a biotech crop, the countries where biotech crops are grown, biotech crops in the Philippines, Filipino biotech corn farmers, news briefs, and some cool and fun science activities and exercises for senior high school students and their teachers to enjoy. The magazine was developed by ISAAA Inc.'s Global Knowledge Center on Biotechnology team who hopes to impart how biotech crops are developed and the immense benefits that consumers, farmers, their families, and communities enjoy from planting such crops.

The first feature of Double Helix shows how to genetically engineer crops using the two most common tools, a gene gun and the microorganism Agrobacterium tumefaciens. One of the magazine's spreads is focused on biotech crops in the Philippines, especially biotech corn, the first biotech crop planted in the country. Aside from biotech corn, the spread also presents Golden Rice and Bt eggplant, two upcoming commercial biotech crops in the country. Another spread contains infographics showing the top four biotech crops and the countries planting biotech crops in the world. The global map shows the adoption of commercialized biotech crops in 29 countries in 2019. The other half of the spread contains quotes from Filipino farmers telling how planting biotech corn improved their quality of life. The magazine's pages also contain QR codes and links to information materials published on the ISAAA Inc. website that are related to the feature articles.

The Double Helix magazine is free to download from the ISAAA Inc. website. It is also free to use, and interested high schools can get in touch with the ISAAA Inc. team if they want to use the magazine in their instruction. A Teacher's Companion that includes a guide to related ISAAA Inc. publications and suggested quizzes on specific page topics is also available to help teachers navigate through the magazine's pages.
Download Double Helix from the ISAAA Inc. website. For inquiries, send an email to double.helix@isaaa.org
Science Speaks is ISAAA Inc.'s official blog. Weekly blog articles, authored by ISAAA writers, partners, and invited contributors, aim to help share, disseminate, and promote scientific knowledge and its vital role in achieving global agricultural sustainability and development. Your support to Science Speaks will help us achieve this goal. You can help us by donating as little as $10.