ISAAA Releases Policy Brief on Philippine Plant Breeding Innovations
October 5, 2022
ISAAA, in partnership with the Philippine Agriculture and Fisheries Biotechnology Program and the Southeast Asian Regional Center for Graduate Study and Research and Agriculture (SEARCA), published a policy brief titled To Regulate, or Not to Regulate, the Answer to the Question: The NCBP Policy on Plant Breeding Innovations or New Breeding Techniques. It is written by Ms. Ma. Lorelie U. Agbagala, Assistant Scientist at the Department of Science and Technology (DOST) and Head Secretariat of the National Committee on Biosafety of the Philippines, and presents the recent changes in regulatory guidelines for genetically engineered (GE) crops.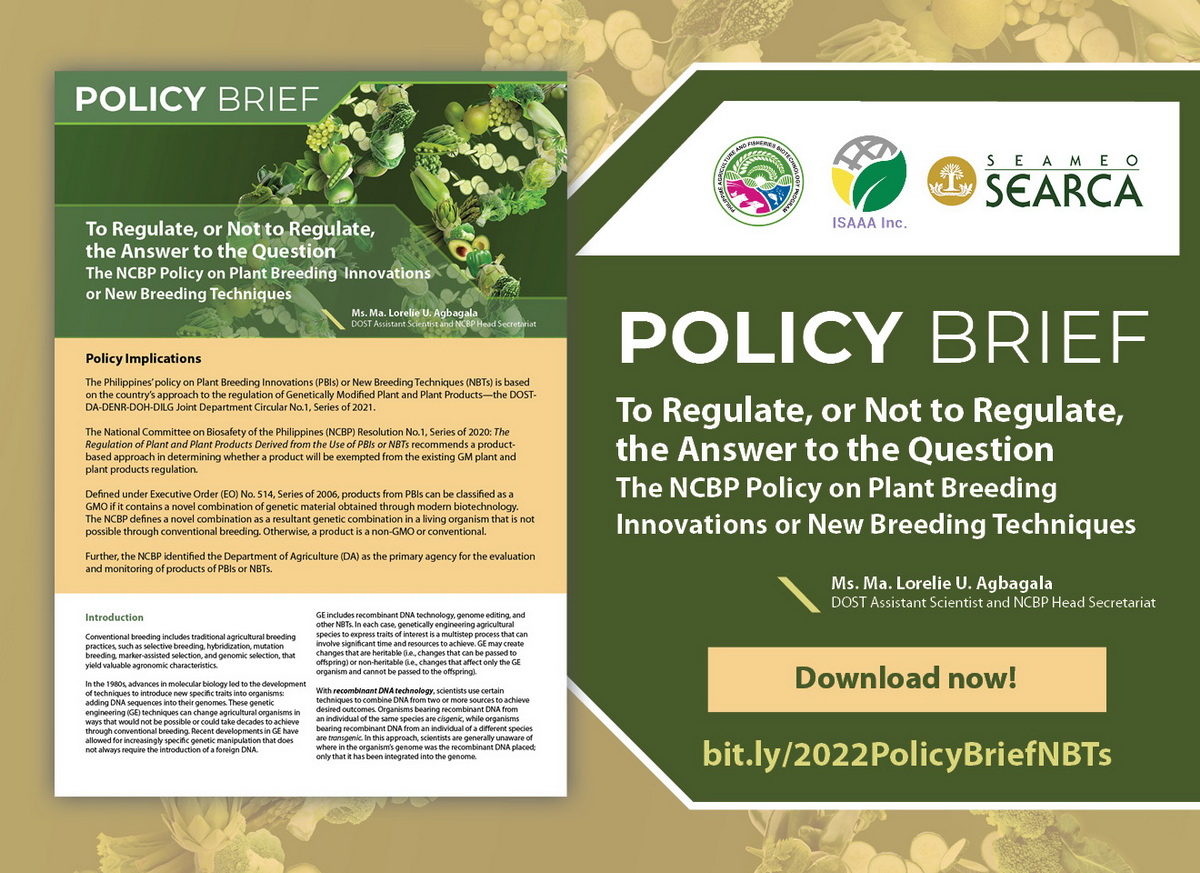 GMO or conventional?
According to the Executive Order (EO) No. 514, Series of 2006, the Philippines classifies a product of plant breeding innovation (PBI) as a genetically modified organism if it contains a novel combination of genetic material obtained through modern biotechnology. In relation, the National Committee on Biosafety of the Philippines (NCBP) defines a novel combination as a resultant genetic combination in a living organism that is not possible through conventional breeding. If a product does not fall under these definitions, then it is considered as a non-GMO or conventional.
Product-based or process-based?
The NCBP Resolution No. 1, Series of 2020 The Regulation of Plant and Plant Products Derived from the Use of PBIs or New Breeding Techniques (NBTs) recommends a product-based approach in determining whether a product will be exempted from the existing GM plant and plant products regulation. Its salient features are:
It is an evidence-based policy founded on scientific evidence and experiences worldwide;
It provides legal certainty by directing the regulators/regulatory agencies to confirm that products of NBTs that do not contain a novel combination of genetic material do not fall within the scope of GMO regulations;
It adopts a product-based approach in determining the presence of novel combinations of genetic materials to decide whether the plants are to be exempted from the existing GMO regulations or not. It then aims to provide clarity as to which plants developed using genome editing techniques fall under current biosafety/GMO regulations; and
It recognizes that the Department of Agriculture shall be the appropriate department to issue guidelines for its implementation and shall also take the lead in evaluating and monitoring plants and plant products derived from the use of modern biotechnology, including PBIs or NBTs.
How to apply?
According to the DA Memorandum Circular No. 8, Series of 2022: Rules and Procedure to Evaluate and Determine when Products of PBIs are Covered under JDC No.1, s. 2021, a developer who intends to introduce a PBI product into the country is required to submit a request to the Bureau of Plant Industry Director for Technical Consultation for Evaluation and Determination. This determines whether the final product of the PBI contains a novel combination of genetic material obtained by modern biotechnology. The process will depend on whether the product being applied for is determined as a GMO or non-GMO.
Concluding remarks
The policy brief states that the Philippine regulations for NBTs or PBIs adopt a product-based approach for safety assessment and utilize sound science for decision-making. This comes as an encouragement to Filipino scientists who use the latest breeding methods and develop crops with more favorable traits and are climate-smart to help combat the current challenges of food insecurity and climate change.
The policy brief is the second to be published in a series of briefs intended for distribution to the Senate and Congress to promote the modernization of Philippine agriculture. Download the policy brief to learn more about the country's biosafety regulations for PBIs.
Science Speaks is ISAAA Inc.'s official blog. Weekly blog articles, authored by ISAAA writers, partners, and invited contributors, aim to help share, disseminate, and promote scientific knowledge and its vital role in achieving global agricultural sustainability and development. Your support to Science Speaks will help us achieve this goal. You can help us by donating as little as $10.