ISAAA 2022 Accomplishment Report Highlights Increased Engagements, Strengthened Partnerships For Sustainable Development
April 5, 2023
ISAAA has released its annual report for 2022, which highlights the organization's contributions to information exchange, international discourses, capacity building, and international partnerships on global topics such as climate change mitigation, biodiversity conservation, sustainable agriculture, food security, development of science-based policies, and science communication and diplomacy. After three decades, ISAAA remains true to its advocacy of sharing the benefits of new bioscience technologies to key stakeholders and contributing to world efforts to help achieve agricultural sustainability and development.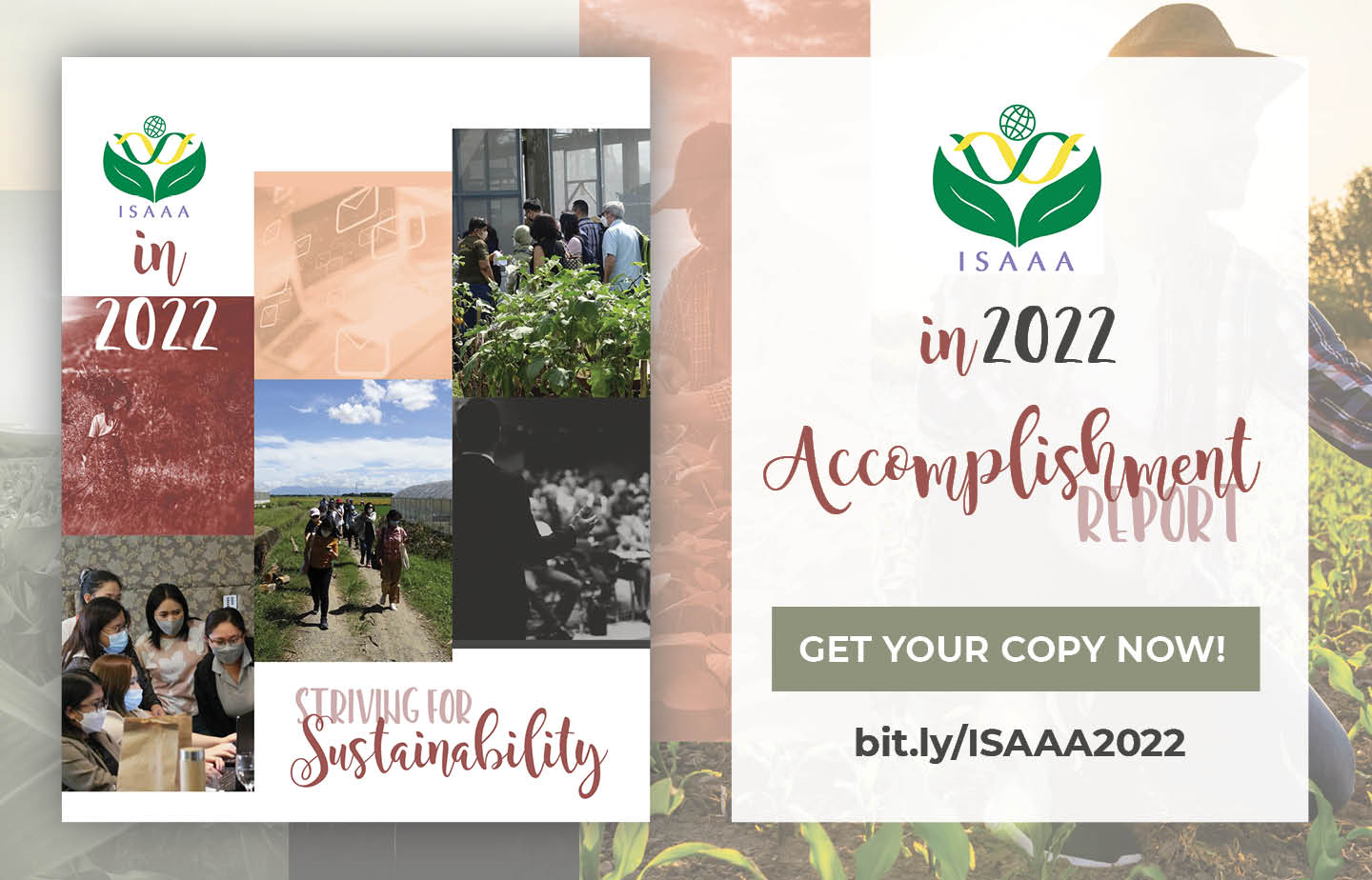 Striving for sustainability
ISAAA has been a strong supporter of sustainability since its inception. The organization has contributed to attaining the United Nations Sustainable Development Goals even before the goals were set. ISAAA strives to continue to inform farmers, consumers, policymakers, traders, scientists, and other stakeholders about the benefits of modern biotechnology and other biosciences, for these tools have been hailed as vital in feeding the world, conserving the environment, and achieving economic stability. And it is the organization's intent to keep on supporting biotechnology until a sustainable world for humanity and all living beings is met.
Accomplishment highlights
ISAAA is pleased to announce that in 2022, knowledge transfer and public understanding of biotechnology have continued to pour into developing countries to achieve food and agricultural self-sufficiency. The various initiatives contributed to the approval and adoption of biotech crops in many developing countries. Among the important milestones reached are:
ISAAA has always been at the forefront of Asia and Africa's efforts to bring biotechnology to developing countries. ISAAA Inc., ISAAA's base in Southeast Asia, engaged around a thousand individuals who received capacity building in their respective fields through onsite and online trainings, seminars, and workshops. It has also partnered with public and private institutions to co-organize international workshops on animal biotechnology, and targeted stakeholders in the Philippines, Vietnam, and Oceania to connect them with resource experts on ag-biotechnology, climate change, and science communication. ISAAA Inc. also released policy briefs about biosafety, gene drive technologies, and gene editing, as well as published Double Helix, the first ag-biotech magazine for senior high school students in the Philippines.
It was also a busy year for ISAAA AfriCenter, having engaged regulators and animal biotechnology practitioners from 12 countries in the continent. Their efforts materialized when the 10-year ban on genetically modified foods was finally lifted in Kenya, and this milestone was celebrated by biotechnology supporters around the world. In the course of 2022, AfriCenter launched the Striga Smart Sorghum for Africa Project. It aims to utilize genome editing technology to develop new sorghum varieties that are resistant to the devastating parasitic weed Striga. The Center also helped more than 2,000 farmers sensitize to biotech crops, and increased the knowledge of over 300 experts from 30 African countries on science communication.
ISAAA's future
Dr. Paul S. Teng, Chair of the ISAAA Board of Trustees, acknowledges that regular outreach to thousands of stakeholders has built a global community of practice that supports the role of science and technology in development. Thus, ISAAA will continue to be a reliable partner and a trusted broker of scientific knowledge to developing countries. Moving forward, the organization's hope is to harness these partnerships to become even more relevant and impactful in the coming years.
Global Coordinator Dr. Mahaletchumy Arujanan expressed ISAAA's intent to spread its advocacies to Latin America and the Arab world to support modern crop biotechnology, especially gene editing. ISAAA, with the help of its partner consortium BioTrust, is motivated to maintain the 30-year brand and legacy of pioneering knowledge transfer and public understanding of biotechnology in developing countries.
Center leads Dr. Rhodora Romero-Aldemita, Executive Director of ISAAA Inc. in Southeast Asia, and ISAAA AfriCenter Director Dr. Margaret Karembu carry on with fostering partnerships with like-minded institutions. They anticipate new collaborations with more organizations as ISAAA widens its information, education, and communication scope to include crops, animals, aquaculture, health, and novel food.
Download ISAAA in 2022: Striving for Sustainability now for free. For inquiries on partnerships, send an email to knowledgecenter@isaaa.org.
Science Speaks is ISAAA Inc.'s official blog. Weekly blog articles, authored by ISAAA writers, partners, and invited contributors, aim to help share, disseminate, and promote scientific knowledge and its vital role in achieving global agricultural sustainability and development. Your support to Science Speaks will help us achieve this goal. You can help us by donating as little as $10.