ISAAA Inc.'s Role in Promoting Science Communication in the Philippines
July 13, 2022
In March 2017, ISAAA Inc. (then ISAAA SEAsiaCenter) in collaboration with the Philippine Department of Agriculture's Biotech Program Office (DA-BPO) and SEARCA through its Biotech Information Center (SEARCA BIC) launched the #KnowTheScience Campaign, which aimed to encourage people to be discerning about modern biotechnology tools and products by understanding the science behind them through major social media platforms. The campaign still continues to popularize modern biotechnology with the help of stakeholder champions that ISAAA has partnered with over the years. Much work has been accomplished especially in the Philippines, ISAAA Inc's host country. Yet, a lot more still needs to be done through science communication to reach as many beneficiaries as possible and to provide science-based information about the opportunities that modern biotechnology can offer.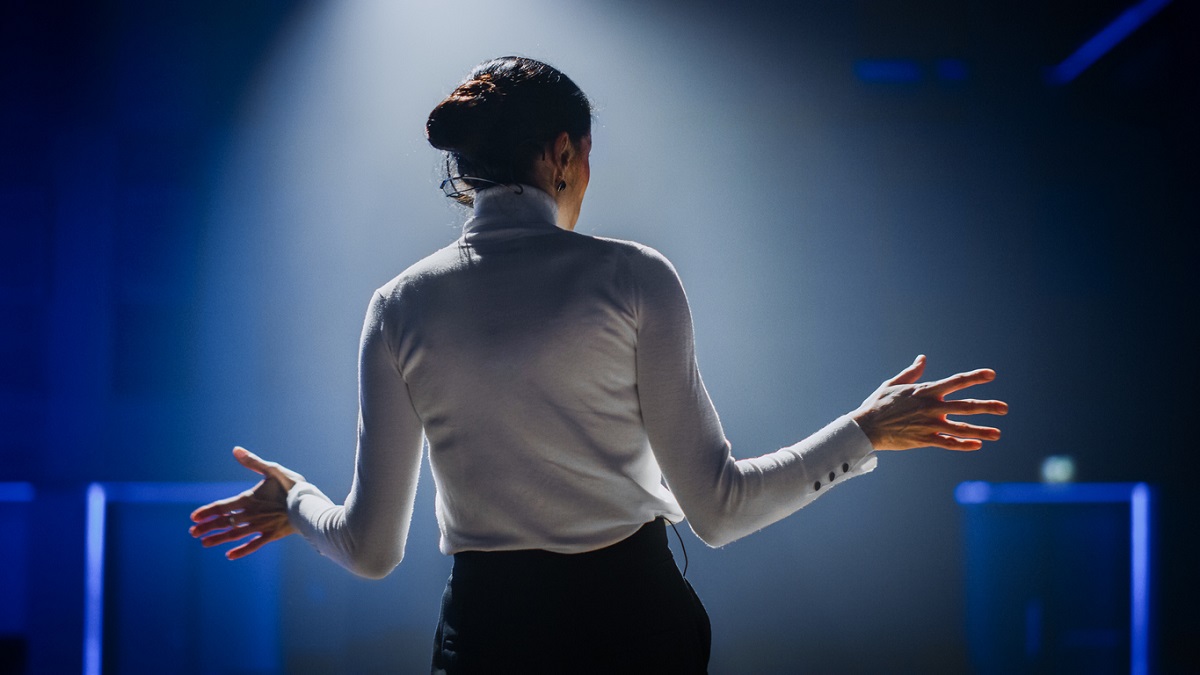 Science Communication in the Philippines
In the 1960s, the University of the Philippines Los Baños started offering courses on agricultural communication to address the need to translate agricultural research results into forms more relatable to farmers, according to a journal article written by Kamila Navarro and Merryn McKinnon published by the Journal of Science Communication. The course later developed into the more inclusive field of development communication, in which one department was created to specifically focus on science communication. From there, other universities across the country followed, and this expanded the science communication program to become more diverse and accessible. However, training in science communication is still not fully utilized by many Filipino scientists as they only receive formal training from occasional workshops, fellowships, or seminars. If this can be addressed, more Filipino scientists will be able to work better with journalists and science communicators in fulfilling their duty to share scientific knowledge to the public.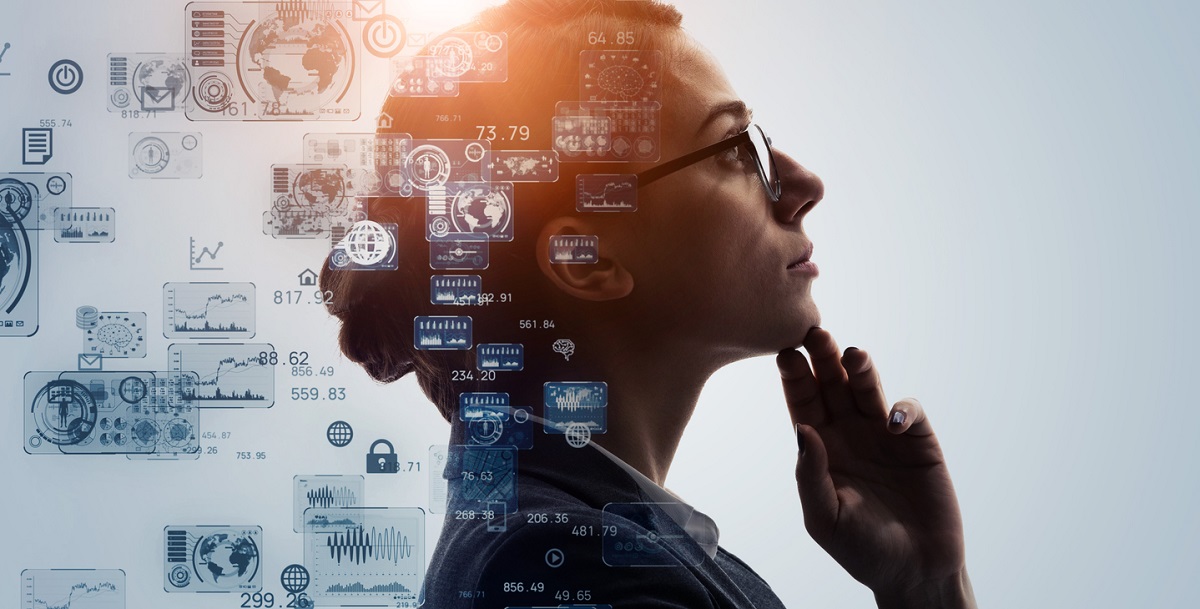 The Challenges Faced by Scientists in Communicating Science
The journal article listed several challenges faced by Filipino scientists when disseminating information to the public that was elicited by survey to respondents based in Metro Manila. These include:
Science news is rarely covered by mass media. Often shadowed by political, entertainment, or sports news, science news only makes headlines after events like natural disasters. Media reporting of science was found to be inadequate.
Scientists do not have the time to communicate science. They are more preoccupied with their research, teaching, or administrative duties and feel that they should leave translating their findings to someone else.
There is lack of training in science communication. As mentioned above, scientists only have few opportunities to train as communicators, often through short workshops or fellowships.
Language can be a barrier to communication activities. The diversity of dialects present in the Philippines has implications on science communication. It is important to speak to the stakeholders in the language they speak to make sure that they understand the message correctly, or risk excluding a significant amount of the Philippine population.
Science is often perceived as boring or not having an impact on everyday life. This results in disinterested audiences who often find themselves asking how the scientific facts they are presented with will help them earn more money or feed their families. In addition, it was found that science is often communicated to those already interested in science.
Scientists are not invited enough to speak to the public. They are willing to talk about the results of their studies, but they also need someone to organize public briefings and consultations to do so. Scientists were found to be more responsive towards outreach activities if these are clearly defined and well-coordinated by others.
There is a lack of manpower in the fields of science communication and science journalism. The scarcity of science communicators is evident, as the same group of people meet and work to practice and promote science communication for years or even decades. This suggests the slow turnover of knowledge to younger communicators.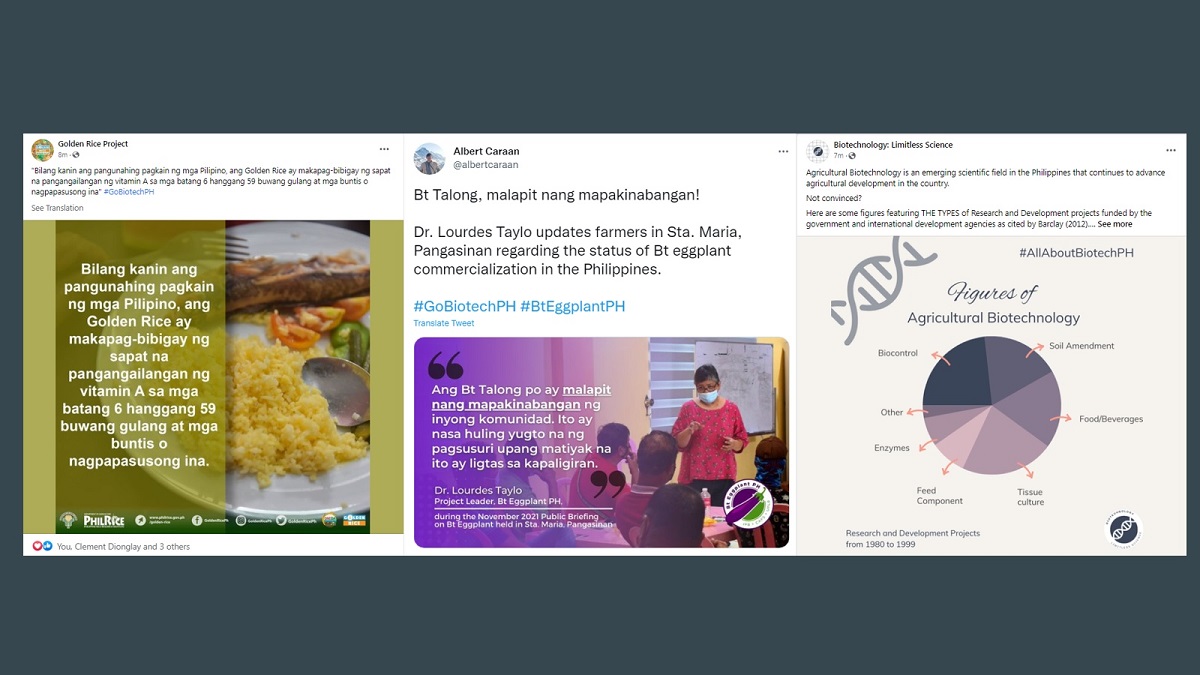 Science Communication through Social Media
ISAAA Inc. helps address these challenges by conducting activities to foster communication skills among scientists and regulators in the Philippines. Several organizations use social media as a primary channel to implement widespread information campaigns and drive action regarding a particular issue. Thus, from June 30 to July 1, 2022, the Training-workshop on Social Media Management for Biotech Advocacy was conducted jointly by ISAAA Inc. and DA-BPO to help participants develop their own personal or organizational branding and messaging that will help promote the benefits and potential of crop biotechnology in the Philippines. The workshop accommodated 35 researchers, scholars, and communications and media personnel from the Philippines, and provided them with know-how on developing effective social media campaigns. The experiences and lessons learned by successful social media campaigns of science influencers and scientific organizations guided them in designing the campaigns. The workshop focused on harnessing the potential of using social media platforms to practice science communication to push the desired public policy on modern biotechnology, a topic of interest and controversy online. Modern biotechnology calls for modern science communication. Thus, the event made it possible to get more positive social media reach by having a younger group of Filipino scientific experts who are more familiar with the potential of the platforms to practice science communication.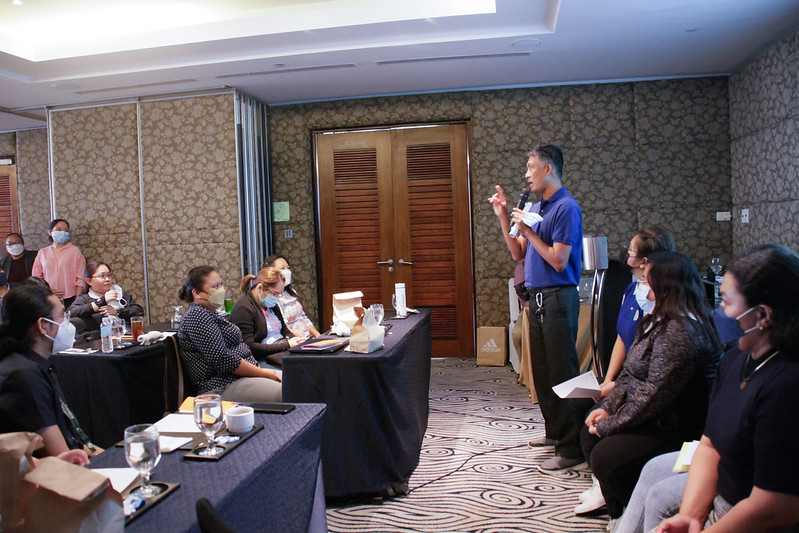 Science Communication for Regulators
Similarly, ISAAA Inc. and DA-BPO held a face-to-face science communication workshop from June 7 to 8, 2022. The Science Communication Training-Workshop is part of the DA-BPO's Progressive Manpower Enhancement Program, a track-based, ladderized training program on agricultural biotechnology designed to develop and strengthen human resources in the field of agricultural biotechnology as well as to develop leaders in the biotech research and development, regulations, management, policy, and communication. Its Level 1D focused on communicating agri-biotechnology. Thirty participants from 15 government offices and the academic institutions in the Philippines took part in the two-day event, and most of them were from the Philippine government offices responsible for implementing the newly revised Joint Department Circular 01 S.2021, the Rules and Regulations for the Research and Development, Handling and Use, Transboundary Movement, Release into the Environment, and Management of Genetically Modified Plant and Plant Products Derived from the Use of Modern Biotechnology.
The workshop helped the participants learn about the concepts of science communication and its role in crafting and efficiently sending messages to specific audiences. More importantly, the workshop allowed the participants to appreciate the role of science communication in policy making by drafting their own key messages on ag-biotech for decision and policy makers through the development of their own policy briefs. Another workshop exercise gave them the opportunity to experience a mock press conference and apply science communication in a spontaneous setting. By the end, the participants were able to practice science communication and improve their communication skills. The intent was to use this knowledge in enhancing the performance and co-employee engagement in their respective work environments.
Partnerships for Better Public Engagement
ISAAA Inc. and its partners continue to support the practice of science communication and its role in knowledge sharing in the Philippines to provide a powerful combination of science-based information and appropriate technology to stakeholders. The organization provides services that include capacity building for policymakers and scientists, providing regulatory oversight on such issues as biosafety and food safety, analyzing ag-biotech impact assessment, and, of course, practicing science communication. Contact ISAAA Inc. to find out how to become our partner.
Science Speaks is ISAAA Inc.'s official blog. Weekly blog articles, authored by ISAAA writers, partners, and invited contributors, aim to help share, disseminate, and promote scientific knowledge and its vital role in achieving global agricultural sustainability and development. Your support to Science Speaks will help us achieve this goal. You can help us by donating as little as $10.