News
Africa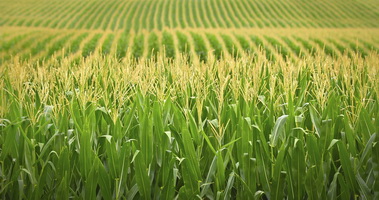 The National Biosafety Authority of Kenya approved the applications for National Performance Trials (NPTs) of biotech corn and cotton, which will commence in October 2017. This was announced by NBA managing director, Willy Tonui, after a meeting with stakeholders, including Kenya Agricultural Livestock and Research Organisation (KALRO) and African Agricultural Technology Foundation (AATF) who previously received permits for field trials but were stopped by Health Secretary Dr. Cleopa Mailu.
"Just recently, we had a discussion with Kenya Plant Health Inspectorate Service (KEPHIS) and I now want to confirm that we have the guidelines required for the release of biotech maize for field trials and there is no reason why NPTs should not start soon," said Dr. Tonui. He also mentioned that they had already reached an agreement on biotech cotton and that it would be rolled out in the next planting season.
Read more from BIO SmartBrief and Business Daily Africa.
Americas
The food, feed, and environmental safety assessments of the J.R. Simplot Company's second generation of Innate® potatoes have been completed by Health Canada and Canadian Food Inspection Agency (CFIA). The potatoes can now be imported, planted, and sold in Canada, complementing the three varieties of Innate® first generation potatoes that received regulatory approval last year.
Health Canada conducted a comprehensive safety assessment and approved the use of Innate® second generation potatoes for food. In addition, CFIA determined that these potatoes are "as safe and nutritious as traditional potatoes" for use as livestock feed, and that the potatoes do not present an increased risk to the environment when compared to currently cultivated potato varieties in Canada.
The second generation Innate® potatoes contain four beneficial traits of relevance to potato growers, processors and consumers, including protection against the late blight pathogen; reduced bruising and black spot; reduced asparagine, which contributes to reduced acrylamide in cooked potatoes; and lower reducing sugars, which further contributes to reduced acrylamide while enhancing cold storage capability.
Studies have shown that if all fresh potatoes in Canada had Innate® Generation 2 traits, potato waste (in-field, during storage, packing, retail and food service for fresh potatoes) could be reduced by 93 million kilograms; CO2 emissions could be reduced by 14 million kilograms; water usage reduced by 13 billion liters; and a total of 154,000 fewer pesticide hectare-applications would be needed.
For more information, read the press release from the J.R. Simplot Company.
[ Send to a Friend | Rate this Article ]
---
An international team led by researchers from Cornell University in New York and the Max Planck Institute for Developmental Biology in Tuebingen, Germany reveals that indigenous people in the American southwest started adapting maize to temperate growing seasons 4,000 years ago and refined it over in the next 2,000 years. In their paper published in Science, the group revealed the genetic changes that allowed the plant to live in harsher environments.
Maize, or corn, originated in Mexico and made its way to what is now the southwestern U.S. approximately 4,000 years ago, and quickly became one of the most important crops in the North America. The researchers note, though, that it did not make its way into the highlands for another 2,000 years. To better understand why the delay occurred, the researchers studied samples of 2,000-year-old fossilized maize cobs found in a cave back in the 1970s in Utah's highlands.
The team sequenced the genome of 15 of the cobs and compared the results to other maize lines. They report that the maize plants around the cave area were not as tall as other maize plants that grew at lower elevations, and that it had more branches, describing the plants as more bushy than other maize plants, a trait that allowed the plant to thrive in colder places. They also found evidence that the plant flowered earlier than most other maize plants, an attribute that would help it produce seeds before the earlier frost at higher elevations.
For more details, read the Research News at Max Planck Gesellschaft.

Asia and the Pacific
The proposal for direct use of Golden Rice for food, feed, and processing is now under public comment in the Philippines.
The Public Information Sheet (PIS) on the proposal for the direct use as food and feed, or for processing of Golden Rice was published in the July 26 issue of Manila Standard. The application for biosafety permit was submitted by the Philippine Rice Research Institute (PhilRice) and the International Rice Research Institute (IRRI) in February 2017. The Bureau of Plant Industry is accepting comments on the proposal for 60 days since its publication.
"GR2E rice is intended to complement existing vitamin A deficiency control efforts, such as food fortification, vitamin A supplements, and dietary diversification, by supplying up to 30–50 percent of the estimated average requirement for vitamin A for preschool age children and pregnant or lactating mothers," according to the PIS.
The PIS is available at the DA Biotech website. Public comments should be submitted to bpibiotechsecretariat@yahoo.com.
Europe
The Official Gazette of the Turkish Government has published the Biosafety Board Decisions on genetically engineered (GE) feed imports on August 2, 2017. The Board approved four new events and their products for feed use only: 3 soybeans (MON 87708, BPS-CV127-9, MON87705) and 1 corn (MON87460) event and their products.
On May 11, 2015, the Turkish Poultry Meat Producers and Breeders Association (BesdBir) submitted dossiers to the Biosafety Board to request approval for 37 traits for feed use: 9 soybean, 15 corn, 4 canola, and 10 cotton. Five traits and their products were approved on July 16, 2015 for feed use, including 3 corn (MIR604, MON 863, T25) and 2 soybeans (MON87701 and MON87701xMON89788). Eight events (6 corn (MON863 x NK603, MON863 x MON810, MON89034 xMON88017, MIR604 xGA21, Bt11xMIR604, MIR162) and 2 soybean (A5547-127, 356043) events) were approved on November 5, 2015 and additional four events given above were approved on August 2, 2017. The remaining 20 traits are still undergoing assessments by the Biosafety Board. With these new approvals, there are currently 36 approved GE events for feed in Turkey.
The newest approval decisions may be accessed here (in Turkish language). Other details are available in the USDA FAS GAIN Report.
[ Send to a Friend | Rate this Article ]
---
The European Food Safety Authority (EFSA) has announced new sequencing information on twogenetically modified (GM) soybean events 305423 and 40-3-2.
The GMO Panel has previously assessed GM soybean 305423 as a single event and as part of a two-event stack, 305423 × 40-3-2. These soybean events were found to be as safe as their conventional counterparts and other appropriate comparators with respect to potential effects on human and animal health and the environment. In February 2017, European Commission (EC) requested EFSA to analyze new nucleic acid sequencing data and updated bioinformatics data for soybean event 305423 and to indicate whether the previous conclusions of the GMO Panel on the previously assessed GM soybeans remain valid.
Studies performed for the risk assessment of the single event soybean 305423 and the two-event stack soybean 305423 × 40-3-2 remain valid. The new sequencing data and the bioinformatic analyses performed on the new sequence including the RNAi off-target search, did not give rise to safety issues. Therefore, EFSA concludes that the original risk assessment of the single soybean event 305423 and the two-event stack soybean 305423 × 40-3-2 remains valid.
Likewise, the GMO Panel has previously assessed GM soybean 40-3-2 as a single event and as part of a two-event stack, 305423 × 40-3-2. These soybean events were found to be as safe as their conventional counterparts and other appropriate comparators with respect to potential effects on human and animal health and the environment. In April 2017, EFSA analyzed new nucleic acid sequencing and updated bioinformatics data for soybean event 40-3-2 and to indicate whether the conclusions of the GMO Panel on the previously assessed GM soybeans remain valid. Studies performed for the risk assessment of the single event soybean 40-3-2 and the two-event stack soybean 305423 × 40-3-2 remain valid. The updated bioinformatic analyses performed on the corrected sequence did not give rise to safety issues. Therefore, EFSA concludes, based on the information provided, that the original risk assessment of the soybean event 40-3-2 as a single and the stacked soybean 305423 × 40-3-2 remains valid.
For more details, read Statements for GM soybean events 305423 and 40-3-2 in the EFSA Journal.
[ Send to a Friend | Rate this Article ]
---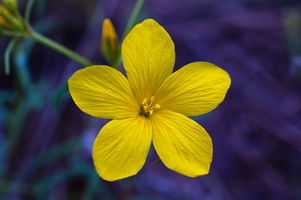 New research findings support the commercial cultivation of genetically modified (GM) Camelina sativa, one of Europe's oldest oil seed crops. Scientists have reproduced results showing that the transgenic camelina plants can grow in the field. They have matched the seeds' biosynthetic products more closely to those of their marine counterparts, and have identified the potential for even greater oil storage in the seeds.
GM camelina, engineered with genes from marine microbes, can produce two highly sought after omega-3 long-chain polyunsaturated fatty acids (LC-PUFAs), EPA (eicosapentaenoic acid) and the even longer chain DHA (docosahexaenoic acid). EPA and DHA are important in fighting the global increase in cardiovascular disease and metabolic disorders.
Results published by Nature in Scientific Reports show how a second year's field trial of GM camelina in 2015 confirmed the results from the previous year. It also shows how the team was able to reduce the level of unnecessary omega-6 fatty acids in the transgenic seeds to match more closely the mix in marine fish oils. "Demonstrating that our GM camelina works in the field under real world conditions confirms the promise of our approach," says Johnathan Napier, Leader of the Camelina Programme at Rothamsted Research.
For more details, read the Rothamsted Research News.
Research
Drought stress hinders plant growth and crop yield. Transcription factors (TF) are known regulators of transcription reprogramming, and expression of many TF genes including members of the NAC family, is affected by drought. Venkatesh P. Thirumalaikumar from the Max Planck Institute of Molecular Plant Physiology focused on the NAC factor JUNGBRUNNEN1 (JUB1) and its role on drought tolerance in tomato (Solanum lycopersicum).
Expression of tomato JUB1 (SlJUB1) was found to be enhanced by various abiotic stresses, including drought. On the other hand, inhibiting SlJUB1 expression greatly lowered drought tolerance, alongside increases in ion leakage and hydrogen peroxide levels, as well as a decrease in the expression of drought-responsive genes.
Meanwhile, overexpression of AtJUB1 from Arabidopsis thaliana increased drought tolerance in tomato, alongside a higher relative leaf water content during drought and reduced hydrogen peroxide levels. The AtJUB1 protein was previously shown to stimulate expression of DREB2A, a TF involved in drought responses, and of the DELLA genes GAI and RGL1, which promote stress tolerance.
These results show that SlJUB1 protein controls the expression of the tomato orthologs of the DREB2A TF and the DELLA genes. The study revealed JUB1 as a transcriptional regulator of drought tolerance.
For information on this study, read the article in Plant Biotechnology Journal.
[ Send to a Friend | Rate this Article ]
---
Nitrogen (N) and phosphorus (P) are two essential macronutrients for plants. A team of researchers from Nanjing Agricultural University, headed by Huimin Feng, hypothesized that overexpression of the rice nitrate transporter, OsNRT2.3b, can improve rice grain yield and nitrogen use efficiency (NUE).
Overexpression of OsNRT2.3b significantly increased P uptake compared with wild types. The overexpression also resulted in increased rice grain and straw yields. Increased P concentrations in rice leaves and unfilled rice hulls were also observed in these lines. Furthermore, the overexpressing lines also showed enhanced root biomass and root surface area as well as N and P accumulation. Analysis revealed that expression levels of genes related to phosphorus uptake and translocation, OsPT2, OsPT8, and OsPHR2, were upregulated in the shoots and roots of the overexpressing rice.
These results indicate that OsNRT2.3b overexpression can improve rice P uptake and accumulation by advancing the root system and enhancing gene expression of P uptake genes.
For more information on this promising study, read the article in Plant Cell Reports.
New Breeding Technologies
Aarhus University's Inger B. Holme and colleagues from various research institutions used TALEN- and CRISPR-Cas9-induced mutations to study the barley phytase gene HvPAPhy_a. The team aimed to validate the PAPhy_a enzyme as the main contributor of the mature grain phytase activity (MGPA), as well as the importance of a promoter region of the gene containing GCN4, Skn1 and the RY elements, known to be involved in gene expression during grain filling.
The results confirm that the barley PAPhy_a enzyme is the main contributor to MGPA since the grains from the knock-out lines exhibited very low MGPA. Lines with mutations in the HvPAPhy_a promoter region GCN4/Skn1/RY also showed significantly reduced MGPA, proving its importance for HvPAPhy_a expression. Mutant grains with very low MPGA showed delayed germination as compared to grains of wild type barley.
Interestingly, lines with deletions located downstream of the promoter motif showed even lower MGPA levels, indicating that the GCN4/SKn1/RY motif is not the only element responsible for the level of PAPhy_a expression during grain maturation.
For more on this study, read the article in Plant Molecular Biology.
[ Send to a Friend | Rate this Article ]
---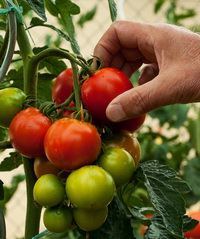 The CRISPR system has become a widely used technique to perform targeted mutagenesis in a variety of species. However, few studies have modified metabolic pathways in plants using the CRISPR system. China Agricultural University researchers, led by Rui Li introduced the pYLCRISPR-Cas9 system, with has one or more single-site guide RNAs to target the γ-aminobutyric acid (GABA) shunt in tomatoes, which has five key genes.
The team first tested the efficiency of the pYLCRISPR-Cas9 system in tomatoes by editing the tomato phytoene desaturase gene (slyPDS). It resulted in an albino phenotype, suggesting the pYLCRISPR-Cas9 system's effectiveness in tomato.
For metabolic engineering in tomatoes using multiplex CRISPR-Cas9 system, the team developed six guide RNAs that targeted the five key genes. The resulting CRISPR mutants had significantly higher GABA contents in the leaves and fruits than in the wild types. Furthermore, GABA overaccumulation significantly affected plant vegetative and reproductive growth.
These results provide new knowledge on the application of multiplex CRISPR-Cas9 genome editing to plant metabolic engineering and reveal the functional role of GABA in tomato growth.
For more on this study, read the article in Plant Biotechnology Journal.
Beyond Crop Biotech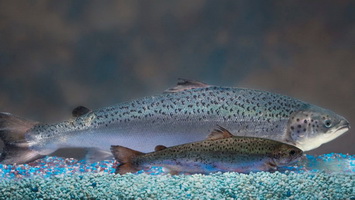 Genetically engineered salmon has finally reached the dinner table after over 25 years of long wait since its first application for Food and Drugs Administration approval. According to its developer, AquaBounty Technologies, they have sold about 4.5 tons of GE salmon in Canada as of August 4, 2017.
GE salmon is a variety of Atlantic salmon that needs half the time (18 months only) of its non-GE counterpart to grow. According to AquaBounty's chief executive, Ron Stotish, they sold the first commercial batch for US$5.30/lb ($11.70/kg). "I think the larger market is viewing it as a more predictable, sustainable source of salmon," Stotish added. "As a first sale, this was very positive and encouraging for us."
Read the news release from Nature.
Document Reminders
GMOs are featured in the latest episode of Science In Real Life (IRL) hosted by Molly Edwards, a PhD student at Harvard University studying floral evolution and development.
Molly visited a laboratory at Boyce Thompson Institute and showed how GMOs are developed in the lab. She interviewed Dr. Joyce Van Eck, Director of the Center for Plant Biotechnology Research, about the process of developing GMOs and their safety. Molly also performed genetic modification using Agrobacterium, which was captured in video to demystify the technology and its products.
Science IRL is an educational Youtube series that tackles science concepts while performing actual experiments. It is supported by the American Society of Plant Biologists.
Watch the episode on GMOs on Youtube.
---
The CRISPR-Cas9 system is a plant breeding innovation that uses site-directed nucleases to target and modify DNA with great accuracy. Developed in 2012 by scientists from the University of California, Berkeley, CRISPR-Cas9 has received a lot of attention in recent years due to its range of applications, including biological research, breeding and development of agricultural crops and animals, and human health applications. Know more about the CRISPR-Cas9 system in the latest Pocket K released by ISAAA. Get a copy for free from the ISAAA website.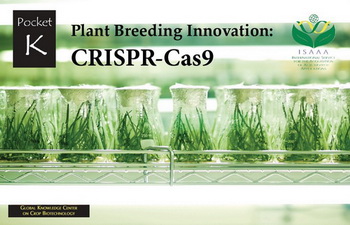 Pocket Ks are Pockets of Knowledge, packaged information about crop biotechnology products and related issues. It is developed by the Global Knowledge Center on Crop Biotechnology to deliver key agri-biotech information in easy-to-understand style and downloadable as PDF for easy sharing and distribution.
Download the other Pocket Ks from the ISAAA website.
From The BICs
University of Karachi Vice Chancellor, Prof. Dr. Muhammad Ajmal Khan, inaugurated the Sino-Pakistan Hybrid Rice Research Center (SPHRRC) at the International Center for Chemical and Biological Sciences (ICCBS), on July 26, 2017. The center is the first hybrid rice research center of Pakistan established in collaboration with Chinese National Rice Research Center (CNNRI) Hangzhou-China. The curtain opening ceremony was attended by ICCBS Patron-in-Chief and former Chairman of the Higher Education Commission, Prof. Dr. Atta-ur-Rahman; His Excellency Wang Yu, Consul General of China in Karachi; Director General of China National Rice Research Institute (CNRRI) of Hangzhou, China, Prof. Dr. Cheng Shihua; and Director of ICCBS and Pakistan Biotechnology Information Center, Prof. Dr. Muhammad Iqbal Choudhary.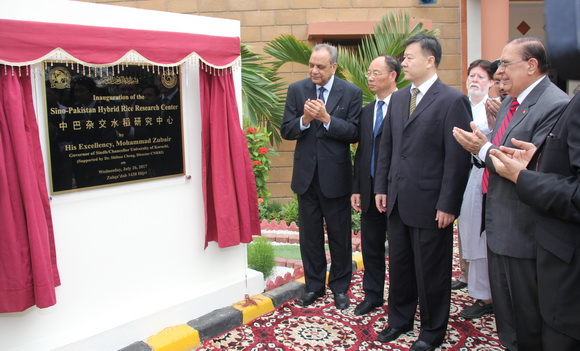 For more updates on biotech developments in Pakistan, send an e-mail to Dr. Sammer Yousuf (dr.sammer.yousuf@gmail.com).