News
Global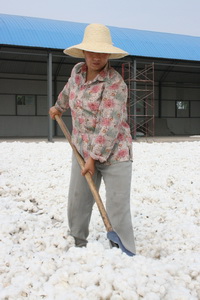 As the world celebrates the International Women's Day (IWD) 2018, more women are speaking up for their rights, equality, and justice. With the theme "Time is Now: Rural and Urban Activists Transforming Women's Lives", the United Nations Commission puts a focus on the activism of rural women, who make up over a quarter of the world population, and being left behind in every measure of development.
According to a study conducted by ISAAA in China, India, and the Philippines, women play a significant role in biotech crop farming. In India, the male farmers take charge of the farm activities that require physical labor, but women take an active part in farm operations such as weeding, picking, and cleaning. In China, there has been a growing feminization in cotton farming. Field work is mainly conducted by women, which enable the men to engage in off-farm tasks. Based on focus group discussions, the reduction in pesticide use and less labor requirement of planting GM crops benefitted women. In the Philippines, women take charge of managerial tasks such as budgeting farm expenses, deciding on inputs, and hiring laborers to work on the farm. These indicate that women who are engaged in biotech crop farming experience transformation because of the value they provide to their family farm operations and the benefits that they get from the technology.
ISAAA and its network of Biotechnology Information Centers (BICs) are also actively pursuing to encourage women to speak up about the benefits of biotechnology through the social media campaign #ScienceAndShe on Facebook, Twitter, and Instagram. Female scientists and science communicators who are involved in biotechnology share about their experiences and aspirations to help bridge the gap between science and the public.
For more information about the ISAAA study, download ISAAA Brief 48: Adoption and Uptake Pathways of GM/Biotech Crops by Small-Scale, Resource-Poor Farmers in China, India, and the Philippines. Know more about the UN celebrations for the International Women's Day from the UN Women website.
Africa
Ugandan farmer and social entrepreneur, Emma Naluyima, expressed her desire to plant GM crops because of their potential to solve the current challenges she's facing in the farm.
After graduating with a bachelor's degree in veterinary medicine in 2006, Naluyima started farming. With her professional background and 12 years of experience as a farmer on a one-acre farm in Entebbe Kawuku, she expressed her agricultural concerns and her aspirations regarding GM crops.
"As a farmer, therefore, all I look for in any given technology, is whether it can solve current challenges I am facing or suiting the needs of the market I am targeting. If a GMO has a certain characteristic that can solve a challenge on my farm, I will gladly embrace it. I am deeply concerned that the current discussion in Parliament on GMOs might result into a restrictive law, which might make it hard for farmers to have access to them. This is not fair to farmers. All I would like to see as a farmer is a law that allows me access to different farming technologies. This is my kind request to Parliament of Uganda," Naluyima said.
Read more from her article in the Daily Monitor.
Americas
A new variety of zinc-enriched maize was released in Colombia to help fight malnutrition in South America. The new maize variety (BIO-MZN01) was developed by the International Maize and Wheat Improvement Center (CIMMYT) with the support of HarvestPlus and other partners.
Zinc is an essential mineral that has a vital role in human development. However, it is not naturally produced by the human body. Deficiency in zinc can cause impaired growth and development, respiratory infections, and weak immune system. In Colombia, about 22 percent of the population has a zinc deficiency.
According to CIMMYT, BIO-MZN01 has 36 percent more zinc than other maize varieties, meaning that maize-based dishes made of this new variety offer consumers up to five times more zinc than those made with traditional varieties. BIO-MZN01 can yield up to 6 to 8 tons per hectare(t/ha), nearly double the national average in Colombia of 3.7 t/ha and is tolerant to several maize diseases that are common in the region, including rust, turcicum leaf blight, and gray leaf spot.
Read the news release of CIMMYT for more details.
[ Send to a Friend | Rate this Article ]
---
Scientists, companies, and government agencies are working on ways to decrease greenhouse emissions. In recent years, biofuels from corn emerged as a fuel source to power motor vehicles, but corn is a problematic biofuel source material, and is more useful as food.
A Colorado State University (CSU) study finds new promise for biofuels from switchgrass, a non-edible native grass that grows in many parts of North America. The scientists used DayCent, an ecosystem modeling tool to simulate various growing scenarios, and found a climate footprint ranging from -11 to 10 grams of carbon dioxide per mega-joule — the standard way of measuring greenhouse gas emissions.
John Field, research scientist at CSU, said the team has significant findings. "What we saw with switchgrass is that you're actually storing carbon in the soil," he said. "You're building up organic matter and sequestering carbon." He added that grasses, including switchgrass, are potentially more productive as crops and can be grown with less of an environmental footprint than corn because they don't require a lot of fertilizer or irrigation.
For more details about this research, read the article on the CSU website.
[ Send to a Friend | Rate this Article ]
---
UGA researchers developed a new method to enhance the traits of crops. The introduced a human protein into Arabidopsis, and found that they could selectively activate silenced genes already present in the plant. The results are published in Nature Communications.
Lexiang Ji, William Jordan, and co-researchers explored a new method known as epimutagenesis which makes it possible to breed diverse plants in a way that is not achievable through conventional techniques. The idea started with studying DNA methylation, which controls expressed traits. When DNA methylation is removed, they found that they could selectively turn on previously silenced genes. Thus, they planned to turn on the silenced genes to generate trait variation.To remove DNA methylation and turn on the silenced genes, they introduced a human enzyme (ten-eleven translocation enzyme) to plant seedlings using modified bacteria as vector. This resulted to widespread hypomethylation that can be inherited to subsequent generations.
"If they don't have the genetic differences to respond, then it can really wipe out crops," said Robert Schmitz, corresponding author of the study. "This isn't a savior, but it's an alternative strategy that has not been tried before. The idea is to access genes that people haven't been studying because they're not expressed but they're there. We think this method to reactivate these genes could lead to increased trait variation which could be useful for biotechnology applications."

For more information, read the news release from UGA and the research article in Nature Communications.
[ Send to a Friend | Rate this Article ]
---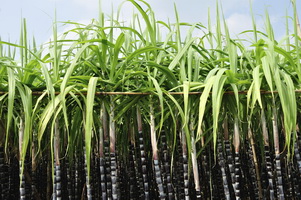 Around 100 sugar mills in Brazil have started planting the first commercialized variety of GM sugarcane. Developed by Centro de Tecnologia Canavieira (CTC) to be resistant from cane borer, the GM sugarcane has been initially planted on 400 hectares (988 acres) of land.
Cane borer is a common pest in Brazilian sugar mills, which costs US$1.5 billion of losses and insecticide expense annually. One of the solutions to the pest problem suggested by experts was to plant insect resistant sugarcane. It is projected to improve yields, reduce production cost, and increase profit. In June 2017, the National Biosafety Technical Commission approved Bt sugarcane after proving that the sugar and ethanol obtained from it are identical to the conventional sugarcane. Studies also showed that the Bt gene and protein were completely eliminated from sugarcane products after processing. Environmental studies further showed that Bt sugarcane does not cause negative effects.
Read more from
BIO Smart Brief
and
CTC
.
[ Send to a Friend | Rate this Article ]
---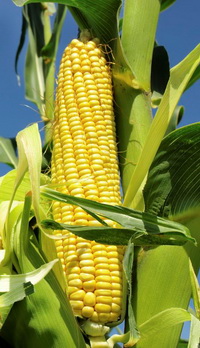 Argentina, the world's third largest producer of genetically modified (GM) crops, has approved two GM maize varieties developed by Syngenta and the local unit of Dow AgroSciences, as well as a GM soybean variety from Bayer SA. One GM maize has multiple genes for greater control of lepidopteran insects, as well as tolerance to glyphosate and glufosinate herbicides; the other has resistance to 2-4D herbicides and aryloxyphenoxy. The GM soybean has tolerance to the herbicides glyphosate, glufosinate, and isoxaflutole.
The Minister of Agribusiness Dr. Luis Miguel Etchevehere said: "These first three authorizations granted in 2018 are the result of the agile policies that we promote as an axis of management. These policies aim to increase the sustainability, productivity and agroindustrial exports, for which we must take advantage of - the leadership of our country in the development, regulation, and safe and intelligent use of agricultural biotechnology."
The announcement (in Spanish) is available at Argentina's Ministerio de Agroindustria. The full resolutions in the Official Gazette are here: Resolution 26/2018, Resolution 27/2018, and Resolution 28/2018.
Europe
The European Food Safety Authority (EFSA) Panel on Genetically Modified Organisms (GMO Panel) has released a scientific opinion on the data submitted for the renewal of authorization application of theherbicide tolerant and insect resistant genetically modified (GM) maize NK603 x MON810. The scope of the renewal application EFSA-GMO-RX-007 is for food and feed uses, import and processing, but excludes cultivation within the European Union (EU).
The GMO Panel took into account the additional information provided by the applicant, scientific comments submitted by the Member States and relevant scientific publications. The data received contained: post-market environmental monitoring reports, an evaluation of the literature retrieved by a systematic search, updated bioinformatic analyses and additional documents or studies performed by or on behalf of the applicant. These data were assessed for possible new hazards, modified exposure or new scientific uncertainties.
The GMO Panel concludes that there is no evidence in the renewal application EFSA-GMO-RX-007 for new hazards, modified exposure or scientific uncertainties that would change the conclusions of the original risk assessment on maize NK603 x MON810.
Read more in the Scientific Opinion published in the EFSA Journal.
[ Send to a Friend | Rate this Article ]
---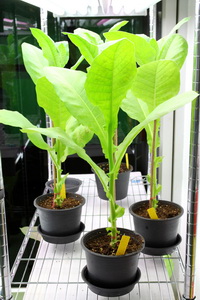 Researchers at the Molecular and Cellular Plant Biology Institute (IBMCP) of the Universitat Politècnica de València in Spain, along with the Spanish National Research Council (CSIC), are collaborating for the NEWCOTIANA project, a research and innovation initiative, which makes use of new plant breeding technologies to produce medicine, cosmetics, and other products of added value in tobacco plants.
Tobacco (Nicotiana tabacum) is a crop used to produce cigarettes, which science has established as harmful for people's health. However, tobacco plants can also be used to provide beneficial effects for human health. The NEWCOTIANA project will apply high accuracy New Breeding Techniques (NBTs) to turn tobacco leaves and those of a similar species called Nicotiana benthamiana into biofactories of health-promoting substances such as anti-ageing or anti-inflammatory agents, and medicines such as vaccines or antibodies.
"We will generate new varieties of tobacco and N. benthamiana that safely work as biofactories to harvest medical substances of high added value," explains Diego Orzáez, researcher for the CSIC and coordinator of the NEWCOTIANA project."
For more, read the news release (in Spanish) in the RUVID website.
Research
Verticillium wilt (VW) of cotton is a highly devastating vascular disease. However, few resistant germplasms have been reported in cotton. An increasing number of studies have shown that RNA interference (RNAi) host-induced gene silencing (HIGS) is effective for improving plant resistance to pathogens by silencing genes essential to their pathogenicity.
The team of Jun Xu of Nanjing Agricultural University identified regulators of G protein signalling (RGS) in the Verticillium dahliae virulence strain, Vd8. Out of the eight VdRGS identified genes, VdRGS1 showed the most significant increase in expression in V. dahliae after infecting roots of cotton seedlings. Analysis found that VdRGS1 played crucial roles in Verticillium's pathogenicity. RNAi-HIGS of VdRGS1 in cotton strains enhanced broad-spectrum resistance to VW caused by V. dahliae.
RNAi of VdRGS1 demonstrates that VdRGS1 is an essential gene for V. dahliae virulence. It also provides effective control against V. dahliae infection and could confer durable disease resistance in cotton and in other VW-susceptible host crops.
For more information, read the article in Plant Biotechnology Journal.
[ Send to a Friend | Rate this Article ]
---
Breeding for disease resistance is the most effective strategy to control diseases. However, knowledge on genes and mechanism of broad-spectrum resistance and trade-off between defense and growth in crops is limited. The team of Xin Yin from the Chinese Academy of Sciences aimed to prove that rice copine genes OsBON1 and OsBON3 are suppressors of immunity since both genes changed their protein localization upon pathogen challenge.
Knockdown of OsBON1 and OsBON3 enhanced resistance to rice bacterial and fungal pathogens. However, the defense activation in OsBON1 knockdown mutants were associated with reduced growth. In contrast, overexpression of either OsBON1 or OsBON3 decreased disease resistance, but promoted plant growth.
This study shows that rice copine genes play a negative role in regulating disease resistance and their expression level and protein location have a large impact on the balance between immunity and agronomic traits.
For more information, read the article in Plant Biotechnology Journal.
New Breeding Technologies
Crop yield depends on efficient allocation of sucrose from leaves to seeds. In Arabidopsis, phloem loading is mediated by a combination of sucrose flow regulated by SWEET genes and sucrose uptake by SUT1/SUC2 genes. ZmSUT1 is essential for carbon allocation in maize, however the role of SWEET genes in maize phloem loading is not known.
Margaret Bezrutczyk from Heinrich Heine University Düsseldorf in Germany analyzed the role of SWEETs in maize. Bezrutczyk's team identified three leaf-expressed SWEET sucrose transporters as key components of apoplasmic phloem loading in maize (Zea mays). ZmSWEET13 paralogues a, b, and c were the most highly expressed genes in the leaf vasculature. The team then used CRISPR-Cas9 to knock-out these three genes.
The knock-out mutants exhibited severely stunted growth. The photosynthesis of mutants was also impaired and their leaves accumulated high levels of soluble sugars and starch. Analysis revealed that the knock-out also downregulated genes associated with photosynthesis and carbohydrate metabolism. Further analysis indicates that changes in expressions of ZmSWEET13 genes correlate with other agronomical traits, specifically flowering time and leaf angle.
For more information, read the article in New Phytologist.
[ Send to a Friend | Rate this Article ]
---
Flowering time is a critical determinant of crop adaptation to local environments. Maize has spread over a wide latitudinal cline in the Americas due to its reduced photoperiod sensitivity to adapt to regions over 90° of latitude.
The team of Cheng Huang from China Agricultural University aimed to explain how maize adapts to environments above 90° of latitude. The team found that ZmCCT9 regulates flowering under the long days, allowing maize to adapt to higher latitudes. Using CRISPR-Cas9, the team knocked-out ZmCCT9 in maize to further analyze its role.
Analysis of the generated mutants revealed that the gene knockout caused early flowering under long days. Further analysis also found that ZmCCT9 negatively regulates the expression of the florigen ZCN8, resulting in late flowering under long days.
These findings help explain how the maize genome with enable maize to adapt over 90° of latitude.
For more information, read the article in Proceedings of the National Academy of Sciences.
[ Send to a Friend | Rate this Article ]
---
Amino acid transporters (AATs) play roles in nutrient allocation during plant development. Kai Lu of Wuhan Institute of Bioengineering in China demonstrated that inhibiting the expression of the rice amino acid transporter OsAAP3 can boost grain yield through increasing the number of tillers.
Elevated expression of OsAAP3 in transgenic plants resulted in significantly higher amino acid concentrations and inhibited bud outgrowth and rice tillering. However, knockout of OsAAP3 decreased the amino acid concentrations to a small extent, and thus promoted bud outgrowth, increasing significantly tiller numbers. This led to an enhanced grain yield and nitrogen use efficiency.
The team also found that the expression of OsAAP3 was higher in Japonica, which produced fewer tillers than Indica. The team then generated knockout-lines of OsAAP3 on Japonica using CRISPR-Cas9, resulting in Japonica mutant lines with enhanced grain yield.
These results suggest that manipulation of OsAAP3 expression could be used to increase grain yield in rice.
For more information, read the article in Plant Biotechnology Journal.
[ Send to a Friend | Rate this Article ]
---
CRISPR-Cas9 DNA constructs are transformed into cells via Agrobacterium-mediated transformation. However, this process is associated with a high possibility of CRISPR-Cas9 DNA constructs being integrated into the plant genome, causing unwanted genetic changes. Aiming to avoid this, Zhen Liang of Chinese Academy of Sciences developed a genome editing method for bread wheat (Triticum aestivum) using CRISPR-Cas9 ribonucleoproteins (RNPs).
The team successfully generated five mutants from immature wheat embryos. Analysis reveals that the chance of off-target mutations in wheat cells was much lower in RNP-mediated genome editing than in editing using DNA. No off-target mutations were also detected in the mutant plants.
Since no foreign DNA was used in RNP-mediated genome editing, the mutants obtained were completely transgene free.

For more information, read the article in Nature Communications.
Beyond Crop Biotech
Kenya could soon begin using genetically modified (GM) animals in research as the country's biosafety authority is set to finalize draft guidelines on regulation of contained use of transgenic animals. Speaking at a workshop on regulation of GM animals in Kenya, acting Chief Executive Officer of the National Biosafety Authority (NBA) Prof. Dorington Ogoyi, said the authority is leading the way in preparing the ground for regulating biotech animals.
The acting CEO said NBA supports the advancements in animal biotechnology, emphasizing that the authority is fast-tracking laws that support such advancements. Ogoyi was concerned that Kenya's current regulations focus more on transgenic crops and do not support animal biotechnology. He however exuded confidence that the biosafety authority is swiftly moving into the realm of GM animals. "This will set the pace for the rest of Africa. We need to adapt accordingly," Ogoyi said. He revealed that the NBA is learning from the best practices in the world and drawing useful lessons from countries with GM animal applications. He said NBA is progressively building a database on stakeholder experts who are pivotal in steering this cause.
The workshop, held in Nairobi on February 28-March 1, 2018, was attended by stakeholders in animal research, regulatory, communication, production and food standards. It sought to solicit expert views on drafting of the guidelines on regulation of GM animals research in Kenya, share international experiences in regulating animal biotechnology as well as explore possibilities of building a network of experts in animal biotechnology in the country and the region. ISAAA AfriCenter, in collaboration with NBA, organized and facilitated the two-day workshop with support from USDA.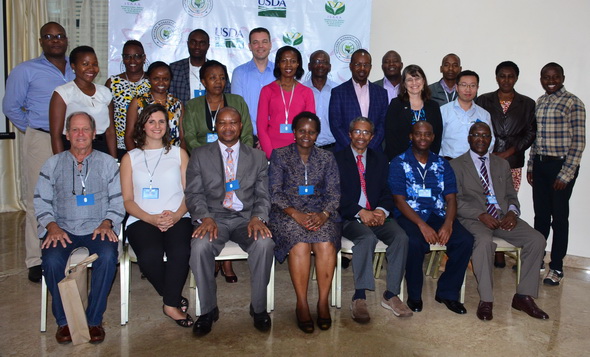 For more information, contact mkarembu@isaaa.org.
Announcements
What: The Future of Long-term Experiments in Agricultural Science
Where: Rothamsted Research, Harpenden, Hertfordshire, AL5 2JQ, UK
When: May 21-23, 2018
For inquiries, please email LTEconference@rothamsted.ac.uk or visit the conference website.
Document Reminders
ISAAA launches 5 Questions with... a new series featuring personalities on its blog to be published quarterly. To celebrate International Women's Day on March 8, the first article in the series features Jennifer Thomson, a strong woman whose passion and advocacy is promoting women in science.
Jennifer is one of the many successful women whose work has been celebrated around the globe. She has been a strong advocate of promoting modern biotechnology in Africa for its potential in helping the continent overcome hunger and poverty. The first woman to head a department in the Science Faculty at the University of Cape Town (UCT) in South Africa, she has written a number of peer-reviewed papers and authored books about genetically modified (GM) crops. She is also a well-known speaker about GM crops and has addressed the World Economic Forum in Davos twice and the United Nations as guest of then Secretary General Kofi Annan. Her three books, Genes for Africa, Seeds for the Future, and Food for Africa are best sellers and written with the layperson in mind.
Jennifer, a microbiologist, is now an Emeritus Professor of Microbiology in the Department of Molecular and Cell Biology at UCT. Her main current research interests are in the development of maize resistant to the African endemic maize streak virus and tolerant to drought. She is President of the Organization for Women in Science for the Developing World (OWSD), and one of the 16 women and 10 African scientists who were elected as fellows to The World Academy of Science (TWAS) in January 2018.
To know more, read 5 Questions with Jennifer Thomson in the ISAAA Blog.