News
Global
Collective efforts must be given to combat rapidly spreading, cross-border animal and plant pests and diseases that could harm global food security.
This is according to the assessment of representatives from over 20 countries who attended a meeting organized by the United Nations - Food and Agriculture Organization (FAO), World Organization for Animal Health, Bioversity International, World Banana Forum and other donors last month. The meeting aimed at mobilizing more support to effectively and sustainably prevent, manage, and eradicate major pests and diseases that affect food production. These culprits include fall armyworm (FAW), peste des petits ruminants (PPR) also called sheep and goat plague, and banana fusarium wilt (FW) which cause fast infestation even to new areas, thus affecting livelihoods of millions of smallholder farmers.
With such alarming concerns, FAO developed five-year programs to support farmers and governments, and prevent further damage from the diseases, requiring multi-million dollar funding from donors to be implemented.
Read the media release from FAO for more information.
[ Send to a Friend | Rate this Article ]
---
Market research, collating literature, and action plan for changing approaches are some of the practical steps to make breeding of new plant varieties an enabling technology for developing countries. These were discussed by experts for innovation in plant, animal, and food sciences who gathered in Brisbane, Australia on November 20-22, 2017 during the International Tropical Agriculture Conference in 2017.
According to Vivienne Anthony, a senior scientific advisor to the Syngenta Foundation for Sustainable Agriculture working in Africa, the current development challenges she has seen in plant breeding fails to take into account the needs of the market, consumer, and industry. She suggested that demand-led plant variety design should be studied by breeders and researchers. " Although common sense should prevail, it is not always easy," Anthony said. "If scientists are focused on achieving breakthroughs, they are too busy to talk to people, which could influence what it is you should be doing. Most scientists aren't used to going out and doing market research, but they need to," she added.
Read more from Devex and the conference website.
Africa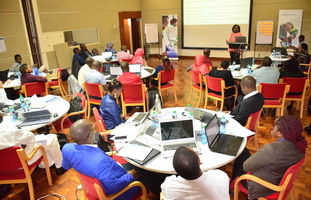 There is a strong need for scientists to learn how to simplify their messages for a non-scientific audience. This was a key takeaway from a two-week science communication training workshop organized by Biosciences Eastern and Central Africa (BecA-ILRI) Hub in collaboration with ISAAA AfriCenter and the International Foundation for Science (IFS) at the International Livestock Research Institute (ILRI) campus in Nairobi. The workshop comprised of two modules: with the first (November 27-30, 2017) attended by 25 participants, while the second, comprised of 28 participants, is currently underway. The training seeks to strengthen the capacity of African National Agricultural Research Systems (NARS) to drive agricultural research and innovation in Africa and for Africa.
ISAAA AfriCenter Director, Dr. Margaret Karembu, guided the group through rules of effective communication and the importance of planning their messages, building trust with stakeholders, and communicating the key message within the shortest time possible. Dr. Karembu noted that a non-scientific audience is more interested in knowing the impact of the research on them as opposed to the process of the research emphasizing that researchers need to prioritize on strategic ways to communicate their findings. "There is a difference between giving out information and getting through to your audience, differentiate between information sharing and communication," she said.
Senior Scientist and Head of Africa Biosciences Challenge Fund, Dr. Wellington Ekaya, acknowledged that effective communication is key in translating research findings into impact in society. "Without communication, the innovations resulting from scientific research remains closed up in our laboratories when they should be transforming our agricultural systems," he said.
The scientists acknowledged the importance of engaging with mass media alongside social media as an avenue to disseminate scientific information to the public. Participants were taken through mock media interviews where they were tasked to pass a key message for a non-scientific audience using the principles and techniques learned during the training. The importance of developing relationships with journalists was identified as a crucial media engagement strategy.
For information, contact Dr. Margaret Karembu at mkarembu@isaaa.org.
Americas
A research team from Boyce Thompson Institute (BTI), the United States Department of Agriculture (USDA), and collaborators in China and France, has released the first high-quality genome sequence for the bottle gourd (Lagenaria siceraria) and a reconstructed genome of the most recent Cucurbitaceae ancestor.
The researchers compared the bottle gourd genome sequence to other cucurbit species to reconstruct the ancient genomic history of the Cucurbitaceae family. In the paper published in The Plant Journal, the team reports a high-quality 313.4-Mb genome sequence of a bottle gourd inbred line, USVL1VR-Ls, with a scaffold N50 of 8.7 Mb and the longest of 19.0 Mb. About 98.3% of the assembled scaffolds are anchored to the 11 pseudomolecules. The comparative genomic analysis identifies chromosome-level syntenic relationships between bottle gourd and other cucurbits, as well as lineage-specific gene family expansions in bottle gourd.
The researchers were able to showcase the utility of the genome sequence by locating genes related to one particularly devastating disease: Papaya ring-spot virus (PRSV).
For more details, read the BTI News.
[ Send to a Friend | Rate this Article ]
---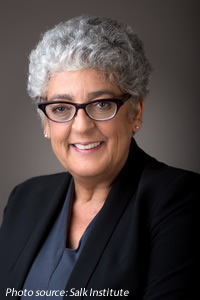 Salk Insitute for Biological Sciences scientist, Joanne Chory, one of the world-renowned plant biologists, has been awarded a 2018 Breakthrough Prize in Life Sciences because of her pioneering work in discovering how plants optimize their growth, development, and cellular structure to transform sunlight into chemical energy.
Chory received the award and the US$3 million cash prize, on December 3, 2017 at the NASA Ames Research Center in California. The prestigious award, which was founded in 2013 by Silicon Valley luminaries Sergey Brin and Anne Wojcicki, Mark Zuckerberg and Priscilla Chan, and Yuri and Julia Milner, honors top achievements in life sciences, physics, and mathematics.
"I'm truly honored to receive this award, humbled to be in such distinguished company and tremendously gratified that the study of plants, which is essential to developing everything from better agricultural practices to mitigating global warming, has been put in the spotlight with this award," said Chory.
Read more from Salk Institute's news release.
[ Send to a Friend | Rate this Article ]
---
Scientists at the U.S Department of Energy's Oak Ridge National Laboratory (ORNL) have identified a common set of genes that enable different drought-resistant plants to survive in semi-arid conditions. The discovery could play a significant role in bioengineering and creating energy crops that are tolerant to water deficits.
The scientists are studying a variety of drought-resistant plants to unlock the mystery of crassulacean acid metabolism or CAM photosynthesis. The research team sequenced the genome of Kalanchoë fedtschenkoi, an emerging model for CAM genomics research because of its relatively small genome and amenability to genetic modification. The team investigated and compared the genomes of K. fedtschenkoi, Phalaenopsis equestris (orchid) and Ananas comosus (pineapple) using ORNL's Titan supercomputer.
They identified 60 genes that exhibited convergent evolution in CAM species, including convergent daytime and nighttime gene expression changes in 54 genes, as well as protein sequence convergence in six genes. The team discovered a novel variant of phosphoenolpyruvate carboxylase, or PEP, an important "worker" enzyme responsible for the nighttime fixation of carbon dioxide into malic acid, which is then converted back to carbon dioxide for photosynthesis during the day.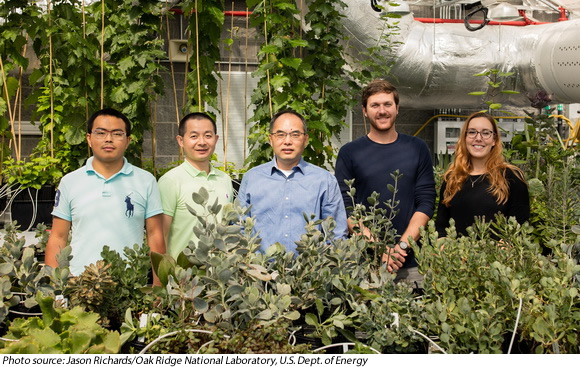 For more details about this study, read the ORNL News.
Asia and the Pacific
A research team from The University of Queensland has discovered that a key gene which controls flowering time in wheat and barley crops also directs plant root growth.
The VRN1 gene, known to regulate flowering in wheat and barley crops, also plays a role in the plant's ability to respond to gravity, thereby directing root growth and determining the overall shape of the root system.
"A particular variant of VRN1 in barley, known as the Morex allele, simultaneously induced early flowering and maintained a 'steep, cheap and deep' root system," Project leader Dr. Lee Hickey from Queensland Alliance for Agriculture and Food Innovation (QAAFI) said. He also said that the discovery was a major breakthrough in understanding root development and could boost food security by allowing researchers to breed crops better adapted to a range of environments.
For more details, read the UQ News.
[ Send to a Friend | Rate this Article ]
---
Researchers from the Wageningen University and Research reported that Golden Rice could help alleviate micronutrient deficiencies in Bangladesh.
The research showed that Golden Rice has significantly increased levels of carotenoid in the rice endosperm without exhibiting any detrimental effects. The transgenic variety GR2 R BRRI dhan29 has better-yielding capacity, with the potential to increase yield by 10%, thus, increasing the amount of food available for the Bangladeshi people. With such benefits, the researchers recommended for the approval of Golden Rice in Bangladesh.
Read the research article for more details.
[ Send to a Friend | Rate this Article ]
---
The U.S. Department of Agriculture Foreign Agricultural Service (USDA FAS) has released the 2017 Agricultural Biotechnology Annual for Japan. The report states that Japan remains as one of the world's largest per-capita importers of food and feed produced using modern biotechnologies. The United States is its dominant supplier of corn, accounting for 70 percent of Japanese corn imports in 2016.
The report also says that regulation of genetically engineered (GE) food crops in Japan is science-based and transparent and new events are reviewed and approved within anticipated time periods that mostly align with industry expectations for market release. As of October 16, 2017, 313 events had been approved for food use. However, the number of approved events in the past three years has fallen as a result of an improvement to the Japanese review process implemented by MHLW in 2015.
So far, 176 events for 9 crops have been approved for environmental release, 133 events of which include approval for commercial cultivation. However, there is no commercial cultivation of GE food crops in Japan - the GE rose released by Suntory in 2009 is still the only GE crop commercially cultivated in the country.
Read more details in the GAIN Report.
Europe
On November 27, 2017, the European Commission's Appeal Committee, a group of representatives of European Union (EU) Member States, voted for the renewal of the approval of glyphosate for five years. Eighteen member States representing 65.71 percenf of the EU population voted in favor of the renewal. Nine member States voted against the move, and 1 abstained.
In 2016, the 15-year license for glyphosate use in the EU expired, and it was given an 18-month extension which is set to expire on December 15, 2017. The current renewal shall enter into force on the day following its publication in the Official Journal of the European Union, and shall apply from December 16, 2017. The regulation is binding in its entirety and directly applicable in all Member States.
Jonathan Storkey, Plant Ecologist and Leader of Achieving Sustainable Agricultural Systems (ASSIST), a strategic program of Rothamsted Research in the UK said, "I believe the renewal of the approval of glyphosate is to be cautiously welcomed and is the right decision. In terms of direct toxicity on non-target organisms, it is relatively benign, and it is an important mainstay of weed control. Some weed species that have evolved resistance to other herbicides would become extremely difficult to control without glyphosate and it is particularly useful in cropping systems that minimize soil disturbance which itself brings environmental benefits."
Read more comments on the renewal in Rothamsted Research. For more details about glyphosate in the EU, visit the European Commission website.
[ Send to a Friend | Rate this Article ]
---
A team of European scientists conducted a two-year, extensive analysis on the future of food, nutrition, agriculture, and health. The study is a part of the global InterAcademy Partnership project comprised of 130 science academies. The findings of the study were published in a report by the European Academies' Science Advisory Council (EASAC).
For plants and animals in agriculture, the report presented the following recommendations:
For livestock, determining how to capitalize on genomics research for food production and for animal health and welfare. This includes the rapidly advancing science of genome editing and the increasing significance of characterizing genetic material conserved in gene banks.
For the oceans, improving the knowledge base for sustainable harvest and culturing of lower trophic level marine resources and exploring the potential for biomass provision to diminish pressures on agricultural land, freshwater and fertilizers.
For crops, progressing understanding of the genetics and metabolomics of plant product quality. This also includes capitalizing on the new opportunities coming within range for the targeted modification of crops using genome editing.
For plants as well as for animal science, it is important to protect wild gene pools and to continue sequencing genetic resources to unveil the potential of genetic resources.
Download a copy of the report from EASAC.
Research
Elongator is a multitasking protein complex involved in diverse cellular processes, including histone modification, DNA methylation, and tRNA modification. In recent years, the Elongator protein emerged as a key regulator of plant immune responses. However, characterization of its function in plant immunity has been conducted only in the model plant Arabidopsis thaliana. Thus, it is unclear if its role in plant immunity is conserved in higher plants.
The team of Katchen Julliany P. Silva from the University of Florida characterized the transgenic woodland strawberry (Fragaria vesca L.) overexpressing two Arabidopsis Elongator (AtELP) genes, AtELP3 and AtELP4, and determined whether strawberry carries a functional Elongator gene.
Overexpression of AtELP3 and AtELP4 in strawberry conferred enhanced resistance to anthracnose crown rot, powdery mildew, and angular leaf spot. Further analysis showed that the strawberry genome has six Elongator protein subunits, including the FvELP4 subunit, which is encoded by two homologous genes. Expressed FvELP4–1 in an Arabidopsis mutant also proved that FvELP4 is biologically functional.
Elongator genes may hold potential in lessening disease severity and reducing fungicide application in strawberry industry.
For more on this study, read the article in BMC Plant Biology.
[ Send to a Friend | Rate this Article ]
---
Plant roots are highly flexible to high salinity. However, the molecular mechanism by which root developmental flexibility is regulated is unknown. Previous studies have reported that the miR172c and NNC1 gene relationship plays a key role in soybean-rhizobial symbiosis. Since the miR172c promoter contains several stress-related elements, miR172c may have a role in root response to abiotic stress. Zulfiqar Ali Sahito and Lixiang Wang of Huazhong Agricultural University in China studied miR172c to determine the mechanism of root developmental flexibility.
Researchers found that miR172c is greatly induced by salt stress in soybean (Glycine max). Overexpression of miR172c increased the soybean roots' sensitivity to salt stress. In contrast, knockdown of miR172c activity resulted in reduced root sensitivity to salt stress.
Furthermore, the target gene of miR172c, NNC1 (Nodule Number Control 1), was downregulated by salt stress. The transgenic roots with overexpressed or knocked-down NNC1 expression also exhibited the altered root sensitivity to salt stress.
This study reveals the crucial role of miR172c-NNC1 module in root stress tolerance to salt stress in soybean.
For more on this study, read the full article in BMC Plant Biology.