News
Global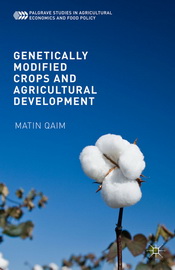 In spite of the rapid adoption of GM crops, their use remains contentious. Public opposition and overregulation have become real threats to further developments in modern plant sciences. It is widely believed that GM crops are bad for human health, damage the environment, and hurt smallholder farmers in developing countries, but research shows that the opposite is true. Matin Qaim, a professor of agricultural economics in Germany, has studied the impacts around the world. He has now written a book about his 20 years of experience. The book "Genetically Modified Crops and Agricultural Development" was recently published by Palgrave Macmillan.
In the book, Qaim reviews the impacts of current and possible future GM crop applications and shows that these technologies can contribute substantially to sustainable agricultural development and food security. Popular narratives about "Frankenfoods," "Genetic Contamination," and "Terminator Genes" are deconstructed. Qaim uses a political-economy perspective to explain the emergence and success of the protest industry. He concludes that continued opposition to technologies that were shown to be beneficial and safe entails unnecessary human suffering and environmental degradation. But he remains optimistic and shows what needs to be done in order to advance GMOs responsibly in the future.
In his foreword to the book, Professor Chris Barrett (Cornell University) writes: "I can think of no better scholar to introduce this hot-button topic than Matin Qaim." Professor Calestous Juma (Harvard University) says: "This path-breaking book combines intellectual courage and analytical rigor. It brings balanced research and sobriety to one of the most controversial technological developments of the early twenty-first century."
Read more at Palgrave Macmillan.
Africa
The 1st Egyptian-Indian workshop on biotechnology with the theme Biotechnology – A Sustainable Approach for Development was held at the Academy of Scientific Research and Technology (ASRT) under the auspices of the Minister of High Education and Scientific Research, Prof. Ashraf Shihi (represented by Prof. Hazem Mansour), and the President of ASRT, Prof. Mahmoud Sakr, on October 25-26, 2015. In his speech, Prof. Sakr discussed the benefits of this collaboration to both countries and how Egypt work hard to cope with the rapid development in science especially in the field of biotechnology. The workshop aimed to share experiences, promote science and education, and discuss policy issues related to developing countries and to open the door for collaboration between the two countries.
Indian experts from University of Delhi, Institute of Himalayan Bioresearch Technology, Guru Nanak University, ICAR-Indian Agricultural Research Institute, and Indian Institute of Science Education and Research Bhopal participated in the workshop. They covered different fields in agriculture and biotechnology, including abiotic stresses and biodiversity.
From Egypt, Prof. Naglaa Abdallah, Director of the Egyptian Biotechnology Information Center and Head of the Department of Genetics at Cairo University, talked about the challenges and opportunities in biotechnology and genome editing. She compared the two strategies used for improving crops at the level of development, public acceptance, and regulation issues. Prof. Moemen Hanafy, scientist at the National Research Center, gave a presentation on developing transgenic soybean and faba bean to solve problems related to biotic and abiotic stresses. Dr. Shireen Assem, the Director of Agricultural Genetic Engineering Research Institute (AGERI) talked about the modern biotechnology techniques to promote agricultural productivity. In addition, Dr. Aladdin Hamwieh from International Center for Agricultural Research in the Dry Areas (ICARDA) talked about their project for developing large-seeded Kabuli chickpea.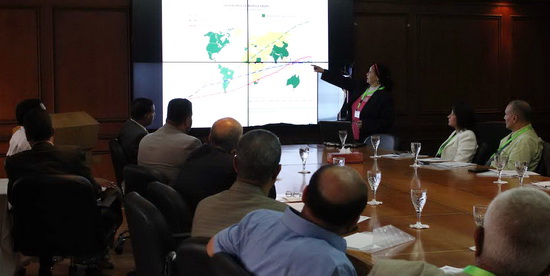 For more information, contact Prof. Naglaa Abdallah naglaa.abdallah@agr.cu.edu.eg.
[ Send to a Friend | Rate this Article ]
---
International Plant Biotechnology Outreach of VIB and Ghent University, in collaboration with International Potato Center (CIP) conducted a 10-day course on November 4-13, 2015 in Entebbe, Uganda. The course was on regulatory and biosafety issues of agricultural biotechnology in the East-African region, with GM late blight resistant potato as the case study.
The workshop was attended by 20 participants who represented a broad spectrum of professionals – scientists, regulators, and science communicators from Uganda, Kenya, Tanzania, and Rwanda. After outlining the challenges faced by potato farmers in the East African region, ongoing crop improvement research with potential solutions for the future was presented. This part of the course was strengthened by a visit to GM banana field trials in Kawanda, Uganda.
The second part of the course focused on the regulatory and risk assessment principles. Participants received a global overview of these issues, followed by specific discussions pertaining to the potato case in East Africa. The final section of the course, conducted by ISAAA AfriCenter, focused on science and risk communication and inspired the participants to discover the art of communicating scientific research to the general public. The different sessions were articulated around theoretical lectures and group exercises.
The overall course was an excellent opportunity for regulators and scientists to network, discuss, and discover the different aspects related to the potential implementation of biotech crops in the African continent. The lessons learnt from the case study were very helpful. The GM late blight resistant potato was generally perceived by the participants as having great potential to benefit Ugandan farmers who largely depend on potato farming.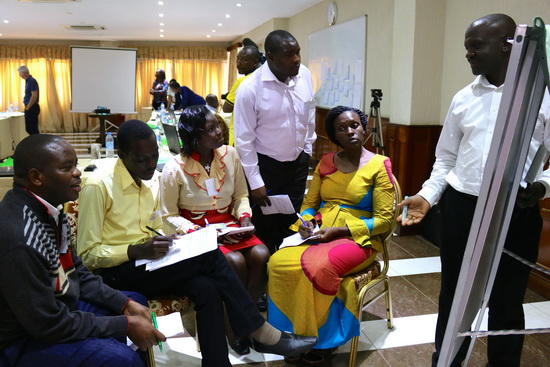 For more details, contact Dr. Marc Heijde of VIB-International Plant Biotechnology Outreach (IPBO) at marc.heijde@vib-ugent.be.
Americas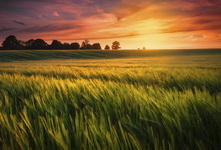 A team of scientists from the International Maize and Wheat Improvement Center (CIMMYT) in Mexico, together with partners in China, Norway, and Australia have sequenced and described a gene that can help wheat to resist four serious fungal diseases. The research team isolated the wheat gene Lr67, revealing how it hampers the growth of fungal pathogen through a novel mechanism.
Lr67 belongs to a group of three known "magic" genes that help wheat to resist all three wheat rusts and powdery mildew. The genes act in different ways, slowing rather than totally stopping the development of disease. According to CIMMYT scientist Ravi Singh, they created and field tested genetic mutations of Lr67, to identify the gene's exact location in the wheat genome. The cloned gene will be much easier to deploy widely in CIMMYT breeding lines, he said.
For more information, read the news article at the CIMMYT website.
Asia and the Pacific
Researchers in Japan have succeeded in inducing the genes involved in production of seed oil to work for longer periods of time to allow them to accumulate more oil. Scientists from Japan's National Institute for Basic Biology (NIBB) revealed that oils are actively synthesized only during the mid-phase of the seed formation process.

The research team considered that by extending the period when seeds synthesize oils, they should be able to increase the oil content in seeds. Using Arabidopsis, they extended the expression time of WRI1, a gene that activates oil synthesis. As a result, they were able to increase the oil content of the seeds to 140 percent.
For more details, read the news release from at the NIBB website.
[ Send to a Friend | Rate this Article ]
---
The Pakistan Agricultural Research Council (PARC) has allowed the commercial cultivation of two newly developed hybrid varieties of fodder crops in the country. The two varieties were developed and tested in pilot projects before large-scale cultivation, officials say. Both hybrid varieties were obtained through experiments on the Sorghum Sudan Grass (S.S). The S.S fodder hybrids are high yielding with wider adaptability.
"The idea of evolving two new SS hybrid fodder varieties gained currency after we found evidence through initial research that they can give higher per-hectare yield and can also be grown even in not-so-friendly climatic conditions," says a PARC official. Dr. Nadeem Amjad, PARC Chairman, lauded the efforts of the scientists and other stakeholders for introducing the new varieties.
Read more at the Pakistan Biotechnology Information Center website.
Europe
The Genome Analysis Centre (TGAC) has made available a more complete and accurate wheat genome assembly. The wheat genome is now assembled into fewer and much larger chunks of DNA and covers regions that previous assemblies did not reach, such as complicated highly repetitive regions that form about 80 percent of the DNA sequences.
In this latest development, billions of bases needed to be sequenced and the assembly (a gigantic jigsaw puzzle using billions of pieces that are very similar to each other) took three weeks to complete on one of the UK's largest supercomputers, which was specially configured for work on wheat. In assembling the wheat genome, the group at TGAC made major modifications to the DISCOVAR software (previously used in human genome assembly).
The group made a series of major overhauls to ensure that all the complexity of the DNA sequence was preserved during assembly. They focused their approach on achieving maximum coverage of the genome, by distinguishing repeats. The software can now assemble several wheat genomes with high speed and great precision. This sets the stage for rapidly generating useful assemblies of many varieties of wheat, which is an essential step for breeding and research.
For more details, read the TGAC news release.

[ Send to a Friend | Rate this Article ]
---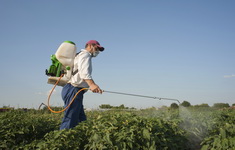 A peer review expert group composed of scientists from the European Food Safety Authority (EFSA) and representatives of risk assessment bodies in EU Member States have finalized the reassessment of glyphosate. The report concludes that glyphosate is unlikely to be genotoxic (damaging to DNA), or to pose a carcinogenic hazard to humans, and proposes a new safety measure that will tighten the control of glyphosate residues in food.
The group has set an acute reference dose (ARfD) for glyphosate of 0.5 mg per kg of body weight, the first time such an exposure threshold has been applied to the substance. Glyphosate is not to be classified as carcinogenic under the EU regulation for classification, labeling, and packaging of chemical substances. All the Member State experts but one agreed that neither the epidemiological data nor the evidence from animal studies showed causality between exposure to glyphosate and the development of cancer in humans.
The review also proposed toxicological safety thresholds. The acceptable operator exposure level (AOEL) was set at 0.1 mg/kg body weight per day and an acceptable daily intake (ADI) for consumers was set in line with the ARfD at 0.5 mg/kg body weight per day. Jose Tarazona, who heads EFSA's Pesticides Unit, said "By introducing an acute reference dose we are further tightening the way potential risks from glyphosate will be assessed in the future. Regarding carcinogenicity, it is unlikely that this substance is carcinogenic."
For more information, read the news release at the EFSA website.
Research
The expression of antifungal genes from Trichoderma harzianum has been used to confer plant resistance to fungal diseases. However, the potential of glucanase genes from Trichoderma has been scarcely studied. The team of José A. Mercado of Universidad de Málaga in Spain developed transgenic strawberry plants expressing the glucanase gene bgn13.1 from T. harzianum.
Transgenic lines were inoculated with Colletotrichum acutatum, which causes anthracnose. Transgenic lines showed fewer symptoms than control plants. Some transgenic lines even showed enhanced resistance to Rosellinia necatrix, a soil-borne pathogen causing root and crown rot in strawberry. However, some transgenic lines showed stunted growth and reduced yield due to both a reduced number of fruits per plant and smaller fruit size.
Results show that bgn13.1 from T. harzianum can be used to increase strawberry tolerance to crown rot diseases, but also affects plant growth and fruit yield. Alternative strategies such as tissue specific promoters may be used to avoid the negative effects of bgn13.1 expression.
For more on the study, read the article in Transgenic Research.
[ Send to a Friend | Rate this Article ]
---
Since fatty acids (FA) plays a crucial role in lipid accumulation in olive (Olea europaea L.), a research team led by Francesca De Marchis of the CNR in Italy, investigated the effect of olive acyl carrier protein (ACP) on FA by overexpressing an olive ACP cDNA in tobacco. The OeACP1.1A was inserted either in the nucleus or the chloroplast DNA of tobacco plants, resulting in two sets of transgenics.
The chloroplast-transformed plants had lower olive ACP levels compared to nuclear-transformed plants. Moreover, the chloroplast-transformed plants had pale green/white cotyledons with abnormal chloroplasts, delayed germination and reduced growth. This was likely caused by inefficient olive ACP mRNA translation in chloroplast stroma.
Meanwhile, leaves of nucleus-transformed plants showed significant increases in oleic acid and linolenic acid and a significant reduction in shorter fatty acids such as hexadecadienoic acid and hexadecatrienoic acid. These results imply that olive ACP not only plays a role in FA synthesis, but also seems to be involved in chain length regulation of fatty acids.
For more information on the study, read the article in Transgenic Research.
[ Send to a Friend | Rate this Article ]
---
The d-amino acid oxidase (DAAO) can metabolize glyphosate and yield aminomethyl phosphonic acid and glyoxylate, which are less toxic to plants than glyphosate. However, studies on the use of DAAO to enhance glyphosate resistance in plants are lacking.
A research team led by Hongjuan Han of the Shanghai Academy of Agricultural Sciences in China reports the overexpression of the DAAO gene from the nitrogen-fixing bacterium, Bradyrhizobium japonicum, in Escherichia coli and Arabidopsis thaliana. To confirm the glyphosate resistance of the DAAO gene, the gene was transformed into E. coli. The positive E. coli transformants grew well both on solid and in liquid medium containing glyphosate.
The DAAO gene was then transformed into Arabidopsis thaliana. Nine days after application of 10 mM glyphosate, wild-type plants all died while transgenic plants grew normally.
For more information on the study, read the article on Plant Cell Reports.
Announcements
What: Philippine National Biotechnology Week 2015
When: November 23-28, 2015
Where: SM City Dasmariñas, Cavite
For more details, visit the NBW Facebook Page.
[ Send to a Friend | Rate this Article ]
---
What: 5th International Conference on Biodiversity
When: March 10-12, 2016
Where: Madrid, Spain
For more details, visit the conference website.
From The BICs
A parallel conference and workshop program on communicating food and agricultural biotechnology has been concluded in Denpasar and Bogor, Indonesia on 19 and 21 October 2015, respectively. The event was aimed to engage officials, scientists and agricultural professionals to build competence, capacity and effectiveness in communicating food and agricultural biotechnology through traditional and social media. The conference also presented science communication tools and best practices from regional and global experts to more effectively communicate the science and the realities of traditional, contemporary and modern agricultural technologies. This will help farmers and consumers make informed-decisions about the utilization and benefits of the technology. Prominent speakers were Dr. Erna Maria Lokollo from Ministry of Agriculture, Mrs. Zulfiani Lubis, an Indonesian senior journalist and Mrs. Dewi Hughes, an Indonesian media expert as well as communication experts from International Food Information Council (IFIC): Kimberly Reed, Dr. Alan Mc. Hughen, Dr. Andrew Benson, Helen Yu and Dr. Steven Venette.
Prof. Dr. Ketut Budi Susrusa, Vice Rector of Udayana University and Mr. Thom Wright of USDA Foreign Agricultural Service officially opened the workshop in Denpasar and Bogor respectively and addressed the importance of biotech communication and the need to promote biotechnology to the public in Indonesia to some 106 participants.
The workshop was organized by the Indonesian Biotechnology Information Center (IndoBIC) in collaboration with the International Food Information Council (IFIC), USDA Foreign Agricultural Services, Udayana University and supported by Indonesian Society for Agricultural, SEAMEO BIOTROP, and ISAAA.
Dr. Alan Mc. Hughen from University of California Riverside discussed scientific misconceptions, barriers, and opportunities for wider acceptance of agricultural biotechnology; Dr. Steven Venette from University of Southern Mississippi discussed the principles and best practices in food risk communication. Meanwhile, Dr. Erna Maria Lokollo from Ministry of Agriculture shared information on inter-agency coordination of communications regarding biotechnology; Helen Yu, Zulfiani Lubis and Dewi Hughes shared their expertise on how to develop message and talking to the media especially in Indonesia perspective.
The workshop was also concluded with a simulation on-camera and media interview exercises and presentations.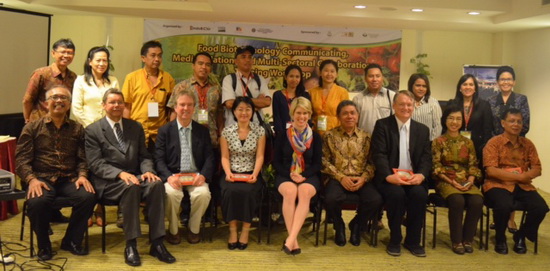 For details of the workshop contact Dewi Suryani of IndoBIC at catleyavanda@gmail.com.
---
Two parallel learning events convened scientists and media practitioners from East and West of Indonesia on October 20 and 22, 2015 in Denpasar and Bogor, Indonesia. The Food Biotechnology Communication, Media Relations and Multi-Sectoral Collaboration Training Workshop was aimed to build relationships, interaction and understanding between the scientific community and the media; and provide media participants with a broader understanding of food safety and biotechnology. The events were spearheaded by the Indonesian Biotechnology Information Centre (IndoBIC) and International Food Information Council (IFIC).
Prof. Dr. Agus Pakpahan of Indonesia Biosafety Commission and Mrs. Daisy Joyce Djohor of Ministry of Environment and Forestry presented the current status of agricultural biotechnology in Indonesia and stressed that the Indonesian Biosafety Commission has granted the environmental safety certificate for 6 biotech products, food safety certificate for 12 biotech products, and feed safety certificate for 2 biotech products. Dr. Alan Mc. Hughen explained the scientific misconceptions, barriers, and opportunities for wider acceptance of agricultural biotechnology. Mr. Heryanto Lingga, a senior journalist from IFIC, discussed what Indonesia media needs to know about biotechnology, and Mrs. Nurmalasari shared the information about GE sugarcane developed by PTPN XI.
Scientists and agricultural professionals and media practitioners participated in the event. The events became a venue for the media practitioners in Indonesia to share their experiences on how biotechnology is reported. It also imparted lessons for more accurate and science-based biotech reporting. This back-to-back activity was co-organized with Foreign Agricultural Service USDA, Udayana University, SEAMEO BIOTROP and ISAAA.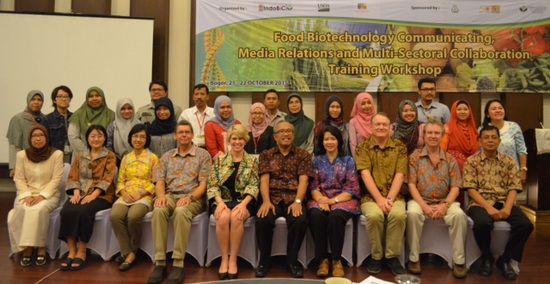 For more information, please email Dewi Suryani of IndoBIC at catleyavanda@gmail.com