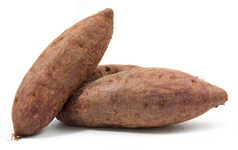 Scientists from the University of Geneva and ETH Zurich reported a new genetically engineered cassava variety that produces high levels of vitamin B6. The results are published in Nature Biotechnology.
Cassava is rich in calories but lacks vitamin content. It has a small amount of vitamin B6, and to achieve the required daily amount of vitamin B6, one has to eat over 1 kilogram of cassava everyday. Prof. Teresa Fitzpatrick from the University of Geneva discovered two enzymes (PDX1 and PDX2) in Arabidopsis which are involved in the production of vitamin B6 and used this discovery to pump up vitamin B6 in cassava. The scientists introduced the genes that code for the production of the enzymes into the cassava genome, leading to new cassava lines with increased amounts of vitamin B6. Furthermore, greenhouse and field trials showed that the new cassava lines are stable and vitamin B6 is bioavailable in the plants.
When these cassava lines become available to the public, it could prevent vitamin B6 deficiency particularly in sub-Saharan Africa where cassava is considered as one of the most important staple crops.
Know more about the project from ETH Zurich.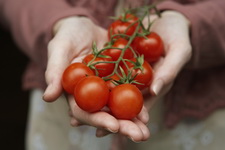 Scientists at the John Innes Centre have discovered a technique to boost the amounts of natural compounds in tomatoes. The compounds are classified as phenylpropanoids like Resveratrol and Genistein. Resveratrol is a compound in wine, which was found to extend life in animal studies. On the other hand, Genistein is present in soybean and has been linked to prevention of steroid-hormone related cancers such as breast cancer.
A technology developed for plant research by The Sainsbury Laboratory (TSL) scientist Dr. Matt Moscou has helped cure a one-year-old girl of leukemia. Dr. Moscou's research, which centers on how some plants are susceptible to diseases while others are not, has developed a new genome editing technique. The technology was used to precisely edit the genes in bone marrow tissue that was removed from the patient, so that it can be reintroduced back into the patient and promote the establishment of a second bone marrow transplant.
Former Biotech Critic/Journalist Authors Science-based Book on GM Crops
The book "Extreme Misunderstanding of GM Crops", the first science based publication on GM crops was recently released in Japanese by Mr. Masami Kojima. Mr. Kojima was an active anti-GM newspaper reporter of The Mainichi, one of the three most popular newspapers in Japan. The book documents scientific information and benefits of GM crops from credible scientific studies, as well as accounts of his "seeing and believing" trip, and observations of farmer fields and laboratories in the USA. Mr. Kojima apologized for his previous anti-GMO stance and acknowledged that he was wrong in writing and talking about GM crops, without knowing and understanding the truth about the technology.

A biweekly update on genome editing research, regulations, and impact
produced by ISAAA Inc.

A monthly update on gene drive research and development provided by ISAAA in collaboration with the Outreach Network for Gene Drive Research
Biotech Updates is a weekly newsletter of ISAAA, a not-for-profit organization. It is distributed for free to over 22,000 subscribers worldwide to inform them about the key developments in biosciences, especially in biotechnology. Your support will help us in our mission to feed the world with knowledge. You can help by donating as little as $10.