News
Global
The United Nations General Assembly (UNGA) has proclaimed 2020 as the International Year of Plant Health to raise global awareness of plant health, and its role in increasing food security. The UNGA Plenary approved the draft resolution during their 73rd session in New York City on December 20, 2018.
"The International Year of Plant Health offers a 'once-in-a-lifetime' opportunity for plant protection professionals to promote plant health to policy makers, stakeholders and society," said Ralf Lopian, Chair of the International Year of Plant Health Steering Committee. Lopian added that the year will demonstrate that plant health is an indispensable precondition to achieving zero hunger, zero poverty, economic development, and environmental protection.
The International Seed Federation (ISF), member of the Steering Committee, has been actively involved in coordinating efforts by its national seed associations to collaborate with their national plant protection offices on activities planned to promote the International Year of Plant Health. "Plants are the foundation of life on earth and we are proud to be part of this initiative to protect the world's plant resources from pests," said ISF Secretary General Michael Keller.
For more details, read the ISF press release.
[ Send to a Friend | Rate this Article ]
---
Technavio reports that the global agricultural biotechnology market will grow by almost USD 21.2 billion during 2018-2022. In the report published in December 2018, Technavio, a market research company that has published reports on major technology markets, stated that the global agricultural biotechnology market will be accelerating in the next four years, growing at an annual growth rate of almost 11 percent with 53 percent of this growth coming from the Americas. The report also identified the rising demand for higher crop yield as one of the key factors driving the growth rate.
The said report also included the analysis of the market's competitive landscape and product information on different companies including BASF, Bayer, ChemChina, DowDuPont, and Eurofins Scientific. It also provided the prediction of the contribution of the various application segments to the growth or the market size. In particular, the report predicted that the transgenic seeds segment will account for the highest share in the market due to its higher adoption in different countries.
An overview of the report is made available by Technavio.
Americas
Photosynthesis uses the enzyme Rubisco and sunlight to turn carbon dioxide and water into sugars essential for plant growth and yield. Over millennia, Rubisco has created an oxygen-rich atmosphere, using oxygen instead of carbon dioxide about 20 percent of the time, resulting in a plant-toxic compound that must be recycled through the process of photorespiration.
"Photorespiration is anti-photosynthesis," said lead author Paul South, a research molecular biologist with the Agricultural Research Service, who works on the project Realizing Increased Photosynthetic Efficiency (RIPE) in Illinois. "It costs the plant precious energy and resources that it could have invested in photosynthesis to produce more growth and yield."
Photorespiration normally takes a complicated route through three compartments in the plant cell. Scientists engineered alternate pathways to reroute the process, drastically shortening the trip and saving enough resources to boost plant growth by 40 percent. This is the first time that an engineered photorespiration fix has been tested in real-world agronomic conditions.
The researchers engineered three alternate routes to replace the circuitous native pathway. To optimize the new routes, they designed genetic constructs with different sets of promoters and genes, essentially creating a suite of unique roadmaps. They stress tested these roadmaps in 1,700 plants to identify the top performers. Over two years of replicated field studies, the researchers found that these engineered plants developed faster, grew taller, and produced about 40 percent more biomass, most of which was found in 50-percent-larger stems. The team tested their hypotheses in tobacco and is now translating their findings to boost the yield of soybean, cowpea, rice, potato, tomato, and eggplant.
For more details, read the news article from the University of Illinois.
[ Send to a Friend | Rate this Article ]
---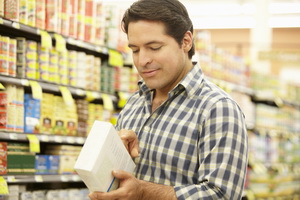 The United States Department of Agriculture (USDA) through Secretary Sonny Perdue announced the National Bioengineered Food Disclosure Standard on December 20, 2018. The National Bioengineered Food Disclosure Law, passed by Congress in July 2016, directed USDA to establish this national mandatory standard for disclosing foods that are or may be bioengineered (BE).
The Standard defines bioengineered foods as those that contain detectable genetic material that has been modified through certain lab techniques and cannot be created through conventional breeding or found in nature. In the Standard's definition of bioengineered food, several studies were cited about refined food products and ingredients and state that "If the genetic material is not detected, then it is not possible to conclude that the food product or ingredient contains modified genetic material. Thus, based on the available scientific evidence, refined beet and cane sugar, high fructose corn syrup, degummed refined vegetable oils and various other refined ingredients are unlikely to require BE food disclosure because the conditions of processing serve effectively to degrade or eliminate the DNA that was initially present in the raw agricultural commodity."
The Standard will be implemented on January 1, 2020, except for small food manufacturers, whose implementation date is January 1, 2021. The mandatory compliance date is January 1, 2022. Regulated entities may voluntarily comply with the Standard until December 31, 2021.
For more details, read the BE Disclosure and Labeling, including the Rulemaking Documents.
Asia and the Pacific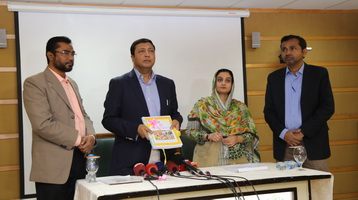 "Global food insecurity is the leading threat in the developing world. Strong political commitment to eliminate hunger is essential. Globally, biotech crops have contributed to food security, sustainability, and climate change by increasing crop productivity and helping alleviate poverty by uplifting the livelihood of farmers and agriculture-related workforce," Prof. Dr. M. Iqbal Choudhary, Director of the International Center for Chemical and Biological Sciences, University of Karachi (UoK) in Pakistan, and Pakistan Biotechnology Information Center (PABIC), expressed this view during the launch of ISAAA Brief 53: Global Status of Commercialized Biotech/GM Crops in 2017. Brief 53 was launched at a press conference held at UoK's Latif Ebrahim Jamal (LEJ) National Science Information Center on December 19, 2018.

The press conference, which was organized by PABIC, aimed to raise awareness of the tremendous potential of biotechnology commercialization for the sustainable development of Pakistan's economy. "This is really a good sign that Pakistan increased its irrigated cotton area by 3.4 percent or 100,000 hectares from 2.9 million hectares to 3 million hectares during 2017," said Prof. Choudhary. He added that for the last eight years, an estimated 725,000 smallholder Pakistani farmers have been benefiting from the economic gains in using biotech cotton. It is estimated that the economic gains from biotech crops for Pakistan for the period 2010 to 2016 was US$4.8 billion and US$483 million for 2016 alone, according to ISAAA Brief 53.
For more details about biotech crops in Pakistan, visit the PABIC website.
[ Send to a Friend | Rate this Article ]
---
The SEARCA Biotechnology Information Center (SEARCA BIC) released its 2018 Policy Brief series, which is the latest addition to its knowledge resources. The series is the product of SEARCA BIC's collaboration with scientists and experts to enlighten policy-makers on a range of agricultural biotechnology trends and issues.
The five policy briefs highlight and provide deeper insights on various topics including the cost of regulatory delays for genetically modified crops; the need to strengthen support for biotechnology in the Philippines; new plant breeding techniques; consensus of the scientific community on the safety of GMO technology; and an analysis on personal constructs and social discourses on GMOs.
The 2018 Policy Brief series is produced in partnership with the International Service for the Acquisition of Agri-biotech Applications (ISAAA), Coalition for Agriculture Modernization in the Philippines (CAMP), Department of Agriculture-Biotechnology Program Office (DA-BPO), Program for Biosafety Systems (PBS), and DA-Bureau of Agricultural Research (DA-BAR).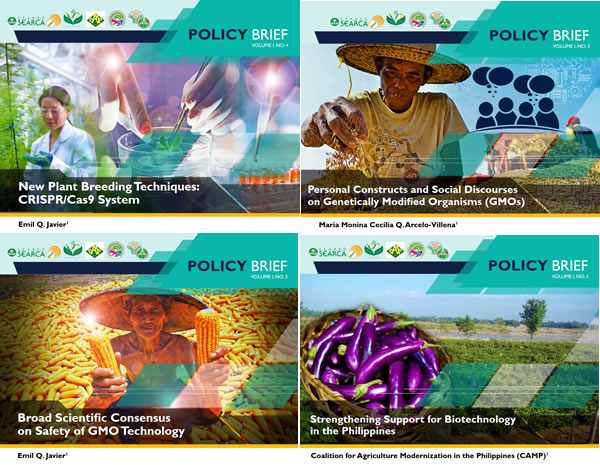 The policy briefs are available for download on the SEARCA BIC website.
[ Send to a Friend | Rate this Article ]
---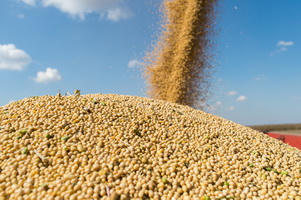 The Ministry of Agriculture and Rural Affairs of China approved five genetically modified (GM) crops for importation. These GM crops are RF3 canola, originally developed by Bayer and now owned by BASF, Monsanto's glyphosate-tolerant MON 88302 canola, DuPont Pioneer DP4114 corn, Syngenta's SYHT0H2 soybean and Dow AgroSciences' DAS-44406-6 soybean. China had not released approvals for GM crops since July 2017.
The new GM crop event approvals were released after Chinese and U.S. officials had a meeting in Beijing on January 7 for the first face-to-face talks since U.S. President Donald Trump and Chinese President Xi Jinping agreed in December to a 90-day truce in a trade war that has affected global markets.
The agri ministry also extended the import approvals for 26 other GM crops by three more years.
Read more from the Genetic Literacy Project.
[ Send to a Friend | Rate this Article ]
---
The International Service for the Acquisition of Agri-biotech Applications (ISAAA) announces the appointment of Dr. Rhodora Romero-Aldemita as the new ISAAA SEAsiaCenter Director based at the International Rice Research Institute, in the Philippines.
Dr. Aldemita has been working with ISAAA since 2007. She is a multi-awarded crop scientist with knowledge and experience accumulated over the years on agriculture-related topics such as plant pathology, plant physiology, molecular biology, genetic engineering, and rice biochemistry. She has been awarded as one of the Ten Outstanding Women in the Nations Service for Excellence in the field of Science in 1998; Ten Outstanding Young Scientist in the Philippines; the Science Prize in Biology by PH National Academy of Science and Technology; and The World Academy of Sciences, Italy, among others. Her latest recognitions include the Clara Y. Lim-Sylianco Award given by the Philippine Society of Biochemistry and Molecular Biology (PSBMB) in November 2018 in recognition of her pioneering contributions in the fields of rice biochemistry and biotechnology; and the Filipino Faces of Biotechnology given in December 2018 for her unwavering commitment in science and science communication to help Filipinos improve their lives by gaining knowledge, understanding, and appreciating the importance of biotechnology.
Dr. Aldemita has also been re-appointed as the Director of the ISAAA Global Knowledge Center on Crop Biotechnology (KC).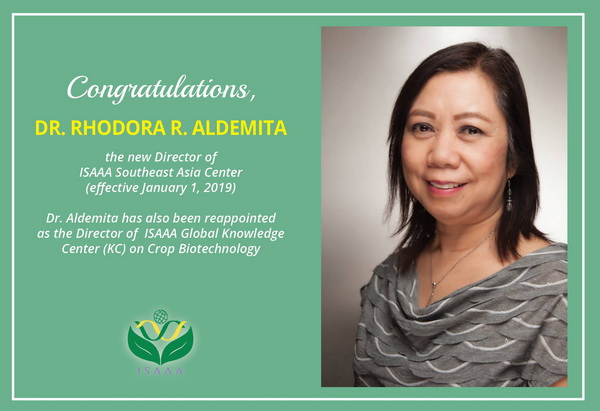 Read more about Dr. Aldemita from the ISAAA blog.

Europe
An international research team has solved the structure and explained the function of photosynthetic complex I, the membrane protein complex which plays a major role in dynamically rewiring photosynthesis.
In plant cells, complex I is used in two places: one is in mitochondria, the cell's power plants, the other is in chloroplasts, where photosynthesis occurs. In both instances, it forms part of an electron transport chain, which can be thought of as biology's electrical circuit. These are used to drive the cells' molecular machines responsible for energy production and storage.
The researchers showed that the molecular structure of photosynthetic complex I differs considerably from its respiratory relative. In particular, the part responsible for electron transport has a different structure, since it is optimized for cyclic electron transport in photosynthesis. In the next step, the team analyzed the structural elements responsible for the efficient interaction of complex I and the protein ferredoxin. They found that complex I has a particularly flexible part in its structure, which captures the protein ferredoxin like a fishing rod. This allows ferredoxin to reach the optimal binding position for electron transfer.
For more details, read the press release from Ruhr-Universität Bochum.
Research
One of the common ways to resist insect attacks in crops is the cultivation of Bt crops. A study suggested an alternative strategy using RNA interference (RNAi) to counter Colorado potato beetle (CPB) attack in potato plants. The results are published in Transgenic Research.
Scientists from Nigde Omer Halisdemir University in Turkey conducted a study to silence the highly specific molting-associated Ecdysone receptor (EcR) gene of CPB using RNAi. The potato plants (Agria and Lady Olympia cultivars) were transformed with EcR gene of CPB through Agrobacterium tumefaciens transformation. The transgenic plants were assessed for efficacy against CPB larvae. Results showed 15-80% CPB mortality. Furthermore, CPB larvae exposed to transgenic potato plants exhibited lower EcR transcripts, implying the functionality of dsRNA EcRin silencing EcR gene expression.
Based on the findings, the method used is an effective and reliable strategy to cope with potato insect pests.
Read the research article in Transgenic Research.
[ Send to a Friend | Rate this Article ]
---
Hainan University scientists and partners assessed the possible impact of Bt maize pollen with Cry1Ab/Cry1Ac fusion on pollen-feeding non-target species through laboratory feeding assays. The observed species include ladybird (Propylea japonica), green lacewing (Chrysoperla nipponensis), and honey bee (Apis mellifera), which are common insects feeding on pollens of several crops. When they feed on Bt crops, they can be directly exposed to Cry proteins. Thus, these insects are often used in testing the effect of Bt plants on non-target organisms.
Results of the study showed that pupation rate and male adult fresh weight of ladybird were significantly increased when exposed to Bt maize pollen but other life-table parameters such as survival, pre-oviposition period, and fecundity were not affected. For green lacewing and honey bee, no significant differences were found in the life-table parameters of those exposed to non-Bt and Bt maize pollen.
The findings suggest that the three common pollen-feeders are not affected by Cry1Ab/Cry1Ac protein. Therefore, Bt maize will not pose a risk to these non-target organisms.
Read the research article in Toxins.
New Breeding Technologies
Genome editing using the CRISPR-Cas9 system has the potential to speed up the improvement of wheat varieties by elucidating the molecular basis of agronomic traits and enabling the modification of genes controlling these traits. CRISPR-Cas9 is based on a synthetic guide-RNA (gRNA) that can direct Cas9 nuclease to specific targets in the genome and create double strand breaks (DSB), which are repaired through error-prone non-homologous end joining process which may cause insertions and deletions leading to loss-of-function mutations.
Kansas State University researcher, Qianli Pan, reported an effective wheat genome editing pipeline. Next-generation sequencing data was used to estimate genome editing efficiency of several gRNAs applying the wheat protoplast assay and select the most efficient gRNAs for plant transformation. Successful application of the pipeline to five wheat orthologs of the rice yield component genes that have been previously identified. Gene-edited plants were obtained for all these genes, which were validated and observed to show trends similar to those in rice.
The findings suggest that transferring discoveries in rice may be used to enhance wheat traits, thus, an effective way to accelerate breeding.
Read more from K-State Research Exchange.
[ Send to a Friend | Rate this Article ]
---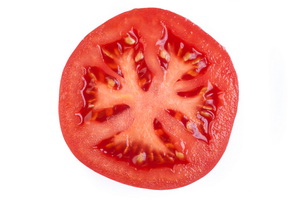 Shelf life is one of the most important quality traits of tomato linked to modifications in cuticle properties and remodelling of the fruit cell walls. Previous studies have shown that a range of pectin degrading enzymes are involved in cell wall remodelling, which mostly involved only one gene.
An international team of scientists reported in Plant Physiology the successful generation of CRISPR-based mutants in the ripening-related genes encoding the pectin degrading enzymes pectate lyase (PL), polygalacturonase 2a (PG2a) and β-galactanase (TBG4). When they compared the physiochemical properties of the fruits from a range of PL, PG2a and TBG4 CRISPR lines, it was found that only mutations in PL led in firmer fruits, although mutations in PG2a and TBG4 affected fruit color and weight. Investigation on pectin localization, distribution, and solubility in the pericarp cells of the CRISPR mutant fruits showed that PL, PG2a and TBG4 act on separate cell wall domains and the importance of cellulose microfibril-associated pectin is reflected in its increased occurrence in the different mutant lines.
Read the research article in Plant Physiology.