News
Global
An international team of researchers from the University of Turin (Italy), and the University of California Davis (USA) has sequenced the genome of globe artichoke. The globe artichoke was domesticated in the Mediterranean region, with Italy as the top producing country and has the richest primary gene pool. The globe artichoke genome assembly covers 725 of the 1,084 Mb genome. The sequence codes for about 27,000 genes, which were also structurally and functionally annotated. Information on timing of speciation, whole genome duplication and expansion of mobile elements (2.5 MYA) were also gathered. A new pipeline (SOILoCo, Scaffold Ordering by Imputation with Low Coverage) was used to anchor the assembled genome to the 17 chromosomal pseudomolecules.
The globe artichoke is consumed as a food product, but it is also a source of bio-active compounds and can be used for the production of lignocellulosic biomass and seed oil for both edible and biofuel purposes.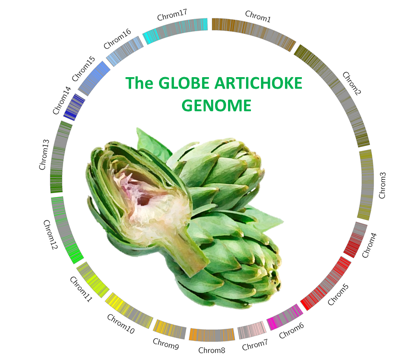 The sequence is available in the Globe Artichoke Microsatellite Database.
Africa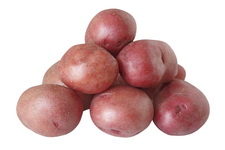 The first field trial of genetically modified (GM) potatoes resistant to potato blight conducted in Uganda from October 2015 to January 2016 has been completed at the Kachwekano Zonal Agricultural Research and Development Institute (KaZARDI) of the National Agricultural Research Organization (NARO) near Kabale.
Twelve highly resistant GM potatoes of 'Desiree' and one of 'Victoria' varieties from the International Potato Center (CIP) showed extreme levels of resistance compared to the non-GM plants of the same varieties. Using genetic transformation, three resistance (R) genes from wild relatives (Solanum bulbocastanum, and S. venturii) were transferred into farmers' preferred varieties and the results are encouraging. A number of partially resistant varieties exist, but these are not preferred by farmers and consumers. This first observation of zero-fungicide potatoes marks an important milestone in the development and future deployment of biotech potato varieties to farmers in Africa that will significantly reduce losses and cost of production.
In Uganda, losses due to potato late blight can reach up to 60%, forcing farmers to spray fungicides up to 15 times to protect their crops. About 300,000 smallholder households grow potatoes for their subsistence living and income generation. Losses due to late blight represents between 10-25% of their revenue from potato.
For more details about this project, contact Dr. Andrew Kiggundu/NARO (akiggundu@kari.go.ug), or Dr. Marc Ghislain/CIP (m.ghislain@cgiar.org).

Americas
Grafting is an agricultural practice that dates back nearly 3,000 years when people from ancient China to Greece realized that joining a cut branch from one plant to the stalk of another could improve crop quality. Recently, a study conducted by researchers from the Salk Institute and Cambridge University has shown that grafted plants share epigenetic traits. The team discovered that the two grafted plants keep their original genomes and do not share DNAs, but epigenetic information is being communicated within the plant.
The research team tracked the flow of epigenetic information by focusing on tiny molecules called small RNAs (sRNAs). The researchers designed a grafting experiment with three variations of Arabidopsis: two wild type varieties, while the third variety was a mutant bred to lack sRNAs of any kind. After each graft, the researchers observed that the plants were transmitting epialleles, the epigenetic equivalent of alleles.They also found that thousands of sites along the Arabidopsis genome were silenced by sRNAs.
The team agrees that the epigenetic effects of the mobile RNA are likely to be much greater with crop plants than in the model species used in their study. The two research groups are planning to explore these effects in tomatoes and other crops.
For more information, read the news release at Salk News.
[ Send to a Friend | Rate this Article ]
---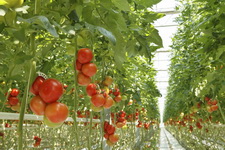 Michigan State University (MSU) scientists are looking at the biochemisty of plants in a research that could lead to plants that are less susceptible to insects. In Professor Robert Last's Laboratory, postdoctoral scholar Pengxiang Fan and undergraduate biochemistry and molecular biology student Abigail Miller were able to reconstruct the pathway of chemical processes that a tomato plant uses to create useful compounds called acyl sugars. These compounds are made in both the garden variety and wild relatives of tomato plants. The researchers examined how a single cell at the tip of tiny hairs on these plants ─ called trichomes ─ are able to create products that protect them from being eaten by insects.
The potential of the research is wide-ranging, with possible future applications in plant breeding and other industries. "Understanding this pathway could also allow us to come up with strategies to make these kind of useful compounds in microorganisms or in other plants that don't normally make them," Professor Last said.
For more information, read the MSU news release.
Asia and the Pacific
Food Standards Australia New Zealand (FSANZ) called for written submissions on applications to seek approval for food derived from a genetically modified corn line MZIR098 that is tolerant to the herbicide glufosinate ammonium and protected against corn rootworm. The application for approval was submitted by Syngenta Australia Pty Ltd.
FSANZ Chief Executive Officer Steve McCutcheon said "The aim of the assessment is to find out if there are any differences between the GM food and its conventional counterpart. No public health or safety issues were identified and the corn was found to be as safe as its conventional counterpart."
Submissions are invited from government agencies, public health professionals, industry and the community. Comments will be accepted until February 29, 2016.
For more information about the deadline, or how to make a submission, read the details of Application A1116 at the FSANZ website.
Europe
A research conducted at the University of East Anglia (UEA) showed that oil from genetically modified (GM) oil seed crops could replace fish oil as a primary source of the beneficial Omega-3 fatty acid EPA (eicosapentaenoic acid).
The UEA research team studied mice consuming feed enriched with oil from GM Camelina sativa developed at Rothamsted Research to see if mammals (using mice as a model) could absorb and accumulate EPA from this source of omega-3s. They examined the levels of EPA in various organs in the body, and tested tissue concentrations of fatty acids in liver, brain, and muscle tissue of the mice. They also checked its effect on the expression of genes key for regulating the way the body processes fats.
"The mice were fed with a control diet similar to a Westernized human diet, along with supplements of EPA from genetically engineered Camelina sativa or fish oil, for ten weeks – enough time for any beneficial results to be seen," said lead researcher Professor Anne-Marie Minihane, from UEA's Norwich Medical School. "We found that the genetically engineered oil is a bioavailable source of EPA, with comparable benefits for the liver to eating oily fish."
For more information about this research, read the news release at Rothamsted Research.
[ Send to a Friend | Rate this Article ]
---
A new hydroxynitrile lyase (HNL) enzyme was isolated from a simple white rabbit's foot fern plant, which was found to be highly suitable for industrial application. The discovery was conducted by EU-based partners Kyrobio and the Austrian Research Centre of Industrial Biotechnology (ACIB) through various biotech tools. In nature, HNL is used by ferns and other related plants such as stone fruit and almond trees to release molecularly stored hydrogen cyanide for protection against pests.
It was found that HNL has no sequence similarity with any previously known HNL and that its enantiomer (mirror image molecule) is able to bind cyanide to different molecules that can be used in a number of industrial practices. This includes recycling of cyanide wastes generated during the production of acrylonitrile - a compound used in adhesives and textile manufacturing. The industry also gains valuable building blocks for pharmaceutical agents from the enzyme.
For details of the story, visit the Community Research and Development Information Service (CORDIS) website.
Research
Powdery mildew caused by Blumeria graminearum f.sp. tritici (Bgt), is one of the most severe fungal diseases of wheat, making the search and use of new genes pivotal in powdery mildew control. Tingting Chen and Jin Xiao of Nanjing Agricultural University in China now study two wheat LRR-RLKs from Triticum aestivum c.v. Prins x T. timopheevii introgression line IGV1-465, named TaRLK1 and TaRLK2, which play positive roles in regulating powdery mildew resistance in wheat.
The TaRLK1 and TaRLK2 expressions were upregulated in Bgt conditions. Assays indicate that both genes positively regulate the resistance to mixed Bgt inocula. Transgenic lines overexpressing TaRLK1 or TaRLK2 had significantly enhanced powdery mildew resistance.
The two LRR-RLKs are located in the long arm of wheat chromosome 2B, where the powdery mildew resistance gene Pm6 is also located, but in a different region. TaRLK1 and TaRLK2 contribute to powdery mildew resistance of wheat, providing new resistance gene resources for wheat breeding.
To learn more about the study, read the full article on BMC Plant Biology.
[ Send to a Friend | Rate this Article ]
---
OsSPX1, a rice gene involved in phosphate (Pi)-sensing mechanism plays an essential role in the Pi-signalling network through interaction with OsPHR2. Kang Zhang and researchers from China Agricultural University studied the potential function of OsSPX1 during rice reproductive phase.
Using antisense and sense transgenic rice lines, researchers discovered that downregulation of OsSPX1 caused reduction of seed-setting rate and filled grain number. Further examination of anthers and pollens of the transgenic and wild-type plants found that the antisense of OsSPX1 gene led to semi-male sterility, lacking mature pollen grains and phenotypes with a disordered surface of anthers and pollens.
Further genome analysis revealed that downregulation of OsSPX1 significantly affected expression of genes involved in important processes including carbohydrate metabolism, sugar transport and anther development leading to semi-male sterility and in turn low seed-set. These genes may have been related to pollen fertility and male gametophyte development.
For more information, read the full article on Plant Biotechnology Journal.
[ Send to a Friend | Rate this Article ]
---
Transcription factors play a key role to enable plants to cope with abiotic stresses. DREB2 regulates the expression of several stress-inducible genes and constitutes major hubs in the water stress signalling webs. Scientists headed by Yu Xiu of the Beijing Forestry University in China studied a novel gene encoding the FpDREB2A transcription factor from the yeast Fraxinus pennsylvanica.
Overexpression of FpDREB2A in the black locust tree (Robinia pseudoacacia) showed enhanced resistance to drought stress. The transgenic plant survival rate in drought conditions was significantly higher than control plants. The transgenics also exhibited a change in root architecture, with both horizontal and vertical roots. The vertical roots penetrated the soil more than 60 cm deep, while horizontal roots expanded within the top 20–30 cm of the soil.
The team found differential expression genes (DEGs) between the transgenics and the wild types. The DEGs found were involved in hormone signalling, transcription factors, stimulus responses and other metabolic pathways. These modified pathways in plant hormone signalling are thought to be the main cause of greater horizontal and vertical root development.
For more information on the study, read the full article on Plant Biotechnology Journal.
Beyond Crop Biotech
Protein microbicides containing neutralizing antibodies and antiviral lectins may help reduce the infection of human immunodeficiency virus (HIV) if its components are manufactured in large quantities at an affordable cost.
Various scientists, led by Evangelia Vamvaka of the University of Lleida-Agrotecnio Center in Spain, expressed the antiviral lectin griffithsin (GRFT), which shows neutralizing activity against HIV, in the endosperm of transgenic rice (Oryza sativa), to determine if rice can be used to produce GRFT. The team also established a one-step purification protocol for extracting GRFT, which could potentially be developed into a larger-scale process to facilitate inexpensive downstream processing.
OSGRFT was found to have similar efficiency to GRFT produced in Escherichia coli. Further tests confirmed that both crude and pure OSGRFT showed potent activity against HIV and the crude extracts were not toxic towards human cell lines, suggesting they could be administered as a microbicide with only minimal processing.
The results indicate that rice could be developed as an inexpensive production platform for GRFT.
For more information, read the full article on Plant Biotechnology Journal.
[ Send to a Friend | Rate this Article ]
---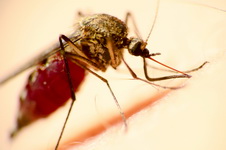 Intrexon Corporation, through its subsidiary Oxitec, and the Piracicaba City Hall have agreed to extend the 'Friendly Aedes aegypti Project' in Piracicaba, Brazil following strong results for controlling the Ae. aegypti mosquito population, the primary vector for dengue, chikungunya, and Zika virus outbreaks around the world. Zika, a rapidly spreading virus, emerged in Brazil in 2015 and is linked to a sudden increase in birth defects (microcephaly). The number of children born with microcephaly in Brazil has now risen to more than 3,500.
For this program, Oxitec initiated a new mosquito production facility in Piracicaba that will have the capacity to protect over 300,000 people. Piracicaba's CECAP/Eldorado district became the world's first municipality to partner directly with Oxitec after Brazil's National Biosafety Committee (CTNBio) approved releases throughout the country. In April 2015, self-limiting mosquitoes were released, and by the end of the calendar year, a reduction in wild mosquito larvae by 82% was recorded. Like many invasive insect species, Ae. aegypti's territory is expanding as are the diseases it spreads, including dengue, chikungunya, and Zika virus, which collectively impact over 100 countries and approximately 400 million people globally each year. Today, Brazil has the highest reported incidence of dengue in the Western Hemisphere, and with both chikungunya and Zika virus having entered the country in 2014 and 2015 respectively, the Ae. aegypti mosquito has become an increasing health risk.
For more information, read the Oxitec news release.
Announcements
What: International symposium on The Role of Agriculture Biotechnologies in Sustainable Food Systems and Nutrition
Where: FAO Headquarters, Rome, Italy
When: February 15-17, 2016
Features:
Will explore how the application of science and technology, particularly agricultural biotechnologies, can benefit smallholders in developing sustainable food systems and improving nutrition in the context of climate change.
Will take a multisectoral approach, covering the crop, livestock, forestry and fishery sectors
For more details, visit the symposium website.
[ Send to a Friend | Rate this Article ]
---
What: 2nd Microbiome R&D and Business Collaboration Congress: Asia
Where: Kuala Lumpur, Malaysia
When: February 29 - March 1, 2016
For registration, list of speakers, and other details, visit the Congress website.
From The BICs
More than 200 students, lecturers, and industry representatives in Indonesia learned about the safety of biotechnology products during the National Seminar on the Current Status of Biotechnology Commercialization in Indonesia held on January 14, 2016 at Universitas Nasional (UNAS) in Jakarta.
The seminar discussed the safety issues on biotechnology products and the current status of biotechnology commercialization in Indonesia. Dr. Retno Widowati from UNAS discussed recombinant DNA technology; Dr. Agus Pakpahan, Chairman of Indonesia Biosafety Commission of Genetically Engineered Product (BC-GEF) talked about the current status of biotechnology in Indonesia; Mrs. Nurmalasari Darsono of PTPN XI talked about biotech sugarcane development; and Mr. WInarno Tohir, Chairman of National Outstanding Farmers Association (NOFA) discussed farmers readiness to embrace biotechnology in Indonesia.
During the seminar, the Biotechnology Research Center based in UNAS was launched. The Centre will conduct a variety of assessment activities, including biotechnology research and development. The seminar was a collaboration among UNAS, Indonesian Biotechnology Information Centre (IndoBIC), CropLife Indonesia, PT. Monagro Kimia, PT. Syngenta, and PT. INACO.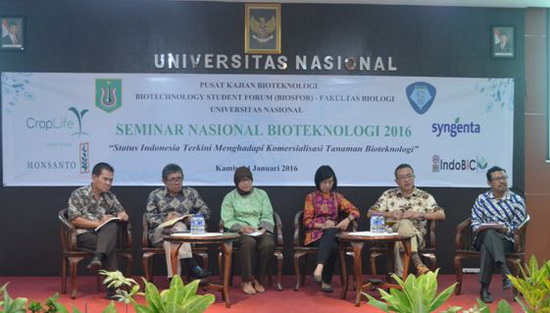 For more information about agriculture and biotechnology in Indonesia, visit IndoBIC's website.