Targeted Increase of Naturally Occurring Sugar Improves Yield of Drought Affected Corn
August 5, 2015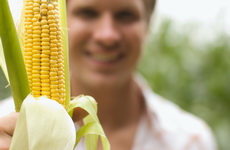 Genetically altering the amounts of a naturally occurring sugar can substantially improve the yield of drought affected corn, according to the results of a collaborative project between Syngenta and Rothamsted Research. Syngenta scientists introduced a single transgene to alter the amounts of trehalose 6-phosphate (T6P), a naturally occurring sugar in corn plants. The plants were evaluated over several years in corn fields in North and South America. The results showed that corn under none or mild drought, increased in yield between 9% and 49%, and corn under severe drought increased in yield between 31% and 123%.
The Rothamsted research team led by Professor Matthew Paul worked on understanding the regulation of plant and crop processes by T6P. T6P drives the allocation of sucrose to different parts of the plant during growth and development. By altering the amounts of T6P in key cells that deliver sucrose to developing seeds in the cobs, more sucrose is transported into the corn kernels. This increases seed numbers per cob and the overall harvest index and yield.
Professor Paul said "The work shows that T6P exerts significant control of yield in corn. This is one of few reports where genetic modification of an intrinsic plant process for yield works in the field."
For more information about this research, read the news release at the Rothamsed Research website.

ISAAA shares, disseminates, and promotes science-based information to help in achieving global agricultural sustainability and development. During this time of COVID-19 pandemic, we monitor research on treatments, vaccines and keep track of the pandemic's effect on food security and agriculture. We help the public make informed decisions and actions to mitigate and recover from the impact of COVID-19. At this crucial time, we need your help. Please support our efforts today from as little as $10